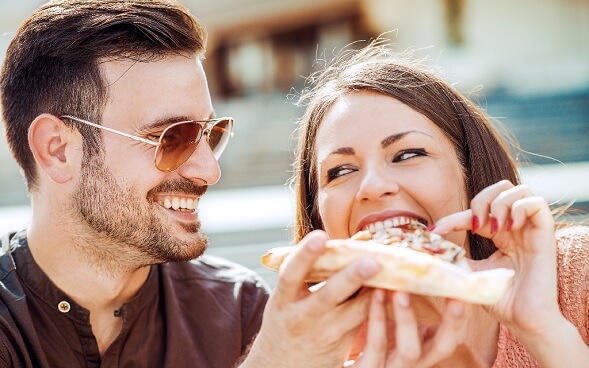 Summer Lovin': 5 Top Romantic Spots for Travel Nurses
Get inspired With These Fun and Unique Date Ideas
Did you know that "high energy, unique fun" is one of the ways couples build their bond? World-renowned relationship researcher Dr. John Gottman mentions it among the top seven ways to keep the spark in your relationship. High energy fun allows partners to experience high emotions and the stimulation novelty provides…together. And these shared experiences strengthen a relationship.
Travel nurses have a great opportunity to experience high-energy, unique experiences with their sweethearts. Whether they accompany you on a travel nursing job or simply come to visit, going to an event in a completely new city packs double the novelty. Imagine getting your sweetie to Juneau, Alaska, and then enjoying brunch at one of the grills on the wharf, followed by a trip to the Juneau Ice Field or the Mendenhall Glacier, with awe-inspiring sights for even the most experienced travelers.
When you are busy working at medical facilities around the country as a travel nurse, it can be easy to overlook those romantic local attractions. So, we've put together five divine date ideas for five different cities across the United States. Even if you aren't scheduled to visit one of these cities, you can probably find a similar attraction in the city where you will be working. Traveling nurses should take advantage of a great job perk every chance they get!
1. Denver Botanic Gardens
Have a travel nursing job in the Rocky Mountain capital? Be sure to visit this romantic spot for a date. The Denver Botanic Gardens cover 23 acres of amazing garden displays, including one area called the Romantic Garden. The entire place is filled with lovely trails for strolling hand-in-hand while taking in colorful landscapes, the Monet pond, the perennial walk, a Japanese garden, sculptures, diverse plants and much more. In the summer, the Gardens also host outdoor musical performances by top artists. You can lay on a blanket under the stars with a romantic picnic and a bottle of wine, while listening to the smooth groove sounds of UB40, George Benson, Martin Sexton, and many others. Check the Denver Botanic Garden concert schedule here!
2. Miami's Oleta River State Park
When you think of Miami, you usually think of the art deco buildings, the pulsating nightclubs, and the immense beaches. Who knew there was a fantastic park oasis in the heart of the city, perfect for romantic adventures with your honey? You can rent a kayak, a paddleboard, a bike, or a canoe, and then have some outdoor fun! Paddle on the water through the stunning mangroves, or settle on the beach for a relaxing picnic treat. The most romantic excursions for traveling nurses and their significant others? Island-hopping among the tiny islets that dot the ocean.
3. Escape Rooms: Los Angeles, San Francisco, San Diego
Have you heard of escape rooms yet? Starting up on the West Coast, these new "immersive experiences" involve getting locked in a room with other couples. Participants must use their wits to solve puzzles and other challenges to free themselves. There are a variety of themes, some of which may not be your sweetie's cup of tea--so tread cautiously. Some include special effects, "magic" and more.
4. Brooklyn Bridge Park
Whether you take the subway, a ferry ride, or even a bike ride across Brooklyn Bridge to get to Brooklyn Bridge Park from NYC, you and your sweetheart will be rewarded with gorgeous views of the Manhattan skyline, as well as a breathtaking sunset highlighting the numerous piers. During the hot summer months, the park features free "Movies with a View" every Thursday night; this year's lineup includes such snuggle-worthy flicks as "Singin' in the Rain" and "Purple Rain." There are ample outdoor picnic dining spots as well as bars and restaurants, including the famous Grimaldi's Pizza or Brooklyn Ice Cream Factory. You can also get a kayak for a nice water jaunt, or take a spin on the gorgeous Jane's Carousel!
5. Dallas Arboretum & Botanical Gardens
Beautifully nestled aside from Dallas' White Rock Lake, this gorgeous spot features beautiful flowers and green grass for relaxing with your partner; it also hosts a Cool Thursdays Concert Series, where you can lounge on the lawn while listening to awesome cover bands (such as Santana and The Rolling Stones tribute bands). The grounds feature romantic walking paths that lead you to enchanting gardens with every kind of floral and plant arrangement. When you get hungry, you can eat at the picturesque DeGolyer Café on the waterfront, or head to Urban Vines Wine Bistro for a glass of delicious vino on the patio.
Travel nursing can invigorate your relationship and boost your résumé. See how travel nursing jobs at hospitals across the country can make you a sought-after nurse candidate. American Mobile is the leader at placing travel nurses in all states and specialties.
© 2016. AMN Healthcare, Inc. All Rights Reserved.