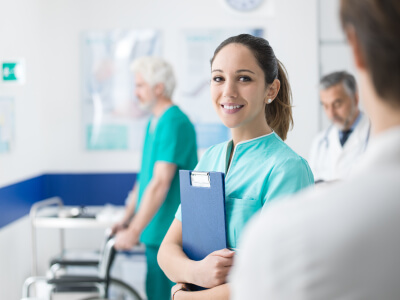 Recruiter Spills Secret to Getting the Travel Nursing Job You Want-Book Early!
Dreaming of an assignment in Hawaii in January or the Minnesota Lake Country in June? Start planning now, because the key to nabbing travel nursing jobs in those prime locations is to book early.
"You beat the competition to find your first choice for location and shift," said Tobin Valentine, recruitment manager at American Mobile Healthcare.
"I try to get a sense of what the nurse plans to do for the entire year. You can plan better if you set up your travel [schedule]."
Valentine begins by asking nurses how long they plan to travel and then searches the database of available travel nursing jobs and links the nurse with the most appealing positions.
Best Travel Nurse Assignments Go to Those Who Book Early
Certain travel nursing locations tend to remain popular destinations. Hawaii, New York City or Florida in the winter. But nurses tend to snatch travel nurse positions in these choice locations quickly.
Booking far ahead will ensure a better choice for the nurse. However, pay packages, which are set by the hospitals, tend to not be as high in prime areas as in other locations.
Valentine said nurses often opt to work in a better paying but less glamorous location and save some money to have cash to spend to do fun things on the Big Island or in the Big Apple.
Some nurses, he explained, want to work at higher-paying assignments to more quickly pay off their student loans. While other nurses might have their sights set on visiting and getting to know a certain part of the country.
If a nurse seeks a highly specialized travel nursing job, requesting that early lets the recruiter find the desired position, and then the nurse can book it early to lock it in.
Nurses, typically, quickly pick up day shifts, so booking early will let them secure the day position. If they wait, evening shifts might all that will be available at the desired location.
More nurses want to travel in the summer, so summer travel nurse assignments get filled quickly, as do winter assignments in Florida, when hospital censuses soar.
Practical Considerations
Booking early enables the travel nurse to begin the credentialing process sooner to avoid a rush prior to the assignment start date. If the nurse needs to apply for a license in a new state, that often takes some time.
"Extra lead time helps make sure you start on time and are not scrambling at the last minute," Valentine said.
Locking in travel nursing assignments early also allows more time for finding housing, if the nurse is not planning to stay in travel nursing housing provided by American Mobile. Nurses may opt for a home sharing option through web-based temporary housing sites.
"You can get a better sense of the cost of living and trying to find the most affordable options," Valentine said. Early booking "gives them ample time to get settled."
Staying booked back to back with American Mobile enables nurses to retain their benefits, as long as 24 business days do not pass before the nurse starts at the next assignment.
Hospitals appreciate nurses committing early, so they know their units will have skilled professionals to care for patients.
Otherwise, hospitals may try to convince nurses currently assigned to that facility to extend their time there, or the facilities may need to post more job orders.
Lead times are longest for positions on the West and East coastal areas.
Additionally, "earlier bookings are where we see higher-paying packages," Valentine said.