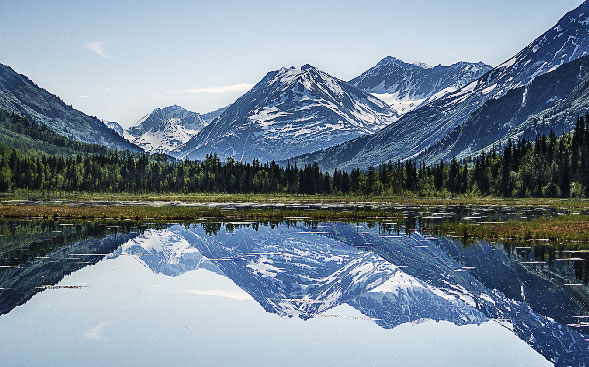 Adventure of a Lifetime: Travel Nursing in Alaska
If you like to ski, love polar bears and get a buzz from mountain scenery that has nothing to do with your double espresso latte, travel nursing in Alaska is the adventure of a lifetime. Whatever your nursing specialty, a travel nursing job in Alaska will transform your world.
Alaska has so much to offer adventure seekers. You can explore glaciers, go cross-country skiing, or experience dog sledding. There are always fresh salmon and boutique brews on hand. And if you're a single female nurse, you'll be happy to know that Alaska has LOTS of opportunities for finding love. Alaska has the highest ratio of men to women in the United States.
So if it's fun you're looking for (or love!), you should look no further than Alaska. Here are some of Alaska's most popular travel nursing locations:
Begin your Alaska adventure here:
• Fairbanks: Home to the University of Alaska's Museum of the North, a reindeer ranch, Wedgewood Wildlife Sanctuary, the Aurora Ice Museum, Mount McKinley, and Pioneer Park.
• Anchorage: Tour the Prince William Sound fjords and Cook Inlet, experience arctic biking, catch a polar bear at the Anchorage Zoo and cross country skiing on Flat Top Mountain Trail.
• Juneau: Wilderness starts here from whale/dolphin watching to exploring the Mendenhall Glacier or going up the Goldbelt Mount Roberts Tramway.
• Ketchikan: If you like fishing or Alaskan Indian culture, this is a place for you. Check out the Totem Bight State Historical Park, Misty Fjords national monument, and Creek Street pioneer flavor.
• Homer: Visit the Pratt Museum's natural history collections, Alaska Islands Ocean Visitor Center, and go on a bear-watching adventure.
• Sitka: You can visit the Sitka Raptor Center, Totem Park, Fortress of the Bear, go on whale-watching boat tours or take in historic relics of pioneer and Russian cultures.
Here are a few of the additional perks of working in Alaska:
1. Great Pay: Alaska is one of the five highest paying states for nurses in the United States.
2. Build Your Career: You can gain valuable experience in your specialty at some outstanding healthcare facilities while experiencing the cultural diversity of Alaska.
3. Wild Adventures: Explore spectacular wildlife, glaciers, dog sledding, floatplane rides, hiking, fishing, skiing and see the northern lights firsthand. Not a nature lover? Alaska's neighborly hospitality, historic towns, indigenous arts, and culture are always on tap.
Searching for Nursing Jobs in Alaska
Hearing the call of the wild? Travel nurses are in great demand to fill nursing jobs in Alaska and American Mobile recruiters can help you with your Alaska nursing license and find you great accommodations in cities and towns you've only imagined from TV's Planet Earth.
Get Your Travel of a Lifetime Started Now
Regardless of your nursing specialty, American Mobile can help find the Alaska nursing job that's perfect for you. Talk to a recruiter, do a virtual interview, or call (800) 282-0300.
Alaska Travel Nursing Resources
• Alaska Nurses Association
• Alaska Board of Nursing
• Getting Licensed in Alaska
About American Mobile, an AMN Healthcare Company
Becoming an American Mobile travel nurse early in your career gives you the chance to see the country, meet new people, learn new nursing skills and build your résumé.
• Apply now
• Search travel nursing jobs
• Sign up for job alerts
• Refer a friend
• Pay and perks
• Like us on Facebook
© 2016. AMN Healthcare, Inc. All Rights Reserved.