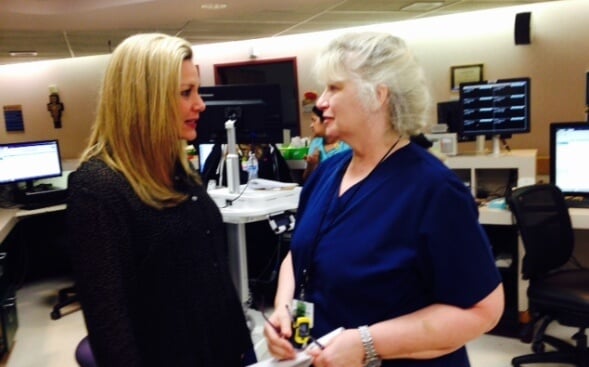 Travel Nurse Awarded For Outstanding Patient Care
Medical-surgical travel nurse Kim Harvey has seen studies including the one from Policy, Politics and Nursing Practice that show that 17.5 percent of newly-licensed RNs leave their first nursing job within one year, and 33.5% leave within two. And yet, after 25 years as a nurse, she knows she'll remain in the field until she retires. Her commitment to patient care won her the 2016 Commitment to Excellence Award in the Customer Focus category. Congratulations to Kim for her outstanding work and for her dedication to providing her patients with exceptional care.
Kim has been a travel nurse since 1997. After starting her career at the now-closed St. Vincent's Hospital in New York City, she met travel nurses she recognized had diverse medical knowledge and clinical experiences far and above those of nurses who remained in one hospital throughout their careers. A strong drive to increase her own personal and professional knowledge and experiences prompted her to join the travel nursing profession. In the past two decades, she's traveled to all 50 states in the U.S. except for North and South Dakota.
When asked why she left these two states off the list, she answers, "Just nothing there I really wanted to see."
Through traveling, Kim has had experience in 17 different electronic charting systems and served everywhere from remote, 50-bed country hospitals to inner-city, 10,000-bed facilities. She's also gained invaluable experience by participating in major disasters such as hurricanes Sandy and Irene. She participated in the nursing care during the very first application of ground-breaking VAC-dressing technology for necrotizing fasciitis, or flesh-eating disease, in a California hospital and the first unrelated double kidney transplant in a Maryland Hospital. In New York City, she's cared for patients on Asian units where the patients spoke only Mandarin or Cantonese. In another New York City hospital, while working on a VIP unit, she cared for television celebrities and foreign heads of state.
Travel nursing has afforded Kim opportunities to see much of the USA. She's sat in the seats at The Grand Ole Opry in Nashville, Tennessee, and hiked the majestic mountains of Colorado and California. She's been scuba diving in the Florida Keys, helicoptered over the Grand Canyon, and white water rafting in class 3 rapids. Clearly, travel nursing has enriched her skills, experiences, and her personality.
But it's not the extent of Kim's travels that won her a place in the Commitment to Excellence awards. Her performance on the job has won her multiple awards including Patient First Clinical Excellence awards, Daisy awards, customer care, and shining star awards, and recognition from various nurse managers for her performance on different assignments. These awards come as no surprise to her colleagues who say that she is "ALWAYS positive--no matter the situation. She handles everything with control and poise."
Strategies of a Super Nurse
In a field where 40% of nurses quit within two years, we were very curious as to how Kim maintains grace under pressure.
She uses mantras to stay focused and grounded and strives to deliver consistently excellent care in all situations, even when her patience is tested: like the time a manipulative drug addict kept yelling that his pain wasn't being managed to his satisfaction without high doses of Dilaudid, Benadryl, and Phenergan every few minutes; or when family members are upset when a physician fails to arrive for a family meeting; or when staff call-outs result in higher than normal PT ratios and everyone is anxious and stressed.
We are what we repeatedly do. Excellence, therefore, is not an act but a habit. Aristotle, one of Kim's mantras
"In these situations," she explains, "to put order to the chaos, you have to take a deep breath, then systemically "put out fires" with each staff, patient, or family member by doing what you can do to help defuse the anger. One of the best ways to do this is to sit down with them for a few moments and apologize for their experiences, acknowledge their concerns and amend by fixing an issue...even if you have other things to do. But sitting down, making eye contact, and using gentle therapeutic touch often works. Just making a two-minute connection can defuse the volatile situation and bring harmony and peace back to the inpatient floor unit."
Another quote that guides her is: "There's no "i" in "team." She explains that often many new nurses and some veterans haven't internalized this concept yet, and she understands too well why. "They have come from professors who taught them that they have to be capable of doing everything," she explains. "It simply isn't true. Each member of the health care team brings his or her own strengths to the unit. Some nurses are great at drawing blood or starting IVs. Some can get a Foley catheter in, while others are better at calming an abusive patient or family member. Some are technological savvy -- the "go-to" person when you can't get an order entered properly. Nurses get into trouble when they think they can do it all. It creates unnecessary stress, fatigue, and ultimately burnout. You really need to rely on and communicate with your coworkers on the floor. Determine who has what strengths and go with that. We must own the problem until we solve the problem, but each of us has something different to bring to the table."
Teaching new nurses that they won't be able to handle every task is job one, but the lessons don't stop there.
When patients and family members get out of control, she encourages new nurses to calm the situation by remaining calm. She explains that some people are just naturally abusive and obnoxious and no one must not take a patient or family member, a coworker, or even a unit clerk or dietary professional's heated tone personally. Showing the upset individual they've been heard is the starting point to getting the situation under control. With patients, incorporating "AIDET" (an acronym for Acknowledge Introduce Duration Explain and Time) small issues can be brought under control before they become insurmountable. Sometimes, even a funny comment can put everyone at ease.
Most of all, Kim makes clear to new nurses that going the extra mile to connect with a patient and their family not only soothes a frightened, lonely patient but feeds the nurse's soul as well. She relates a story where she had an elderly dying patient who feared going to sleep at night had no family around to provide him comfort. She took the initiative to roll her computer "WOW" workstation into his room, ratchet it down so she could sit in the bedside chair and be eye-level with him as he lay in his hospital bed. As she completed her charts, she made small talk with him, offered to pray with him, and listened to his fears. She encouraged him to take his pain meds. When she asked him about the one thing right now to make your day, he told her all he wanted was peppermint tea and Reese's peanut butter cup. She used some of her money to send a care partner to go to the cafeteria to purchase these for him. Later that night he passed. "That's what nursing is all about," she says. "The simple things where I can and do make a difference."
Kim is not directed and certainly not paid to carry out small acts of kindness like this, but as she says, "hearses don't come with luggage racks or trailer hitches." When her confused interviewer asks for clarification, she responds, "I can't take my money and things to the grave. If I can make a small difference by providing something to help a patient smile or rest easy or take their mind off their pain for a few hours...well, it makes my night." The act of providing the connection and kindness feeds her spirit and experiences as well. She focuses on what she can do at that moment to serve her patients to the best of her ability with compassion, empathy, and skilled knowledge.
Finally, Kim encourages sometimes overwhelmed and struggling young nurses to start early building a life and interests outside of nursing. As an avid reader and photographer, she separates from the emotional rollercoaster that can be her three 12-hour hospital shifts each week. She blocks out time to photograph her local travel assignment. She balances this with getting out with friends for lunch or dinner to decompress and vent.
Taking Family With You as a Travel Nurse
Today, Kim is finishing up a 26-week contract at a hospital outside of New York City. In two weeks she will start her 84th consecutive travel assignment in Baltimore MD. On her week off between assignments, she will fly to Florida to spend some quality time with her significant other. For 12 years, she's maintained this long-distance relationship where each takes turns visiting for a few days.
Kim also travels with her 90-year-old mother, a former high school biology teacher who is still very active. When a new assignment comes up, her mother devotes time to researching the best attractions and activities, places to shop and places to eat, and experiences they are interested in. Through travel nursing, Kim says she gets to "live like a local." Their well-traveled 9-year old Yorkie, Koko, also accompanies them on every trip.
Kim's placement agency, American Mobile, has no problem reserving a two-bedroom apartment rather than a one-bedroom apartment. While Kim pays the difference in price, American Mobile does reimburse much of her travel expenses, keeping those costs in line. At this point, Kim sticks to the east coast and drives to her assignments. She relates that her mother very much enjoys the ever-changing living arrangements because they keep life interesting!
At this point, Kim is considering going back to school to get her doctorate so she can teach nursing at the college level. "I'm planning to live to 100, after all," the 49-year-old quips. Plenty of time to enrich her nursing career at an even higher level!
If you long to broaden your medical knowledge and travel experiences the way Kim Harvey has, explore the current opportunities on our nursing specialties page. Chances are, your skills are in high demand in the city you've always dreamed of visiting!
© 2016. AMN Healthcare, Inc. All Rights Reserved.