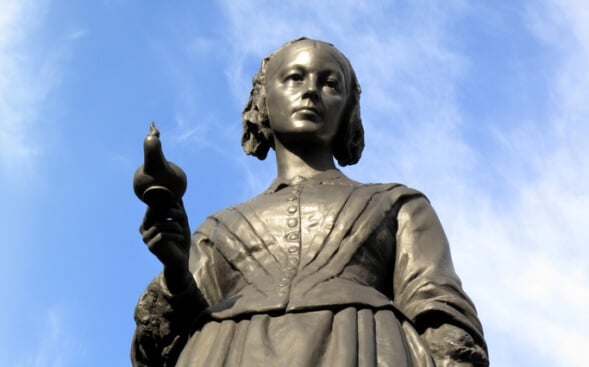 Happy Nurses Week: All About Florence Nightingale
Nursing is consistently ranked as one of today's most honest and ethical occupations, but it hasn't always been seen this way. The profession's foundation was laid by a remarkable woman who raised the standards of patient care and disease prevention in the 19th century. Let's look back at the history of nursing and Florence Nightingale's amazing contributions.
All About Florence Nightingale
Florence Nightingale was born May 12, 1820, and was named after the city she was born in: Florence, Italy. This year marks the 200th anniversary of her birth.
Her family lived in England and had been traveling when she was born. She came from a wealthy background and was educated by her father, learning math, philosophy, religion and languages.
Her parents hoped she would marry well, but Nightingale felt that caring for the sick was her true purpose. At the time, nursing wasn't considered a respectable profession by the upper class. Nurses were generally poor and unskilled and hospitals were dirty and disorderly.
Despite her parents' objections, Nightingale traveled to Germany to attend the Lutheran Deaconess Institution, where she worked in hospital wards, orphanages and an apothecary. The institution was established in Kaiserswerth by Pastor Theodor Fliedner and trained women to care for the sick and impoverished. Nightingale later spent time in Paris with the Sisters of Mercy.
A New Approach to Healthcare
Nightingale returned to London and started putting her knowledge to work. She became superintendent at a hospital in Middlesex, where she dealt with an outbreak of cholera. She improved the hospital's cleanliness and hygiene and significantly lowered the death rate.
This experience was invaluable when it came to British casualties during the Crimean War. In 1854, Nightingale led a team of more than 30 nurses to Constantinople to care for British soldiers. Here, she found injured men suffering from cholera, gangrene and dysentery. More soldiers were dying from infectious diseases caused by unsanitary conditions, contaminated water and lack of basic supplies than wounds. Using the math skills taught to her by her father, she began tracking statistics and found a shocking mortality rate of 60%.
Nightingale immediately worked to improve cleanliness and hygiene. She brought in blankets, beds and other supplies and ensured soldiers had warmth, food and nutrition. She earned the name "the Lady of the Lamp" for visiting patients around the clock, demonstrating the importance of emotional comfort. Nightingale reduced the hospital's death rate to 2% in six months.
The Foundation of Modern Nursing
Nightingale's work continued after the war. Her statistics showing the impact of unsanitary conditions at the military hospital in Turkey led to the creation of a Royal Commission to improve the health of British soldiers.
She also formalized the principles she believed constituted proper patient care, much of which continues to be used by modern-day nurses:
Hygiene
Cleanliness
Nutrition
Warmth
Fresh air and quiet
Confidentiality
Trust
Empathetic care
Her book, Notes on Nursing: What It Is, and What It Is Not, continues to be referenced today.
In 1860, Nightingale established the Nightingale Training School to teach nurses these basic principles. The program included classroom lectures and practical instruction in the wards, along with two years of work experience. Many of the students shared their learning in other countries.
The History of Nursing and Florence Nightingale's Legacy
Florence Nightingale was bedridden at age 38 from an illness contracted during the Crimean War, but she continued to write, consult with politicians and provide advice from her bed. She died in 1910 at the age of 90, but is remembered in many ways:
The Florence Nightingale Medal for excellence in nursing is awarded every two years to nurses around the world by the International Committee of the Red Cross.
International Nurses Day is commemorated on her birthday every May since 1965.
The Florence Nightingale Museum at St. Thomas' Hospital in London celebrates her life and work and is located at the site of her original nursing school.
2020: The Year of the Nurse coincides with the bicentennial of Nightingale's birth.
The history of nursing and Florence Nightingale are forever intertwined. Her legacy lives on in the empathy and professionalism of millions of nurses caring for patients around the world.
Find out how you can make an impact as a travel RN in cities throughout the United States. Search for open travel nursing jobs at American Mobile.
Sources:
https://news.gallup.com/poll/274673/nurses-continue-rate-highest-honesty-ethics.aspx
https://deaconesscommunity.org/2018/09/19/history-germany/
https://www.history.com/topics/womens-history/florence-nightingale-1
https://www.smithsonianmag.com/history/the-worlds-most-famous-nurse-florence-nightingale-180974155/
https://florence-nightingale.co.uk/the-crimean-war/
https://www.ncbi.nlm.nih.gov/pmc/articles/PMC4557413/
https://library.uab.edu/locations/reynolds/collections/florence-nightingale/life
https://www.icrc.org/en/document/florence-nightingale-medal-honoring-exceptional-nurses-and-nursing-aides-2019-recipients
https://www.icn.ch/what-we-do/campaigns/international-nurses-day
https://florence-nightingale.co.uk/