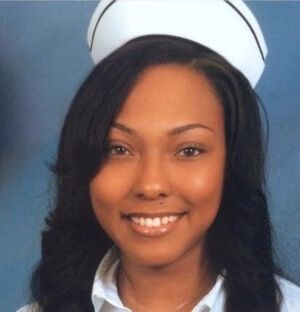 Determined Travel Nurse Takes Career to New Heights…and Goes Viral
Faye Lewis, RN, is Internet famous--and for a good reason. She's worked very hard to get to where she is now: a happy, productive travel nurse who is raising her young son and working on her Doctor of Nursing Practice (DNP) degree.
In 2017, Faye started the DNP program through the University of Illinois, Chicago.
To remind herself of where she came from and how hard she'd worked to become a DNP student, Faye shared photo on Facebook of a handful of nametags and work badges that she'd worn in various jobs over the years.
Her name badge from her stint as a manager at KFC fast food restaurant.
Her name badge from her job as a housekeeper at a hospital.
Her name badge with the title "nursing assistant."
Her name badge featuring the letters "LPN" after her name.
Faye had worked all those jobs in route to earning her BSN and becoming a registered nurse. She had always dreamed of becoming a nurse, and nothing was going to stand in her way.
So, as she continued to climb the education ladder, she just wanted to remind herself that she could do anything she put her mind to. And that picture on Facebook struck a chord with thousands of other people, too.
Her post went viral.
A year later, Faye is continuing to follow her dreams. She is currently working as a travel nurse with American Mobile Healthcare in Florida and furthering her education.
This summer, she's been on assignment in Florida and she's looking forward to her next assignment at St. Louis University in Missouri.
She's pleased with how much she's enjoying her work as a travel nurse. She's developing new skills and polishing existing ones.
"I also get to meet new people everywhere I go, making connections and developing new friendships all over the country," she said.
The Power of Determination
As you can probably guess, Faye is the kind of person who sets a goal for herself and doesn't let setbacks keep her from achieving that goal.
"Determined" is the word that Lindsey Lax, senior recruitment manager for American Mobile, uses to describe Faye.
"A lot of people would run from a challenge," said Lindsey, who has worked with Faye since she decided to try travel nursing. "But she powers through it, and I think that says a lot about her."
Faye agrees with that assessment. "It was always my goal to become a bachelor's prepared nurse," said Faye. "That's what kept me going. I had a goal in mind."
This is the woman, after all, who started her healthcare career as a CNA. Then she enrolled in an LPN program while waiting for a spot to open up in an ADN program at a nearby community college.
She worked as a KFC manager and as a housekeeper, knowing that she would eventually get the letters "RN" after her name.
Not only did she do all that work, but she was also working to support and nurture her son Anthony at the same time.
As you might suspect, it wasn't always a smooth road. "There were definitely hiccups in the process," she said.
The Importance of a Good Recruiter/Traveler Relationship
But her ability to focus on her long-term goals has served her well. And when she decided to try travel nursing, it helped her adapt to a new environment after spending years in one hospital in her hometown of Springfield, Illinois.
Faye knew it was time for a change when she contacted American Mobile to inquire about travel nursing opportunities, and her recruiter helped her to take the plunge.
Faye immediately felt a connection with Lindsey and responded positively to Lindsey's encouragement and enthusiasm.
"It was really a blessing," she said.
Her first assignment took her to a transplant/telemetry unit at the University of Chicago Medical Center. Faye was a little nervous in advance, but Lindsey helped her prepare to start this next step on her journey.
"She always reassured me and talked me through it," she said. "She would be like, 'You got this.' And be very reassuring."
And sure enough, the job went well, and Faye was hooked on traveling. She's enjoying the work and the chance to meet new people.
She's grateful to Lindsey for helping her find assignments that allow her to continue working on her DNP, too.
Faye can take some of the coursework online, but she needs to be within driving distance of the University of Illinois, Chicago, to take some courses. Lindsey always keeps that in mind.
Faye has even started referring other interested nurses to her recruiter, telling them to give Lindsey a call. Sounds like a successful traveler-recruiter relationship for sure!
ADVANCE your career with a travel nursing job from American Mobile.