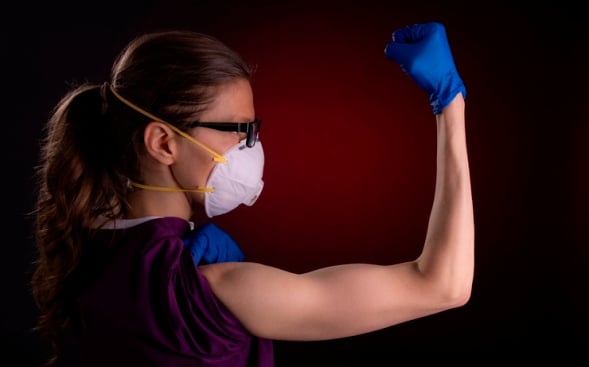 What the Nursing Now Campaign Means to You
Whether they're bringing a newborn into the world, providing end-of-life care, treating an ill patient or fighting infectious diseases, nurses are among the professionals on the front lines of healthcare. The Nursing Now campaign is working to ensure nurses are recognized for this complex, diverse work and empowered to influence healthcare policies in the coming years.
As we mark 2020 Year of the Nurse, here's a look at the Nursing Now campaign and how it impacts you.
What is Nursing Now?
Nursing Now began in 2018 as a three-year campaign to raise awareness of the value of the nursing profession. But it's more than simply a spotlight on nursing. Its goal is to improve support for nurses so they can best perform their jobs and use their expertise to help shape decisions around global health.
The campaign is focused on five key areas:
Give nurses a more prominent voice in developing policies
Encourage greater investment in the nursing workforce
Recruit nurses into leadership positions
Research the areas that nurses can have the greatest impact
Share best nursing practices
Nursing Now is a collaboration of the Burdett Trust, World Health Organization (WHO) and International Council of Nurses and is entering its final year.
Why was the campaign started?
There are 27.9 million nurses around the world, accounting for about 59% of all healthcare professionals. The WHO projects a global shortage of 9 million nurses and midwives by 2030.
This makes it challenging to deliver primary care, prevent or treat chronic conditions such as diabetes or heart disease, eradicate communicable diseases and manage health emergencies such as COVID-19. The WHO is also working toward universal health coverage so every person can access essential medicines and health services.
These goals can't be accomplished without strengthening the nursing workforce.
What kind of support do nurses need?
A key component of the campaign is to raise the status of nurses with a view toward improving global health.
According to Nursing Now, nurses aren't utilized to their full potential, in part because of understaffing or working conditions. Nurses are also undervalued. The campaign suggests that deeply entrenched ideas of what a nurse can and can't do limits their role but that nurses can help ease burdens on the healthcare system by taking on a greater scope of work.
Strengthening the ability of nurses to do their jobs
Nursing Now advocates increased investment in education, training, employment standards and regulations to ensure safe staffing and improved conditions for nurses.
The WHO's comprehensive study, State of the World's Nursing, notes that nurses can improve patient care, but they need to work at optimal capacity, supported by a strong team and good working environment.
Maximizing the skills of nurses
As demands grow on the healthcare system, more nurses are needed, along with an improved way of delivering services.
The campaign encourages research into how nurses can have the greatest impact on healthcare. This includes exploring new models of care that are holistic, community-based and focused on prevention and providing training and development to help nurses realize their potential within these models.
Empowering nurses with a leadership role
Before nurses can contribute more fully, they must be adequately valued for their skills and the insight they bring from working directly with patients at the forefront of healthcare.
Nursing Now proposes that nurses be supported through leadership programs and given a chance to contribute to decision-making and influence policies. Countries are also encouraged to create Chief Nursing Officers as part of their national health management teams.
What can you do?
The Nursing Now campaign continues until the end of 2020. As of February, there are 587 Nursing Now groups in 117 countries working to raise the profile of nursing and empower nurses.
Here's how you can help:
Pledge support for Nursing Now
Establish a local or student Nursing Now group
Check out the Nursing Now country page for the United States
Share your experience and ideas with your colleagues
Be an agent for change and advocate for the profession
Help raise online awareness using the Nursing Now social media toolkit
As a nurse, you're already raising the profile of the profession on a daily basis by making a difference in the lives of individual patients.
Learn more about opportunities to connect with patients and colleagues across the country and work as a travel nurse with American Mobile.
Sources:
https://www.icn.ch/what-we-do/campaigns/nursing-now
https://www.who.int/news-room/fact-sheets/detail/nursing-and-midwifery
https://www.who.int/about/structure/organigram/htm/en/
https://www.who.int/health-topics/universal-health-coverage#tab=tab_1
https://www.nursingnow.org/what-we-do/?doing_wp_cron=1587528233.0429489612579345703125
https://www.nursingnow.org/what-we-do/?doing_wp_cron=1587531969.5489859580993652343750