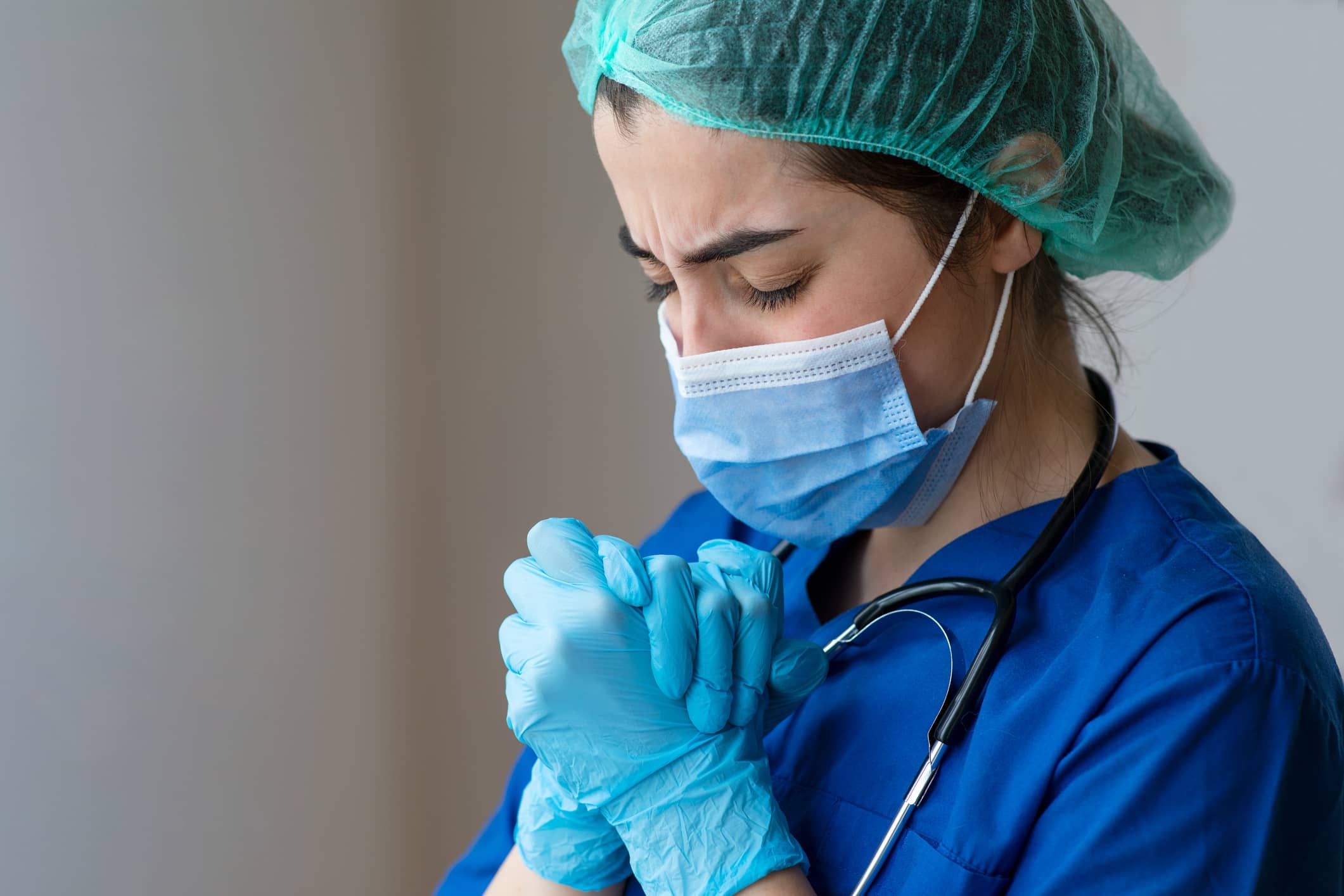 Some Nurses Finding Kindness and Civility in Short Supply
Remember when everyone was praising nurses, doctors and healthcare professionals? When they were putting up "Thank you, healthcare heroes" signs and billboards? When they were delivering gourmet meals to emergency departments in gratitude?
Nurses find kindness and civility in short supply
A lot has changed since the COVID-19 pandemic began, and fewer and fewer of these encouraging messages can be found.
It seems that every day we hear news of nurses facing verbal abuse: a nurse who's been berated by an angry patient or a nurse facing an angry diatribe from a sick patient's family member or a disgruntled member of the public. In a few cases, nurses have even been threatened. Meanwhile, intensive care units, emergency departments and step-down units are overflowing with COVID patients, the vast majority of whom are unvaccinated.
"It can be a pretty frustrating time to be a healthcare professional," observed Anna M. Rodriguez, MS, RN, PCCN, CCRN, NPD-BC, a hospital staff nurse in Salt Lake City, Utah, and the creator of The Burnout Book website and blog. "Nurses have been the most trusted profession for 19 years, according to the Gallup Poll, and to have people in our communities who choose to disregard the advice of experts in health and science is disheartening and demoralizing."
"Imagine going in to work every day and being yelled at or being accosted because you're trying to prevent disease within the public realm," said Laura D. Rosenthal, DNP, ACNP, FAANP, assistant dean of DNP programs and an associate professor of nursing with the University of Colorado Anschutz Medical Campus.
Too many nurses don't have to imagine it. And the result is growing burnout among these already-stressed nurses, which has both short-term and long-term implications.
"Nurses are feeling more cynical with decreased morale and job efficacy because of this, which can all lead to personal burnout," said Rodriguez. "I worry about the impact this will have on the mental health and well-being of nurses."
A recent survey of 6,000 acute and critical care nurses by the American Association of Critical-Care Nurses (AACN) found that 92 percent believe the pandemic has depleted nurses at their hospitals and their careers will be shorter than they intended. In fact, two out of three (66 percent) said their experiences during the pandemic have caused them to consider leaving the profession of nursing.
How should nurses respond to incivility?
What should you do if faced with an angry person on the job? It's awkward and unpleasant at best, but it can get worse—and you do not have to grin and bear it.
"No one signed up to be abused or criticized or yelled at," said Rosenthal.
In general, the best response is to remain calm. When they approach you or speak to you in a raised voice, try to respond courteously and gently try to defuse the situation. Experts often advise stopping what you're doing to listen to them, showing empathy, and being very deliberate about using calm language that won't escalate the situation.
But not every situation can be resolved that easily. Sometimes you may need to call in backup. You can call your charge nurse or your manager to come help you or back you up, Rosenthal suggested. And in more serious situations, you may need to call security, who can have someone behaving aggressively escorted out of the building.
Take care of yourself and your fellow nurses
One critically important thing that all nurses should do is make sure they are not ignoring their own needs. Self-care means different things to different people, Rosenthal noted, but it's important to determine what it means to you.
"I think now is the time they need to strongly uphold their space and boundaries, so the extra negativity doesn't set in," says Saloumeh Bozorgzadeh, PsyD, president of the nonprofit Sufi Psychology Association, which launched a "Caring 4 Our Caregivers" initiative. "Staying in the present moment and filling any extra moment with joy. That may mean listening to funny podcasts as you drive into work, watching sitcoms instead of dramas or the news, playing a game with family, or writing down a few things you're grateful for every day."
You can also encourage your colleagues in this difficult time. "I encourage other nurses by being present, listening and making sure they know they aren't alone," said Rodriguez.
Rodriguez has turned to the AACN's After Work Checklist, which is part of the Well-Being Initiative, and she would recommend it to other stressed nurses to begin decompressing. The four key components of the checklist are Review, Reflect, Regroup and Reenergize.
She's also counselled some of her peers to go into survival mode when it all feels like too much.
"There's so much happening in the world and at work, and it can be overwhelming," she said. "It's okay to focus on your family and your little world and choose a couple of things that take priority when it comes to giving our time and energy."
And when you have a day off, take a little time to reflect, suggested Bozorgzadeh. Figure out one area where you might be able to make some small changes to nurture any aspect of your health.
"No big changes, nothing drastic, just a very small thing you can do to feel a little more balanced in that area," she said. "We don't want this to feel like another thing to do or for it to feel heavy. Just something small that you can be proud of that you are doing."
And ask for help when you need it—whether from a colleague, family member or mental health provider you can access through your employee assistance program or health plan.
"I can't emphasize this enough," said Rosenthal. "It is not selfish to take some time to care for yourself. And it is not a sign of weakness to reach out to someone when you feel you need help."
Looking for a change? American Mobile has thousands of travel nursing jobs across the country, and employee assistance plans with resources to support our travel nurses on assignment.
SEARCH ALL TRAVEL JOBS or APPLY TODAY to connect with a recruiter.