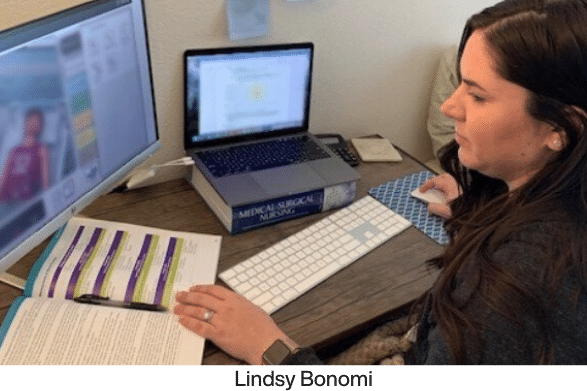 How COVID-19 Is Affecting Nursing Students
The novel coronavirus COVID-19 has upended life as we know it, with shelter-at-home mandates, soaring unemployment rates and unparalleled strains placed on the U.S. healthcare system. Nurses, physicians and other healthcare professionals are working around the clock to care for an ever-growing number of patients.
In addition, the healthcare workforce-in-training has also been affected by the pandemic, including nursing students who have yet to complete their registered nursing (RN) or practical/vocational nursing (PN/VN) programs.
Nursing faculty are figuring out how to convert curriculums and traditional hands-on clinical rotations to online programs, NCLEX licensing exams are being rescheduled and reengineered, and educational conferences and events have been cancelled.
So, how are nursing students handling this—including many who still need to fulfill clinical requirements? We talked to three students and a nurse educator who shared their stories.
Student nurses share how they've been affected:
Susie Fox is getting her ADN and BSN concurrently at Front Range Community College in Westminister, Colorado, and is due to graduate from both programs this May.
"I'm not a traditional student," said the 29-year-old mother of two. Yet, just like her other classmates, Fox had been looking forward to participating in her pinning ceremony and walking for graduation. Unfortunately, things have changed quickly.
Her medical-surgical clinical rotation was cut short, after just two days. Fox and her fellow students left soon after on spring break for a week. By the time they returned, the school had closed its classrooms and the faculty was moving classes and testing online.
"We got approval to do our clinical hours through simulation online," she said. Eventually the students were told they could do their practicum hours virtually, as well. "We will be able to finish, but we won't be leaving our homes, which is very strange."
"It isn't ideal, but nothing is for anyone right now," she continued.
Some of Fox's classmates are looking into paid positions with the local hospital system right now, which she finds tempting, but her situation is making it difficult.
"My 13-year-old isn't in school and my 4-year-old isn't in day care, my husband has been laid off and we have one car, so we are in a tricky situation right now. It is a balancing act."
"If it was just me by myself and I didn't have kids, this wartime-type medicine would be my dream come true. But having a family and worrying about what you are bringing home to them changes things." Fox has been interested in critical care nursing, but is currently concerned about the reported shortages of personal protective equipment (PPE), so may opt for working on a cardiac floor or another area for her first nursing job after graduation.
At least she is looking forward to some job security. "Nursing will always be in demand, no matter the economy and the disasters the world is facing," she said.
Among the things Fox is missing the most are her fellow nursing students, who had grown close, and the time-honored tradition of the nurse pinning ceremony and celebration they had been planning.
She and others on the pinning committee may still try to record speeches to be shared with classmates, but they know the experience just won't be the same. Her graduation ceremony will also be missed.
"This was going to my first and only graduation I ever walked for. I have my cap and gown sitting here; I will take some photos with it on before I send it back," she said.
----
Nursing student Lindsy Bonomi (pictured at top), in her second semester of the associate degree in nursing (ADN) program at Saddleback College in Mission Viejo, California, has experienced little disruption in her educational track. Her classes and lectures have moved online, clinical requirements have shifted to virtual simulations and she's taking her tests online.
"I think that fourth-semester students or students going into preceptorship may feel more affected, but for me, nothing has really been delayed," she said.
"I would definitely want to be doing clinical hours in the hospital since that is the best way for us to learn," she added, "but our clinical instructors have done a good job of providing resources that allow us to continue developing our decision-making skills and critical thinking from home."
Bonomi noted that she and her fellow nursing students want to be able to help as much as they can. Despite any feelings of uncertainty, they plan to remain positive and resilient.
"We've chosen this profession because we want to help people. We want to keep learning so that if this happens again, we'll be better prepared in the future. We want to be part of the solution," she said.
And if Bonomi is required to continue her nursing education virtually for the foreseeable future? She's okay with that.
"It's a different way to help stop the spread, even if it's not hands-on, clinically. It's a way to be part of the solution," she said.
----
Faith Myers is currently pursuing her BSN at the University of New Mexico-Albuquerque, and is due to graduate next May.
"I think the most relevant way this is affecting nursing students' lives is through a lack of clinical exposure," she said, explaining that higher-level students have felt the changes the most. "Hospitals aren't accepting student nurses for clinicals; they are short-staffed and the students aren't as productive as an actual nurse. My school wouldn't allow us to work at the hospital during the pandemic even if hospitals would accept us."
"Most of our classes transitioned very well to online, so the book learning hasn't been affected. The big thing that is missing is clinical judgement and that is an important part of our training."
Myers added, "The faculty leading the program are talking to future employers about offering longer orientations once we graduate to help compensate for that, so I know our faculty is looking out for us."
Myers and her fellow nursing students have also felt the loss of social interaction. "My class is about 60 students and we have the exact same schedule and so we have a family atmosphere as we have shared stresses and struggles…Everyone is struggling with the social isolation."
Many of her classmates who were working part-time or full-time to pay for their education have had their jobs negatively impacted by the pandemic. She has been able to keep one of her two part-time jobs, and has started volunteering at a local food bank. She feels that it is important work in a state where a large portion of the population already lives under the poverty line.
Like most nursing students, Myers is likely to always remember how the COVID-19 pandemic affected her education. "I was in a clinical rotation when the first diagnosis was pronounced in the state," she said.
A nursing educator shares her perspective
As many classes and clinical rotations have been delayed, suspended or moved online, nursing educators are finding a way to make it work. The American Association of Colleges of Nursing (AACN) has urged educational institutions to prioritize graduating students over continuing students, to identify essential clinical activities versus non-essential clinical activities, to move simulations to the virtual space, and to seek guidance from their state boards of nursing and the Commission on Collegiate Nursing Education (CCNE).
"Many courses for students have seen a seamless transition," said Courtney Reinisch, director of undergraduate nursing at Montclair State University School of Nursing in Montclair, New Jersey. Her junior-year baccalaureate students, who were engaged in acute-care or community-based experiences, have worked diligently with faculty members to recreate and build on their clinical experiences in a virtual environment.
She places a big emphasis on keeping everyone as connected as possible. "We want them to have pre-briefing and post-briefing with faculty and students — you learn from other students."
Reinisch and her colleagues have remained nimble as they've pivoted to round every turn. "Since the very first week, everything was changing day to day, and we kept asking ourselves, 'How are we going to get ahead of this? What is this going to look like?' And the faculty members have really risen to the challenge."
Nurse educators across the country have been advocating with their state regulatory agencies to reconsider the requirements for clinical experience in the current environment. Nursing students may be able to clock up to 50 percent of their clinical coursework via simulated methods without it affecting educational outcomes, said Maryann Alexander, PhD, RN, chief officer of nursing regulation at the National Council of State Boards of Nursing (NCSBN), in a March 23, 2020 article for Inside Higher Ed.
Yet, some nurse leaders are concerned about graduating a workforce whose educational process has been disrupted, in a time where protecting public health is increasingly vital. "A lot of nuance can be lost by phone," Reinisch admitted. "Nursing is a high-touch, high-contact vocation." Still, nursing organizations are banding together to propose solutions and ways to mitigate an education and workforce deficit.
"We're working really hard to deliver that experience to our students under these circumstances," Reinisch said.
Reinisch and her faculty are also considering ways in which their student body can make up for any lost time when the height of the pandemic dwindles, almost like a nursing school "boot camp."
"For now, we wait and see how this all plays out," Reinisch said.
In the meantime, Reinisch focuses on celebrating the "little victories" every day, and never losing sight of the finish line. Between Zoom meetings, deadline flexibilities and overtime hours, she and her team of educators continue to collaborate on innovative ways to get their students to graduation.
"We need these people on the front lines," she said. "They're here to support our workforce needs. Everyone has a role in this. We all rely on and support each other."
For more information:
AACN: Coronavirus Resources for Nurse Educators
NCSBN: COVID-19 Impact to NCLEX Candidates
Inside Higher Ed: Clinical Training for Nursing Student Sidelined
Check out AMERICAN MOBILE's COVID-19 resource page for more information, or apply for crisis response nursing jobs across the U.S.