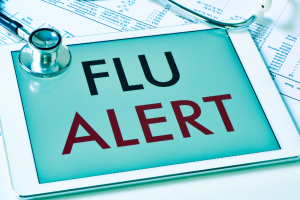 Flu Season in the Emergency Room Department
While no one can predict this coming year's flu season, flu is already circulating in some communities, and emergency department nurses and their hospitals are preparing for an influx of influenza patients.
"Last year was a nasty season," said Richard Webby, PhD, a member of the Department of Infectious Diseases at St. Jude Children's Research Hospital in Memphis and one of a select group of scientists responsible for making recommendations for which flu vaccines will be put into circulation each year.
"The southern hemisphere, which is just coming out of its flu season, as a whole has had a pretty mild season. You can't necessarily use that to directly predict what we might have."
Preparing for Flu Season in the Emergency Department
It is too early to know how severe and widespread the 2018-2019 season will be. But hospitals across the country should be preparing.
Barbara Weintraub, RN, CEN, CPEN, a member of the Emergency Nurses Association in Chicago, said hospitals should monitor weekly flu count at the Centers for Disease Control and Prevention (CDC) website and be ready to implement the predetermined flu surge plan.
"Our Infection Prevention team analyzes daily reports to determine the presence of flu, type of flu and potential need for enacting Sentara's flu prevention standards," said Ralph Rosignolo Jr, RN, director, Patient Care Services – Emergency Department at Sentara Leigh Hospital.
Last year, some hospitals, such as Palomar Medical Center Escondido in California, set up facilities outside to screen patients with flu and keep them separate from the people seeking care for other problems.
Some may have a separate waiting room for flu patients. In addition, some hospitals, including Carolinas HealthCare System in Charlotte, North Carolina, suggested potential patients with mild flu symptoms use the health system's virtual visits.
Sentara Healthcare's flu prevention standards include hygiene stations in the ED to provide guests with masks, tissues and hand sanitizer. Patients with flu-like symptoms receive a "flu-kit" with the same items.
Nurses should monitor supplies of masks to ensure the department does not run out, Weintraub suggested. They also can reach out to local media to explain when people need to seek care for flu.
Other decisions that ED teams and hospitals must make ahead of time are whether to test for influenza and whether to treat with antivirals, Weintraub added.
"We run into shortages and resistance to the medication increases," Weintraub said.
Protecting Yourself Against Flu Symptoms
"Avoid people who are sick and wash your hands a lot," Weintraub advised.
But avoidance is not easy for nurses.
Unless you, the nurse, are healthy, you are not going to be able to properly care for patients. The first step is to receive an influenza vaccination before the season starts. It takes about two weeks to build that immunity, according to the CDC.
"The vaccine we have this year is anticipated to be relatively well matched to the circulating strains," said Webby, who highly recommends the vaccine.
Sentara team members are required to participate in the system's influenza vaccination program, or if excluded to wear a mask at all times while at work.
Webby emphasized the importance of good hand hygiene, covering coughs and sneezes and disinfecting surfaces that might become contaminated with the virus.
"The basic principals about what to do [during flu season] do not change from one season to another," Webby said.
Eating healthy, getting enough rest, and managing stress can help ensure a healthy immune system.
"The healthier your immune system, the healthier you are and the more likely you can fight it off," Webby said.
Dealing with Flu Symptoms When You're a Nurse
If you become sick with the flu, stay home. Do not spread the disease to your colleagues and patients.
At Sentara, team members diagnosed with the flu are asked to stay home until they are symptom-free for 24 hours, and then they must be cleared to return by the Occupational Health Team.
Weintraub cautioned that some hospitals penalize nurses for excessive absences and suggested the hospital human resources department waive those rules for nurses with flu.
The CDC recommends antiviral drugs for patients at high risk of serious complications, such as young children, older adults, and anyone with asthma, diabetes or heart disease. The antiviral drugs should be started within 48 hours.
"Most people do not need to seek treatment for the flu," Weintraub said. "Hospitals are leaning toward giving it to people who absolutely need it."
Facilities and patients need your help this flu season! American Mobile is staffing travel nursing jobs in several specialties, including ER. Contact a recruiter to learn more about flu season opportunities across the U.S.