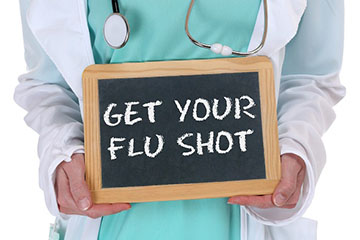 6 Tips for Travel Nurses to Survive Flu Season
Working in various areas of the United States (or even outside of it) and moving between short-term contracts can leave travel nurses vulnerable to contagious illnesses. They often work closely with individuals who are either sick or have compromised immune systems, and frequent contact with patients makes it important to know how to prevent the flu, especially during this year's potent influenza season.
According to the CDC, this year's flu season is particularly intense compared to recent years. Ninety-seven pediatric deaths have been reported so far in the 2017-2018 season, which just concluded its seventh week. Forty-eight states are still reporting widespread flu outbreaks, and a cumulative rate of 74.5 laboratory-confirmed influenza-associated hospitalizations were reported per 100,000 people, the majority of whom are aged 65 or older. The flu tends to affect children and the elderly the most severely each year.
For travel nurses and other hospital workers, it can be challenging to stay healthy, especially during a particularly harsh flu epidemic. Mary Jean Wallace, RN, has worked in nursing for 31 years and currently treats patients at Spaulding Rehabilitation Hospital in Charlestown, MA. She says prevention is critical for nurses who want to avoid the flu.
How to Prevent the Flu: 6 Tips for Travel Nurses
1. Top tip on how to prevent the flu: receive the flu vaccine
"Receiving the flu vaccine is the number one thing travel nurses and medical professionals can do to prevent themselves from contracting the influenza virus," Wallace says. The amount of protection the vaccine provides varies from year to year because individual strains are stronger than others, but Wallace says "some protection is better than none at all."
Oftentimes, individual hospitals have policies that require all staff to be vaccinated against the flu, and those who can't receive a vaccine for personal or health reasons are required to wear a mask that covers their nose and mouth at all times, Wallace explained.
2. Maintain healthy hand hygiene
The influenza virus is spread from person to person primarily through large-particle respiratory droplet transmission, says the CDC. Nurses know when an infected person coughs or sneezes nearby, they can spread flu germs over every surface. Hand washing is vital to prevent the spread of the flu in these conditions.
Wallace says that following proper hand washing techniques is important. Hands should be washed for 20 seconds or more, including the front and back and between your fingers and under nails.
When washing hands isn't feasible, Wallace says, using an alcohol-based hand sanitizer can be an effective alternative. In many clinical settings, hand sanitizer stations are outside of each patient's room, and many hospitals require nurses, doctors and assistants to use it when entering and exiting the room to prevent the spread of germs.
The CDC also recommends wearing gloves when you might come into contact with potentially infectious material, and nurses should obviously not wear the same pair of gloves when caring for more than one patient. Following handling of infectious material, gloves should be removed and hands washed according to proper techniques.
3. Keep surroundings clean
While it's definitely important to keep hands clean, Wallace also reminds nurses to be sure common areas are sanitized as well. "Things like computers, vital sign machines, stretchers and wheelchairs should be cleaned as frequently as possible," Wallace explains. While the flu is often transmitted through airborne particles, individuals can contract the virus from a surface that an infected person has touched.
4. Maintain a healthy lifestyle
While this tip might seem obvious, if a nurse's immune system is weakened, their body is less likely to be successful at fighting off the flu infection. Wallace advises nurses to "get plenty of rest, maintain good nutrition and stay hydrated."
Nurses should also be vigilant of flu symptoms and recognize when they are developing symptoms associated with the virus.
"And if you feel sick — stay home," Wallace said. "That can not be emphasized enough." Travel nurses may worry about their patient loads or commitments, but both patients and co-workers are better off if you don't put them at greater risk of the flu.
5. Participate in training or education offered by healthcare facilities
The CDC recommends that healthcare facilities and hospitals educate healthcare professionals to prevent transmission of infectious viruses, including the flu. Training may be job-specific or task-specific, and the information should be updated periodically. For traveling nurses, who may find themselves in a different hospital every few months, staying updated on protocol at each facility they work at is extremely important for preventing influenza.
According to the CDC, any comprehensive education program should include, at minimum, the following components:
Influenza signs, symptoms, complications and risk factors for complications
Various administrative controls, such as vaccinations, respiratory hygiene, cough etiquette and sick policies
How to use personal protective equipment
6. Obtain a confirmed diagnosis
According to Wallace, "flu is generally confirmed using a rapid influenza diagnostic test, or a nasal swab." Alternatively, a healthcare provider or PCP can often provide a diagnosis based on an individual's symptoms. Confirmation is important not just for peace of mind but also for the hospital to keep track of accurate data. Many hospitals maintain consistent communication with state and local health officials to monitor influenza activity. The right diagnosis also lets you know if you don'thave the flu but do have a cold or other issue that puts you at greater risk of infections so you can take more precautions.
Nurses who do end up with the flu should stay calm and get rest. "Even though it feels miserable, most people feel better within one to two weeks," says Wallace.
When all healthcare professionals who take care of patients with the influenza virus follow facility-dictated procedures and these tips for how to prevent the flu, they can help protect themselves and prevent a more widespread flu epidemic.