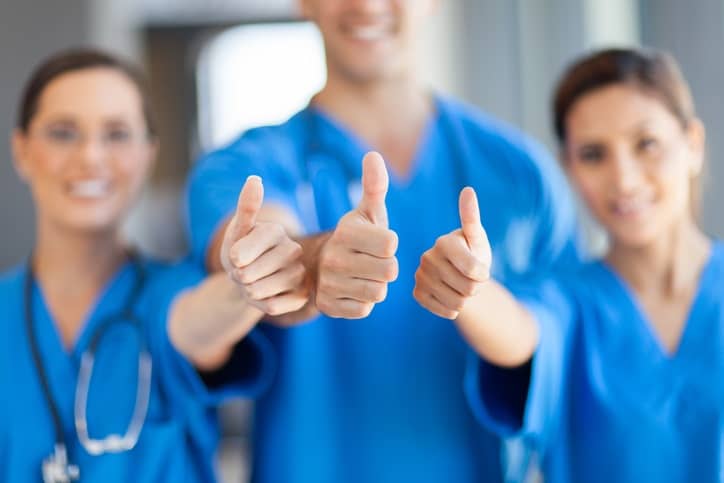 The 15 Best States for Nurses in 2017
Thinking about making a move this year, but aren't sure what the best states for nurses are?
From cost of living to lifestyle amenities to the quantity of nursing jobs available, there are a number of factors to consider when determining the best states for nurses to work and live.
Of course there are subjective and objective elements to evaluate, and American Mobile took a look at the entire gamut.
Each state that made our 15 best states for nurses to work list stands out for a different reason – and many have been recognized on specific national lists -- so take a look and see which factors mean the most to you.
List of the 15 Best States for Nurses
Texas
California
Vermont
Massachusetts
Iowa
Florida
Washington
North Carolina
New York
Colorado
Alaska
Wisconsin
Minnesota
Indiana
Hawaii
1. Texas
We all know that everything's bigger in The Lone Star state, but home prices aren't one of those things. In fact, Texas came in as the fifth best state to make a living in, according to Forbes' 2016 list.
With a median household income of $55,653 and $0 state income tax, and a median home price of just over $160,000 (according to Zillow), attaining the American Dream is very doable.
In addition, Texas travel nursing jobs are easy to come by as the state boasts world-class medical facilities, such as Houston Methodist Hospital, Memorial Hermann-Texas Medical Center, and Baylor University Medical Center.
When you're done with your shifts, you'll find plenty to keep you busy, from big city attractions in Dallas/Ft. Worth, to the music scene in Austin, to small town rodeos and incredible BBQ throughout the state.
2. California
While home prices are not that affordable in California, nurses flock to The Golden State for a number of other reasons. Between the great weather and amenities, the hot job market for nurses, mandated nurse-to-patient staffing ratios, and the wide selection of top teaching hospitals, it's easy to see why this state made our list.
In fact, California is home to 300,000 actively licensed RNs, making nursing the single largest health profession in the state. It's no wonder why California travel nursing jobs are in such demand.
3. Vermont
Coming in at three in the best states for nurses to work list is Vermont. Take a look at any of the "best places to live" lists and you'll likely find Vermont ranked among the top.
For example, the Green Mountain State came in at #3 on CNBC's list of "America's 10 Best States to Live In for 2016," due to its low crime rate, access to healthcare and universal insurance coverage. It is also known as being one of the healthiest states in the nation.
This New England gem is full of picturesque settings and friendly folk that make it more than worth your while to visit or consider taking a Vermont travel nursing job.
4. Massachusetts
This New England state snagged the coveted, number #1 spot on USA Today's list of "America's Best States to Live In" last year, which reviewed three social and economic measures, including poverty rate, educational attainment and life expectancy at birth.
Famous historical sites, cultural amenities, world-class sports teams and regional food offerings make it even more attractive for residents and travelers alike.
Take a travel nursing job in Massachusetts and see why everyone loves this New England state.
5. Iowa
According to the Iowa Economic Development Authority, The Hawkeye State annually ranks among the nation's "Most Livable" states and has a cost of living that is 5.3% below the national average.
With their world-famous state fair and average commute time to work of 18.8 minutes, there are countless reasons why Iowa made our best states for nurses to work list.
The state's capital, Des Moines, was even named the wealthiest city in the country by the "Today" show in 2014, based on its median income relative to the cost of living. That's enough to convince anyone to take a travel nursing job in Iowa.
6. Florida
With all the snowbirds heading south for the winter, Florida has always been a high-need state for staff and travel nurses alike. With no state income tax, this state is often a top selection for those beginning a career--or winding one down.
In fact, U.S. News & World Report ranked Cape Coral, Florida, as one of the top places to retire on a Social Security budget.
With loads of waterfront properties and a median rent less than $1,000, Florida is a definite best state for nurses to work at all stages of their careers. Florida travel nurses can enjoy free housing during their assignments, plus all of those great beaches, theme parks and other state attractions.
7. Washington
The crown of the Pacific Northwest is home to breathtaking scenery and an active and health-conscious population, but it's also one of the best states for nurses based on its higher-than-average median wage—$54,000 (Bureau of Labor Statistics).
Washington travel nursing jobs are also plentiful in Seattle, Tacoma and other picturesque towns across the state. And great coffee shops can be found on nearly every corner.
8. North Carolina
North Carolina is attracting thousands of new residents each year, thanks in part to its natural beauty, notable healthcare system and general affordability with high personal satisfaction.
We ranked it as one of the best states for nurses to work based on these factors, plus its favorable scores on the Council for Community and Economic Research's cost of living index.
North Carolina is one of the few states where you can visit the mountains (including the Appalachian, Blue Ridge and Great Smoky Mountains) and the beaches all in one day. The beautiful shorelines, the small towns and even the big cities are warm and welcoming.
9. New York
Becker's Hospital Review points out that New York is home to 214 hospitals, the third most in the country (only California and Texas have more). More hospitals equal more opportunities for nurses, making The Empire State stand out for nursing jobs.
The country's "best city" (NYC) tops the list of attractions, but there are multitude of things to see and do outside of the five boroughs, too. Upstate New York, including the beautiful Adirondack Mountains, offers a completely different visitor experience.
10. Colorado
Coming in at #6 on USA Today's Best Cities to Live In list, it's pretty clear why Colorado is one of the best states for nurses.
Between the robust job market and low unemployment rate (3.5% in Oct. 2016), job opportunities in Colorado are abound for nurses.
When your shift is over, you'll also find there are plenty of ways to take in all that fresh mountain air, with some of the country's premier ski resorts nearby, plus bike trails, hiking and outdoor activities around every corner.
11. Alaska
Although Alaska has a lower population of nurses per capita than other states, it is one of the highest paying for the nursing profession, making it number eleven on our best states for nurses to work list.
If making a permanent move to Alaska seems too daunting, consider a trial stint by taking an Alaska travel nurse assignment in one of the state's bigger cities such as Fairbanks.
If you do decide to move, BLS data shows nurses in this city can attain a six-figure income. Just think of the adventures you'll have; the awesome glaciers, mountain peaks and lakes you can visit; and the stories you'll have to tell.
12. Wisconsin
There's more than cheese and football in Wisconsin. From being home to one of the top rated healthcare systems in the country to a relatively low cost of living, Wisconsin has many reasons why Livability.com ranked Madison, Wisc., the third best place to live on its "Top 100 Best Places to Live" list.
Looking for scenic, quaint towns and unspoiled beauty? The Sturgeon Bay area can't be beat. Take a travel nursing job in Wisconsin to see what all of the hype is about.
13. Minnesota
With thousands of lakes and a robust healthcare network (the state is home to the renowned Mayo Clinic), Minnesota is a fabulous place to secure a nursing job.
The state took second place on CNBC's "2016 Best States to Live In" list, with a low unemployment rate and strong job market for healthcare professionals.
The Minneapolis area also boasts the largest mall in America – complete with a theme park – among other attractions.
14. Indiana
Every year, the website NerdWallet takes a look at the "Best Cities for Young Families," and Indiana consistently appears as a standout. The contributors evaluate school systems, cost of living and the overall prosperity and growth of individual towns.
At the top of the list? The town of Carmel, Ind., just 20 minutes from Indianapolis. In 2014, CNNMoney also named Carmel the best place to live in the United States.
Looking for things to do? Basketball is big in the state, and the famous Indianapolis Motor Speedway and museum is open to visitors year round. You can also explore museums, parks, beaches and covered bridges to your heart's content.
15. Hawaii
For the fifth consecutive year, Hawaii has been recognized as the healthiest state in the country, according to the "2016 America's Health Rankings."
The state boasts the lowest rate of preventable hospitalizations in the country, and smoking and binge drinking rates have continued to decrease.
This island paradise continues to attract travel nurses and potential RN residents with its incredible scenery, weather and laid-back lifestyle, year after year. Who wouldn't want to take a travel nursing job in Hawaii?
Interested in working in one of the states listed above? American Mobile Healthcare has an abundance of travel nursing jobs across the U.S. Start your search here!