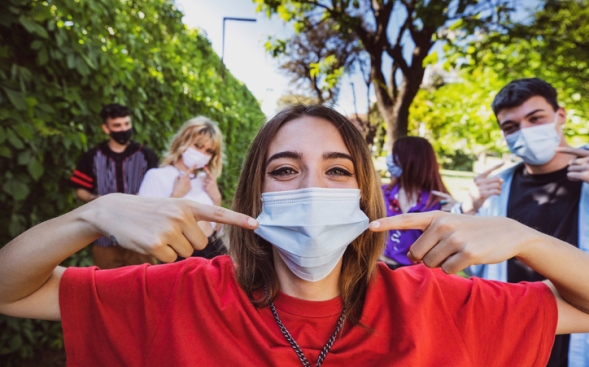 ANA and AMA Urge 'Wear a Mask' for Community
As the number of COVID-19 deaths reached new milestones, the American Nurses Association (ANA), American Medical Association (AMA) and American Hospital Association (AHA) released a joint statement encouraging people to wear a mask, wash their hands and practice social distancing.
"Surpassing the somber and unfortunate milestone of 200,000 American lives lost from COVID-19 is a grim reminder that this pandemic is still very real," said ANA President Ernest Grant, PHD, RN, FAAN. "We must all continue practicing basic steps like washing our hands, wearing a mask in public, and practicing physical distancing to prevent further spread in our communities.:
"ANA will continue to collaborate with organizations like AMA and AHA to educate the public and to call on the administration and Congress to make decisions based on science and to provide emergency relief funds so that our nation's nurses, physicians and health care systems can effectively respond to the pandemic," Grant continued.
The Centers for Disease Control and Prevention (CDC) and the World Health Organization also endorse the use of face coverings.
Robert Redfield, director of the CDC, testified before a Senate hearing that "face mask is more guaranteed to protect me against COVID than when I take a COVID vaccine."
For ANA, AHA and AMA, mask wearing is important in reducing the spread of COVID-19. If people wear a mask, it can reduce the number of COVID-19 cases.
"The data is very strong that masks matter," said Rebecca Dutch, PhD, professor and chair of the Department of Molecular and Cellular Biochemistry at the University of Kentucky in Lexington, explaining research after requiring masks in New York and Italy showed a downshift in COVID-19 cases in both places.
"When we all start to put masks on, we decrease transmission," she said.
Luis Ostrosky-Zeichner, MD, professor of medicine and epidemiology, vice-chair of medicine for healthcare quality, and director of the Laboratory of Mycology Research at UT Health Science Center at Houston, called masks a game changer.
"In our hospital, before we started universal masking, we had a lot of transmission between staff, between patients and staff," Ostrosky-Zeichner. "The moment we implemented universal masking, that all went away."
Many people are heeding the advice. Researchers from the University of Central Florida (UCF) and colleagues in the Risk and Social Policy Group reported an increase of mask wearing when people are indoors not at home, at 79 percent in August 2020. Eighty-one percent of those surveyed owned a cloth mask, 43 percent a paper mask and 18 percent an N95 mask.
"Our data suggest one of the strongest predictors of mask wearing is actually efficacy – so the beliefs that one is both able to wear a mask and the belief that a mask can be effective in avoiding a risk," said Lindsay Neuberger, an associate professor at UCF, in a statement.
Not all face coverings perform equally
Researchers at the University of California, Davis tested surgical and N95 masks and found they reduce the amount of aerosolized particles emitted with coughing, breathing or talking. Fabric masks release large amounts of fibers into the air., so they could not determine if they also blocked exhaled particles.
In September 2020, researchers at Duke University in Durham, NC, investigated how well 14 different face coverings worked, using a camera to record droplets emitted while a person was speaking. They found the neck gaiter dispersed the largest droplets into smaller ones, resulting in even more droplets released than not wearing a mask. N95 masks with an exhalation valve allowed for strong "outwards airflow."
University of Cincinnati, Ohio, researchers studied different materials for face masks and found that the single-use N95 mask worked best, followed by a face covering made of silk. Not only is silk comfortable and breathable, it can repel moisture, and silk contains antiviral properties.
Researchers at the Georgia Institute of Technology reported they have developed a more comfortable fabric mask that fits tightly and is customizable and washable.
Mask availability at work still a challenge for U.S. nurses
While ANA, AHA and AMA mask wearing recommendations are for the general public, nurses continue to experience shortages of personal protective equipment (PPE) on the job. Reuse of PPE remains common. Among the 21,000 nurses surveyed by the ANA in July and August, 42 percent indicated widespread or intermittent shortages of PPE. More than half of the nurses said they are using single-use products, such as N95 masks, for five or more days, with 68 percent reporting it is their facility's policies to reuse masks.
Grant called the "Re-use and decontamination of single-use PPE as the 'new normal' unacceptable," adding that re-use practices contribute to nurses' emotional stress. Wearing a reused mask made 62 percent of surveyed nurses feel unsafe.
The chairman and CEO of N95 mask maker 3M admitted to Newsweek that demand for N95s exceeds his company's ability and the industry's capacity to produce them.
What more can you do?
The experts recommend social distancing, avoiding crowded places and frequent hand washing.
ANA, AMA and AHA also encourage Americans to get a flu shot.
"With no end to COVID-19 in sight, a bad flu season has potential to cause additional strain on our health system that is still battling the pandemic," the three organizations said. "America's physicians, nurses, and hospitals and health systems thank you for doing your part."
AMERICAN MOBILE has thousands of travel nursing jobs across the country.
FIND YOUR IDEAL ASSIGNMENT or APPLY TODAY to connect with a recruiter.