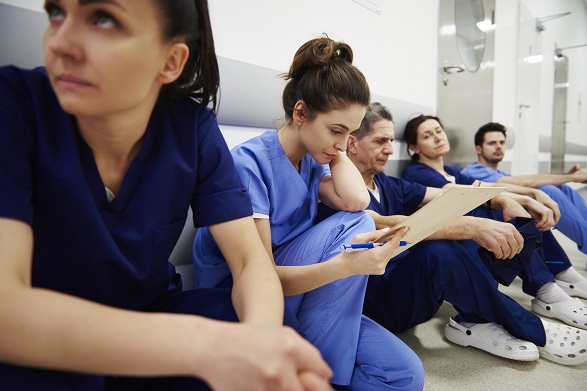 Caring for the Mental Health of Healthcare Workers
By Debra Wood, RN, Contributor
The novel coronavirus has presented healthcare professionals with unprecedented challenges, including caring for contagious, critically ill and dying patients while at times dealing with limited personal protective equipment. Along with the personal risk of acquiring the virus, healthcare professionals may also face stress on the job, leading to compassion fatigue, moral distress and post-traumatic stress disorder.
AMN Healthcare's Senior Director of Recruitment that leads the clinician experience, Patrice Berish, said "I am hearing every day from nurses that, 'It feels like going into a war zone.' Everything about the nursing experience has become more risky and sometimes even more desperate."
Berish is one of a number of clinical, recruitment and human resource leaders at AMN Healthcare with a passion and purpose to provide more support for frontline healthcare workers and team members who have raised their hands to support during the coronavirus pandemic through times of on-assignment, quarantine and beyond.
"We know how important it is to be a support network for our healthcare professionals," Berish said. "This goes beyond their physical health and includes a broader support network at AMN for their mental, family and financial health concerns. We are here at a time when our healthcare professionals may be isolated."
As Berish noted, health concerns can also include mental health.
"Physicians and nurses already have high rates of burnout, depression and substance abuse," said Jessica "Jessi" Gold, MD, MS, assistant professor in the Department of Psychiatry at Washington University in St. Louis. Dr. Gold, also splits her clinical time between the Habif Health and Wellness Center and outpatient psychiatry at Barnes Jewish Hospital in New York. Named one of Medscape's top 20 physician influencers in social media in 2019, Gold's bio highlights her efforts to educate patients on issues surrounding psychiatry and mental health topics by using social and other media outlets.
"We don't have a good baseline of mental health," Gold added. "If we were starting at zero, this might not be compounding so much."
Current factors that can contribute to clinicians' mental health issues include being confronted with a risk of infection and bringing the virus home to families, worries about the potential of one's own mortality, not having enough personal protective equipment, a changing work environment, practicing in areas in which they are not trained, and frequent patient mortality.
A survey of nearly 10,000 nurses conducted by the American Nurses Foundation (ANF), the philanthropic arm of the American Nurses Association (ANA) (https://www.nursingworld.org/news/news-releases/2020/new-pulse-on-the-nations-nurses-survey-series-half-of-frontline-nurses-emotionally-overwhelmed-by-covid-19/ ) found 52 percent of nurses continue to feel overwhelmed amid the pandemic, 29 percent feel depressed and 72.8 percent are experiencing irregular sleep patterns.
Compassion fatigue "has an effect on the patient and the provider," Gold said. "Providers who are burned out, morally stressed or hurting are less empathetic and are less present."
Compassion Fatigue and Mental Health Awareness
Compassion fatigue, also referred to as secondary trauma, occurs when healthcare workers care for suffering people, according to the U.S. Department of Health & Human Services. Symptoms include withdrawal, difficulty sleeping, and changes in appetite. In addition, joint pain, numbness, anger, lowered concentration, sadness and helplessness could also be attributed to compassion fatigue. These symptoms not only affect the clinicians but also the units in which they work.
A JAMA Network Open article about mental health among 1,257 healthcare workers in China treating COVID-19 patients reported depression, anxiety, distress and insomnia, especially women, those in Wuhan and frontline workers.
This COVID-19 pandemic has led to family visitation restrictions. Many hospitals are not letting family members visit, meaning nurses are likely the only ones present to stay with a dying person, perhaps trying to connect the patient with a loved one by smartphone.
"We are asking a lot of providers to do that, but patients need that," Gold said.
Gold indicated that some healthcare professionals are grieving the trauma they witness and the decisions they may have to make due to a lack of resources. Unfortunately, some of those affected may decide not to continue their healthcare careers.
Others may experience post-traumatic stress disorder (PTSD). A study from the United Kingdom estimates the risk of PTSD for frontline workers during the pandemic at greater than 10 percent.
While it's important to remember that this COVID-19 pandemic will end, there is currently no end in sight, stretching professional caregivers to their limits.
Preventative Actions to take
Traditional preventive and treatment measures include maintaining work-life balance; relaxing; practicing meditation or mindfulness; connecting with loved ones; enjoying nature; expressing oneself through creative activities, such as art or music; learning to say no; journaling; caring for oneself; and asking for help now and in the long term.
"We need to make the work environment more open and available to talk about mental health and stress and strains," said Gold. She encourages changing the workplace to eliminate the taboo and stigma associated with seeking counseling.
During this pandemic, some self-care and wellness suggestions are not practical. Some nurses are working 12-hour or longer shifts, 21 days in a row. Many are staying in hotels to avoid potentially bringing the virus home to their families. That means they are in isolation without the social support and love they need.
"Healthcare workers are not always good at caring for themselves," Berish said. "They are used to providing care for others. … We can help them by being available and providing resources where appropriate."
Wellness and Mental Health Resources
The ANA, ANF, the American Association of Critical-Care Nurses, the Emergency Nurses Association and the American Psychiatric Nurses Association developed the Well-being Initiative (https://www.nursingworld.org/practice-policy/work-environment/health-safety/disaster-preparedness/coronavirus/what-you-need-to-know/the-well-being-initiative/) to build resilience and offer nurses free access to tools, apps, resources and more to support their emotional well-being during the pandemic.
Through the initiative, ENA leads one-hour, virtual peer-supportsessions, led by volunteer facilitators, called "Nurses Together: Connecting through Conversations." It provides a way to connect virtually with other nurses for support and sharing of information that could benefit their peers.
Elaine O. Cheung, PhD, a research assistant professor in the Department of Medical Social Sciences at Northwestern University Feinberg School of Medicine and Osher Center for Integrative Medicine at Northwestern Medicine, both in Chicago, wrote in a summer 2020 issue of AACN Advance Critical Care about a positive emotion skills intervention for critical care nurses to help avoid burnout. Nurses can practice the quick and easy strategies, including noticing positive events, gratitude, mindfulness and self-compassion, into their days to help them cope. (https://aacnjournals.org/aacnacconline/article-standard/31/2/167/31032/Positive-Emotion-Skills-Intervention-to-Address)
AACN also provides resources for addressing moral distress, including tools to identify the causes, gauge the severity and move forward.
Universities also are offering resources. The University of North Carolina, Chapel Hill is offering a Healing Heroes Helpline, and other resources. On the other coast, the University of California, San Francisco has created a website with free resources, including health apps and referrals to counseling. Additionally, the Physician Support Line offers free phone consults with psychiatrists.
RN.com, an AMN Healthcare Education Service, offers a free continuing education course "Managing Stress: A Guide for Healthcare Professionals."
AMN Supports its Healthcare Providers
Julie Gordon, Director of Enterprise Benefits and Wellness for AMN, highlighted the company's emphasis on wellness.
"AMN Healthcare has done a great job, bringing mental health to the conversation over the past several years," said Gordon. "We want the healthcare professionals to know we support them."
Wellness Ambassador for AMN Healthcare, Kristin Mitas, added, "Our company has partnered with the National Alliance on Mental Illness (NAMI) to make AMN a stigma-free company and a psychological safe place to discuss mental health."
AMN Healthcare's employed healthcare professionals can receive five free counseling sessions through the Employee Assistance Program (EAP). Mental health practitioners answer the telephone and are able to provide on-the-spot emergency counseling. A clinician's household members can call as well.
AMN has also partnered with a national telehealth service to add on additional no cost, unlimited virtual visits with mental health professionals as well as primary providers including COVID evaluation and return-to-work clearances. The company is also sharing free access to some sections of the Calm.com website, which offers meditation, mindfulness and relaxation tools.
Additionally, AMN continues to provide quarantined clinicians with pay, housing, benefits and other services for up to 14 days. A member of the AMN Clinical Care Team checks in with anyone in quarantine daily, listens to their frustrations, and ensures their needs are met.
"Whether it's ordering groceries, providing some chicken soup or a care basket, these are the little personal touches that matter to clinicians," Berish said. "AMN has stepped up to be their lifeline."
The Clinical Team also makes "care calls" to travelers who may have lost a loved one or experienced other significant life events and provides tender, loving care, Berish explained. The AMN Clinical Team may call families of a hospitalized traveler upon request, or they may help the nurse or other provider with coping skills.
Despite the COVID-19 risks to physical and mental health, nurses have stepped forward and volunteered to serve in hot zones and help fellow nurses. They know they will receive support from the clinical team. Some have left their full-time jobs and others have come out of retirement.
"It is awe-inspiring," Berish said. "Nurses want to help, even knowing what they are walking into."
LEARN MORE about how American Mobile is supporting your mental health.
Sources:
https://jamanetwork.com/journals/jamanetworkopen/fullarticle/2763229
https://journals.sagepub.com/doi/full/10.1177/2048872620922795