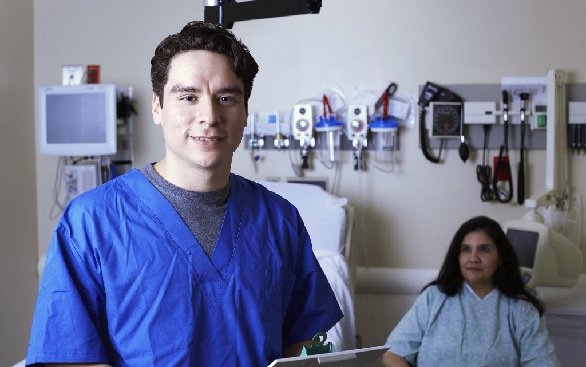 5 Reasons Men Should Consider a Career in Nursing
Nursing has traditionally been a female-dominated field, but male nurses are slowly entering the workforce. The notion that caregiving is a job only for women is outdated, but a stigma persists about men who pursue a nursing career. Some of the biggest pet peeves of male nurses are stereotypes and the assumptions that they're either gay or medical school dropouts. Although a gender gap in nursing is readily apparent, nursing is a rewarding career, whether you're a man or a woman. Here are just five reasons why men who enjoy caring for others should give a nursing career serious thought.
American Mobile helps you find travel nursing jobs that allow male and female nurses to work anywhere around the globe.
5 Reasons Men Should Choose a Nursing Career
"The stigma of male nurses has changed significantly in the past 20 years," assures Catherine Burger, BSN, MSOL, RN, NEA-BC, at RegisteredNursing.org. "It's not uncommon, especially in the areas of Emergency and Intensive Care, for male nurses to make up a third of the staff. Nursing is an excellent career for men, and here are five reasons why."
1. Job security
"As projections of shortages continue to plague the profession, job security is almost guaranteed," points out Burger.
According to the Bureau of Labor Statistics, employment of registered nurses is expected to grow 15 percent from 2016 to 2026. The demand for health care providers will likely increase due to an aging population and caring for patients with various chronic conditions. Increased job opportunities are also expected due to the need to replace retiring nurses, which further adds to nursing shortages.
2. Excellent pay
Burger also cites excellent pay as a great reason for men to pursue a nursing career. In fact, according to Medscape's 2017 RN/LPN Compensation Report, male RNs grossed $84,000 annually, while their female counterpoints earned only $80,000, despite men only making up 9 percent of the workforce. Medscape further found that a salaried male nurse's pay averaged $89,000 compared to $81,000 for females in 2016.
Before female nurses get too upset over this news, Medscape's full report points out several key factors that account for this wage gap. The biggest factors are that male nurses tend to work more overtime, work in higher paying settings and take more on-call and high-differential shifts that pay premium rates.
3. Flexibility
Burger also brought up flexible shifts, depending on the job, saying that "hospital nurses typically work in shifts of 8, 10 or 12 hours, and many outpatient nurses work 9 to 5 weekdays."
Duquesne University School of Nursing agrees that nursing is one of the few professions that offer multiple opportunities for flexibility in scheduling. They state that some facilities are even exploring seasonal scheduling that allows nurses to work full-time September through May, then take summers off without losing their full-time benefits. Seasonal staff can opt to pick up additional shifts during the summer or take three months off.
4. Geographic flexibility
"Nurses can literally find work around the globe," states Burger.
This is especially true with travel nursing jobs that allow you to work in a variety of settings all over the country.
Geographic flexibility extends beyond the state or city you work in. Nurses have tremendous flexibility in their workplace setting. While 61 percent of nurses work in hospitals, male nurses can opt to work in doctors' offices, outpatient practices, home health care, nursing care facilities, the military, schools or other medical centers. Male nurses who choose hospitals, also have numerous departments to choose from.
5. Work variety
"Nurses can change focus and specialty while still being a nurse," explains Burger. "From ICU to Emergency to Cardiac Cath Lab to Recovery Room to Cruise Ship to Organ Donation Coordinator to Wound Care Nursing, etc., the list for nursing roles is growing each year."
With hundreds of specialty areas in nursing, you're sure to find something that suits you. Male RNs have access to several different types of jobs and career paths, including numerous nontraditional nursing roles outside a clinical setting.
If you've always wanted a career that allowed you to help people and truly change lives, then it might be time for you to find out. Forget about the stigma. The pay is great, the opportunities are endless and you go home knowing you did something positive for someone else.