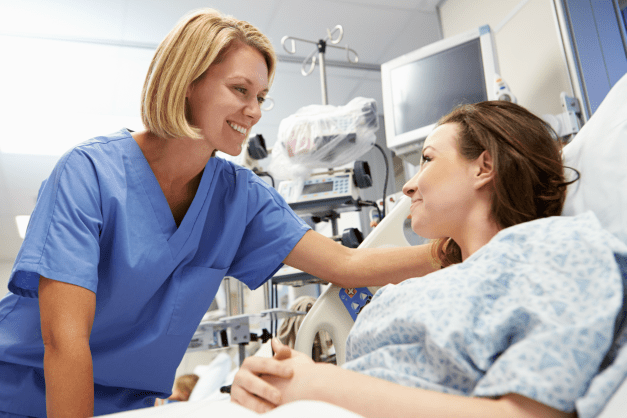 RN Survey Finds More Concerns About Nursing Shortages
2017 nurse survey also highlights nurse job satisfaction and other workplace trends
The nursing shortage appears to be worsening and more baby boomer nurses are preparing for retirement, according to the results of the 2017 Survey of Registered Nurses, just released by AMN Healthcare. The survey also revealed new insights about nurse job satisfaction, nursing education and nurse leadership roles.
"We are adding more jobs and people are pulling themselves out of the labor pool permanently—the retirement piece—and you have all of these forces for turnover," said Frederick P. Morgeson, PhD, the Eli Broad professor of management at Michigan State University in East Lansing.
"This is a fundamental macro trend that is chronic. [Nursing shortages are] here now and will be here for a long time," he continued.
Nearly half of the nurse survey respondents, 48 percent, thought the nursing shortage was worse today than five years ago. That is up from 37 percent in 2015. More than 3,300 participated in AMN's latest biennial survey of registered nurses.
Marie Spencer, PhD, RN, CRRN, vice president, nursing/chief nursing officer, Burke Rehabilitation Hospital in White Plains, New York, reported fewer nurses applying for open positions.
"With nurse practitioners on the rise, acute care hospitals, rehab hospitals, nursing homes are feeling the crunch," Spencer said. Additionally, nurses are working for insurance companies and other nonclinical positions.
Even with a shortage of nurses, 67,000 qualified applicants for nursing programs were turned away, reported Filomela 'Phyllis' Marshall, dean of the W. Cary Edwards School of Nursing at Thomas Edison State University in Trenton, New Jersey. That's primarily due to a lack of faculty, preceptors and clinical sites.
PICK where and when you want to work with travel nursing jobs across the U.S.
Nurse Retirements
Nurse retirements will add to the nursing shortage. The AMN survey found 73 percent of baby boomer nurses planning to retire will do so within three years; 45 percent plan to do so within a year. The survey's authors said that data suggests the nurse retirement wave is under way.
The baby boomer nurse retirements also represent an institutional knowledge drain.
Nurse Job Satisfaction vs. Career Satisfaction
A vast majority of nurses surveyed, 83 percent, said they are satisfied with their career choice, while just 60 percent reported job satisfaction with their current position. The nurse survey also found two-thirds of RNs would encourage others to become nurses.
Marshall considered the nurse job satisfaction a positive for the profession.
"There is satisfaction from doing the work, but there are also demands," Morgeson added.
While nurse job satisfaction was high, more than half, 55 percent, of respondents to the survey of registered nurses also expressed concerns that their jobs were affecting their health. Nursing has physical demands, Morgeson explained. The psychological demands also present nurses with stress, including families, dealing with death and the fast pace, he said.
Nursing Education
The AMN nurse survey found 48 percent of nurses say they won't pursue further education, which is up from 43 percent in 2015. Of those planning to continue their education, 21 percent will seek a master's degree and 16 percent a bachelor's degree in nursing.
Only 23 percent of millennial nurses were not planning to continue their education. Thirty-nine percent of the millennials want to pursue a master's degree.
Marshall said that many nurses have already earned a BSN, which could contribute to the results. Additionally, she indicated it could be due to the aging of the nursing population.
Spencer explained that nurses often are not compensated appropriately for additional education.
"A lot of nurses do not feel they want to go on," Spencer said. "Because it's more stress going to school, and they are not compensated for it."
Nurse Leadership
The 2017 Survey of Registered Nurses found that 82 percent of respondents agreed or strongly agreed that more nursing leaders are needed, yet 61 percent of the nurses surveyed said they would not consider moving into a leadership position.
Hospitals typically promote nurses who are good bedside nurses to leadership roles, but they may not have management skills, Morgeson said. He explained that many nurses enter the profession, because they like helping people, not for the leadership opportunities.
"They would rather go home at night and not have the stress of phone calls at night and never having down time," Spencer said. "You give up a lot of your life, and a lot of people do not want to do that."
Spencer has mentorship and training programs to help bedside nurses move up to management at Burke.
Millennial nurses (ages 19 to 36 years) from the nurse survey were more likely to be interested in a leadership position.
"When you have a younger person in the beginning of their career, they are more career focused and ambitious," Morgeson explained. "It's a career stage phenomenon."
ADVANCE your nursing career with travel nursing jobs at top facilities across the U.S.
APPLY with American Mobile to get started!