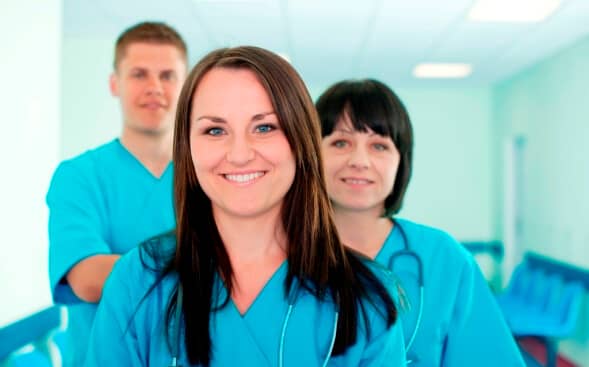 4 Ways to Keep Your Mind Sharp
Learning new skills and updating previous ones is crucial in the medical field, but did you know that it can also improve your mental well-being? Pursuing formal and informal education helps boost your self-confidence and self-esteem, improves your sense of purpose, enhances professional and personal satisfaction and connects you with others.
When you combine the many perks of learning, it's no wonder it's touted as a great way to improve mental health for nurses and frequently came up among healthcare professionals discussing four ways to keep your mind sharp and improve nurse mental health.
4 Ways to Sharpen your Mind and Improve Mental Health for Nurses
Nurses maintain mental health and keep their minds sharp in many ways, but pursuing education consistently comes up as one of the top methods.
Self-care and leading a healthy lifestyle are also credited as some ways to enhance mental wellness in these tips.
1. Continue your education
Nurses are expected to continue their education to stay current on the latest medical advancements, but expanding your mind through education also keeps your mind sharp and can even improve mental health for nurses. Whether this means earning new certifications, training in another practice area or pursuing higher education, all types of learning help keep your mind in shape.
Rebecca Park, RN and founder of the natural health resource Remedies For Me, is a nurse manager at one of the busiest hospitals in New York City. She says the first step to improving mental health for nurses is to never lose your sense of curiosity and always keep learning.
"There are new discoveries popping up in healthcare all the time, and it's the healthcare worker's responsibility to keep themselves sharp and current," explains Park. "Continue your education. Apply for your master's or doctorate and keep learning new skills. A lot of programs are offered online these days, so you can keep working while getting your degree. There are also part-time programs available, so you can finish school at an easier pace."
"Nurse educators are life-long learners, and life-long learning helps keep minds active," adds Professor Louise S. Jenkins, PhD, RN, FAHA, ANEF, who's the Director of the Institute for Educators and Director of Teaching in Nursing and Health Professions Certificate at the University of Maryland School of Nursing.
2. Educate yourself
Park points out that when you work in the same unit or department for a few years, you tend to lose nursing skills or knowledge you haven't used in a while. To keep your skills current, educate yourself through every possible avenue.
"Read books and websites that cover various nursing topics to keep yourself current," suggests Park. "There are also free apps that go over different nursing topics. Subscribe to or join different nursing groups, communities and organizations. A lot of these organizations send out free nursing magazines and newsletters that include recent studies that cover new discoveries and updated practices."
3. Find support with other nurses
Joining professional organizations provides educational materials and helps you connect with others in the field. These connections may lead to finding and/or becoming a mentor, which may enhance mental health for nurses by encouraging them to share feelings about stressful situations with someone who can relate.
In addition to joining nursing organizations, you can also find like-minded individuals at professional events. Park encourages nurses to "go to nursing conferences. Most hospitals give you a certain number of conference days each year, aside from your sick and vacation days. If you don't use them, you lose them, so why not take advantage of learning topics that perk your interest, for free! Most hospitals also offer reimbursement for the conference fees, room and board and flights."
4. Maintain a healthy lifestyle
Nurses who work long shifts, especially 12-hour shifts, often experience a great deal of stress, which takes a toll physically and on nurse mental health. Pursuing healthy habits can help improve both, but so does a balanced lifestyle.
Assistant Professor Linda Diaconis, PhD, RN, who's the Director of Health Services, Leadership and Management at the University of Maryland School of Nursing agrees, "the best way for nurses to keep their minds sharp is to maintain a healthy lifestyle. In addition to good nutrition, sleep and exercise, a balanced lifestyle includes maintaining relationships amidst the demands of work, school and home responsibilities."
While intellectual and physical well-being are both beneficial to good mental health for nurses, to create and maintain an overall balance, it's also important to address your social, emotional and spiritual well-being. Don't forget to set aside time for yourself and the leisure activities you enjoy to fully address all your needs.