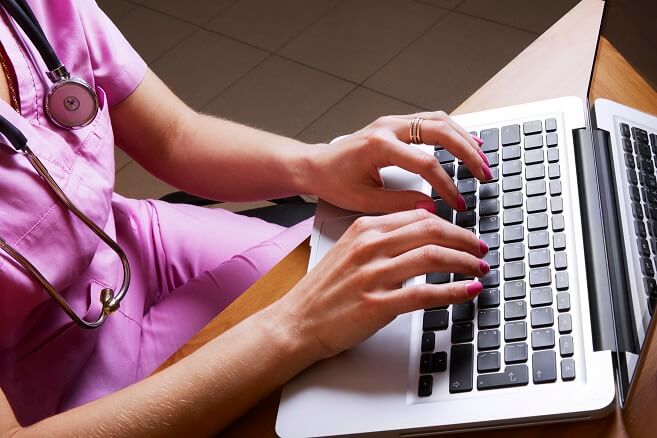 Write the Perfect New Grad Nursing Cover Letter
When you're ready to move from the classroom to facility, a well-written resume and cover letter are crucial to making the best first impression possible.
You already know that your resume needs to include your job history, academic experience and nursing credentials, but knowing what to include in the cover letter is not as clear. Lots of new grads are apprehensive of nursing cover letters, but there's no need for that. Use these eight steps for writing a great cover letter and you'll be on your way to the next step in your career.
The 8-step formula for a standout nursing cover letter
1. Address it to a specific person
Starting with a generic greeting is one of the biggest nursing cover letter mistakes you can make. It's a red flag for HR that you didn't care enough about the position to do some research and find out who would be tasked with looking over applicants.
In most cases, you can find this information online on the facility's website or its LinkedIn page, but if you're having trouble, it's usually a safe bet to go with the name of the Human Resources Director.
2. Ensure formatting is consistent
Attention to detail is an important soft skill for any position but even more so when it comes to the healthcare profession. In your daily duties, making a mistake can literally mean the difference between life and death.
Show potential employers you're serious about your work by taking the time to properly format your cover letter. This means creating a header that matches your resume, making sure all the spacing and fonts are consistent and double-checking accuracy.
3. Focus on the employer
When you're creating your nursing cover letter you definitely want to focus on showing your skills and experience in the best possible light, but this doesn't mean you should only focus on yourself. Remember that the person reading your nurse cover letter is trying to fill a need. They're looking for someone to help them, not the other way around.
If your cover letter is all about you, you're sending the message that you're just looking out for yourself and your own career advancement. Instead, position your skills and expertise so that it shows the reviewer what you bring to the company and the role.
RELATED: 12 Ways for Nurses to Stand Out in Today's Job Market
4. Be specific
Phrases like "detail-oriented" and "team player" used to be commonplace on application materials, but now, they're considered overdone. The majority of applicants for nursing positions are going to be all of these things, so you'll need to include specifics — the more numbers and stats the better — to set yourself apart.
As a new grad, you may not have a lot of clinical experience to pull from, but you can still include things like familiarity with specific nursing software and proficiency in certain procedures in your nursing cover letter.
5. Highlight professional memberships
Being a member of a professional organization shows potential employers that you're serious about your career, and it's also a great way to participate in group events and learn valuable information you can apply to the job.
Deciding which nursing association is right for you can be a bit overwhelming at first, but you just have to narrow the field. If you're planning on specializing in something — say, pediatrics, oncology or obstetrics — look for these specific associations first and move out from there to the more general.
Make sure you don't get too excited. Spreading yourself too thin makes it harder to interact with the group and can come off as just gathering bullets for your resume. When it's time to include these memberships in your nurses cover letter, make sure to give any relevant details on events you attend or positions you hold.
6. Show off clinical experience
Even as a new grad, you still have some experience with patients, and you'll want to make sure you include that in your nursing cover letter. Think about what you may have really excelled in or enjoyed during your labs. You may also want to mention what you're most looking forward to when it comes to working with patients.
7. Conclude with a call to action
A great nursing cover letter always ends on a positive, friendly note, but to set yourself apart from the pack, go a bit further than thanking the reader for their time. Show that you're serious about this specific position by giving the reviewer a time frame that you'll check back in. It can be as simple as "I'll call next week to follow up."
Just make sure you do follow up, because some hiring managers use this lack of follow-through as a way to cull the stack if there are a lot of applicants for the position.
8. Have a friend — or two — proofread
It's true that knowing the difference between a comma and a semicolon can seem trivial when your job has you in charge of people's actual lives, but good grammar, proper spelling and accurate punctuation are crucial in your new graduate nursing cover letter. Clean, concise writing shows that you've taken the time to look over the document and do everything you can to make it the best it can be.
If this has never been your strong suit, enlist an grammar savvy friend to look it over. Even if you're great with grammar, it's still a good idea to have a couple of other people — preferably people who work in nursing — take a look through and give you some feedback. It's easy to miss small typos when you've been working on the same document for several hours, and there may be some industry-specific dos and don'ts you'll want to be aware of.
Graduating from nursing school is a major accomplishment, but it's also only the beginning of your career. Take the first step toward your dream job by crafting a detailed nursing cover letter that highlights your skills and passion for helping people.