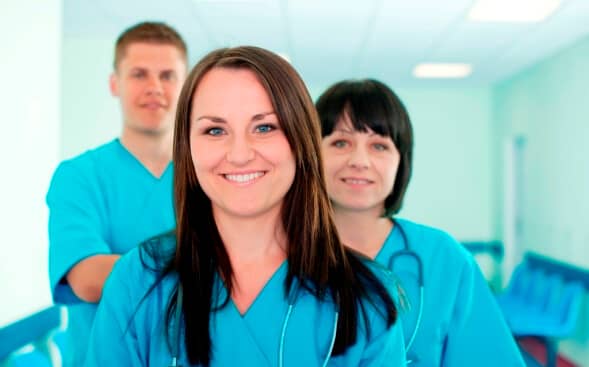 12 Ways for Nurses to Stand Out in Today's Job Market
The job market for nurses has improved in recent years, but still varies in strength by region and city. So how does a nurse make an impression as the right candidate at facilities that are hiring?
Consider these 12 tips, incorporating advice from industry experts, to help you stand out and get the nursing job you are seeking:
[Find your ideal travel nursing job, in your choice of locations.]
1. Know thyself
The best way to begin a job search is to define what you are looking for and to understand what kind of position and work environment will fit you best.
Career counselor Lynn Berger in New York recommends starting with a self-assessment. Consider not just clinical skills but also values and temperament.
2. Prepare a dynamite résumé and cover letter
New graduate nurses should highlight school activities, special projects or involvement in a student nursing organization. Talk about past job experience, even if it's not in the health care field. New nurses should offer examples of their great work ethic, Berger said.
Seasoned nurses can highlight their enthusiasm, experience and ability to immediately contribute, Berger added. They also can focus on their dedication to staying current and eagerness to embrace change.
Don't forget to proofread and double-check for errors before sending, and use a font all computers can read, such as Arial.
3. Apply for positions that are a good match for your skills
Employers will determine the skills, abilities and experiences needed for the position and only hire candidates who are a good match, said Todd Harris, PhD, director of science for PI Worldwide in Wellesley Hills, Mass. So focus your energies on the nursing jobs that closely match your skills. If you're in the market for travel nursing jobs, your American Mobile recruiter can help you locate temporary positions (usually 4 – 13 weeks) that match your current abilities and will help you gain valuable experience for future jobs.
4. Answer ads quickly, using the right keywords
Sign up with Indeed.com or other ad consolidators. Each morning a list of nursing jobs meeting your requirements will pop into your inbox. You can also sign up for travel nursing job alerts with American Mobile.
Customize your résumé and cover letter to include the keywords mentioned in the advertisement. Many organizations screen incoming applications electronically, looking for specific words.
5. Network, network, network
Talking with other people--sharing your goals and aspirations--leads to more job placements than any other means. Nurses know what's happening in their communities. Peers will know about possible job openings, often before they are posted. Attend conferences, career fairs and professional meetings. Go to lunch with an old friend. Keep in touch.
In-person meetings are best, but nurses can also network online, using LinkedIn or Facebook. Employers will often check a candidate's LinkedIn page, so keep it current and professional.
"Everyone must present a good social media face," said Berger, advising nurses to clean up existing pages and tweets to project a professional image.
New to an area? Volunteer at a free clinic to meet fellow nurses and talk about the type of position that interests you. Showing how professional you are in that setting can lead to references from the other nurses or the clinic manager.
6. Prepare for the interview
Don't just show up and hope for the best. Prepare for an interview by reading up about the organization so you can ask appropriate questions. Be on time. Dress professionally. Stand tall. Give a strong handshake. Make eye contact. Smile. Be ready for some tough questions. Turn off the cell phone. During the interview, show how energetic and capable you are. Demonstrate flexibility.
"Nurse managers and leaders need to know that the nurses they hire have strong problem-solving skills," said Meredith Roberts, interim BSN director at Vermont Technical College in Randolph. "How will the interviewee respond to a stressful situation? Often a nurse may be given a situation, and asked how they would handle it, and what would they do first."
"Do they know when, and how to get help, and can they recognize when they are in over their head?" she continued. "Safety is priority. The nurse who can triage, or prioritize confidently, calmly, and effectively will stand out."
7. Show how you can bring value to the organization
Hospital hiring authorities want to know what value an employee is going to bring to the facility, how that person will help it meet the organization's goals, said Peter Buerhaus, PhD, RN, FAAN, who is well known for his studies and publications focused on the nursing workforce. He is currently professor of nursing and director of the Center for Interdisciplinary Health Workforce Studies at Montana State University.
Buerhaus suggested nurses put themselves in the place of management to figure out where priorities might be. Nurses might want to highlight past examples of how they improved care, reduced readmissions or contributed to some other benchmark at a previous job.
Employers will want to know "how nurses directly acted to improve the quality of care, improved care delivery processes and reduced the cost of care," he explained.
Ask about the employer's goals and show how you could contribute to meeting them.
8. Demonstrate the attributes of a team player
Kristin Baird, RN, BSN, MHA, president/CEO of Baird Group in Fort Atkinson, Wis., said organizations hire people who will fit in well with the facility's culture. This goes for both staff nurses and travel nurse candidates.
"Communicating effectively with patients, physicians and other health team members is another essential component," Roberts added. "It makes life easier for the managers/leaders if they hire team players that advocate for patients and students collaboratively, making the workplace a positive environment. Any sign of a toxic personality that would not be constructive for the workplace will lower your chances of getting hired."
9. Consider positions outside of a hospital
Healthcare is moving to the community. As jobs are being lost in hospitals, they are being gained in other settings, such as home care, clinics, insurance chronic disease management, call centers and informatics.
Nurses may also want to consider travel nursing positions that can give them exposure to a variety of facilities and work environments across the country.
10. Go back to school: Earn a BSN
The Institute of Medicine recommended in the Future of Nursing: Leading Change, Advancing Health report that 80 percent of nurses be baccalaureate of nursing science-prepared by 2020; hence, more employers in the workplace are hiring nurses who are BSN prepared, or who are enrolled in an RN-to-BSN program such as Vermont Tech offers, Roberts said.
11. Shadow a nurse
If the process proceeds to an interview, ask the employer if you can shadow a nurse in the position under consideration. This will allow you to get a better feel for the job and the unit, while demonstrating your interest.
12. Ask for the job
Show you are interested in the nursing job, and tell the hiring manager you want to work at the organization. Follow up with a written thank you note for an interview or shadowing opportunity.
The recruiters at American Mobile can help you stand out with more travel nursing jobs--including exclusive jobs--and our expertise as the leading travel nurse agency in the United States. Contact us today!
Originally published on NurseZone.com.