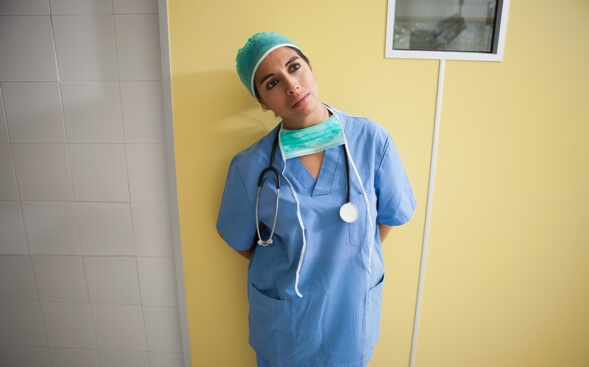 What Nurses Really Think About Their Careers
RN survey reveals five insights about nurses and their careers
As health care delivery evolves, nurses remain on the front lines, ready for new opportunities--yet frustrations remain, according to AMN Healthcare's 2015 Survey of Registered Nurses.
The survey drew responses from 8,828 registered nurses, who shared their views on a number of top issues, ranging from new roles for nurses to job satisfaction and health care technology. Here are a few key insights that researchers gained from the RN survey results:
---
Find new RN career opportunities with American Mobile. Apply today.
---
1. Interest in nurses' emerging roles
"We are seeing newly created roles that are associated with changes in the health care delivery system resulting from the Affordable Care Act. The incentives, financial reimbursement changes and increased access to care require new methods of delivering care and new roles to deliver that care," said Marcia Faller, PhD, RN, chief clinical officer for AMN Healthcare, the nation's largest staffing and workforce solutions company.
Nearly three-quarters of the RNs surveyed reported being aware of these emerging roles for nurses--such as care managers, health coaches and patient navigators--and 30 percent are considering a move into these new positions. And it's not just young nurses; 74 percent of nurses age 54 or older expressed an awareness of nursing's changing roles.
One survey respondent talked about how nurses with up-to-date education will feel more empowered to make changes in their workplaces. Sixty-two percent of nurses responding said they would be interested in a training program for new roles. That corresponds to the high number of nurses, 49 percent, reporting plans to pursue a higher degree in nursing during the next three years.
2. Mixed feelings about nursing
While 85 percent of nurses reported feeling satisfied with choosing nursing as a career, only 63 percent said they are satisfied with their jobs. Nurses' top frustrations are inadequate pay, too heavy a workload, staffing shortages, difficulty with management, and too many hours or poor scheduling. Thirty percent of the respondents said they often feel like resigning from their positions, and 29 percent indicate that if they have their way, they will not be in the same job a year from now.
Some of these nurses might do well to make a change, and apply their current skills in new environment. "When someone is unhappy in their current job, travel nursing is a perfect opportunity to experience different places and, hopefully, make a great selection when choosing to settle down," Faller said.
RELATED: The Keys to Nurse Job Satisfaction
3. Nurse retirements loom
The survey found 62 percent of nurses age 54 or older said they were thinking about retirement, with 32 percent considering it in the next year, and 47 percent indicating they plan to retire within the next two years. Another 21 percent of nurses in this age group suggested they will switch to part-time work.
"These older nurses hold a lot of knowledge and wisdom because they've been in nursing so long," Faller said. "Loss of this vast experience will have serious impacts to the workforce."
Losing them will result in a "brain drain" and mean less-experienced nurses will be providing a greater amount of the patient care.
"With the retirements, there will likely be many opportunities for travel nurses in a variety of areas," Faller said. "The volume of opportunities we see now supports this."
4. Supply and demand
Thirty-seven percent of nurses reported believing the nursing shortage is worse than it was five years ago, slightly more than the 34 percent who do not think it is as bad. Yet a responding 65 percent of nurses are dubious that efforts to boost the workforce by the federal government will be successful. Older nurses tend to be less confident that federal policies will solve the nursing shortage.
5. Room for optimism
Despite the challenges, about one quarter of nurses were optimistic about nursing care improving, due to better technology, better education and advancements in the field. They also cited the strong role nurses play in health care today, with nurses enjoying more autonomy and recognition.
"It's a factor of experience," Faller said. "Newer nurses are in a new environment and are more positive about the changes impacting patient care."
RELATED: Working with Your Recruiter to Build Your Nursing Career
Originally published on NurseZone.com
© 2016. AMN Healthcare, Inc. All Rights Reserved.