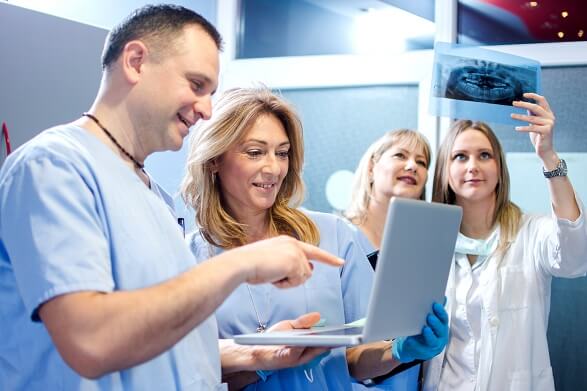 Expert Tips: Transition into a Different Nursing Specialty
How many happy nurses do you know who never left their original nursing specialty? You might meet the rare nurse who found his or her true calling from the start, but most likely your fellow nurses have had at least one other nursing specialty before settling into their current role.
Why you should consider a new nursing specialty
Do you know any mechanics who work on the same type of car over and over? How about an artist who paints the same picture, one right after the other? Probably not. Because after a while, you simply need a change of pace.
It's the same in nursing. You might start out doing one thing — and maybe you love it — but curiosity begins to grow, and you start to look for a different nursing specialty. Actually, taking an interest in a new nursing specialty can be a great way to get out of a rut if you're feeling underwhelmed by your current role.
Many nurses begin to research other specialties when they start experiencing signs of burnout. Once you do show interest in expanding your skills, you quickly learn that there are many benefits to choosing a different nursing specialty.
For example, nurse anesthetists are among the highest paid nurses in the field and have their pick of a variety of settings in which they can work. According to the Bureau of Labor Statistics, nurses with this specialty do require a graduate-level education, but they can also earn more than $200,000 annually.
Nurses who want to explore a specialty that doesn't involve direct patient care may find becoming a nurse educator or consultant a rewarding and interesting change. In comparison, changing your specialty doesn't have to be so drastic. Maybe you transition from working with adults to working with children.
How to Change Your Nurse Specialty
Joanna Tropp-Bluestone, a career and life strategist at Negotiation Geek, has some valuable advice for nurses seeking to transition out of their current role and into another facet of nursing. After helping several nurses do just that, she knows that changing your specialty comes down to reflection, research and exposure.
How to choose
The first step in choosing a new nursing specialty is self-evaluation. Everyone suffers if you simply jump from one fire to another. Joanna recommends a healthy dose of self-reflection.
"When considering changing specialties, the first thing you should do is assess yourself. Really dig deep and consider what you like and dislike about your current specialty, think about your strengths, weaknesses, interests and the things that motivate you," she advises.
Diving deep into your career likes and dislikes may be difficult and take time, but you can always ask for help. Enlist the help of a friend, trusted colleague, mentor or loved one who knows you well and can serve as a sounding board for your ideas.
Do your research
Once you think you have a handle on your personal preferences, begin to explore what's out there. In Joanna's experience, a varied approach to research is best. Reading journals, blogs and articles about other specialties is important to gauge your interests. Use social media like LinkedIn and Facebook to engage with active nurses in other specialties; and try to attend nursing career fairs and conferences.
By building a network of individuals and resources within another specialty, you're able to gain a better understanding of that specialty's rewards and challenges.
Gain real-world exposure
Tropp-Bluestone says gaining exposure to another position or specialty is usually the tipping point at which professionals decide if they want to jump head-first into this new adventure or continue their search for a new opportunity.
"After you have narrowed your list down to two to three specialties you're interested in pursuing and believe might be a good fit for you, find nurses in your area in each of those specialties and see if you would be able to shadow them for a day to really get a sense of what their days are like," she suggests.
This exposure, combined with self-reflection and research, is the best way to guide your decision-making process to ensure you choose a specialty that suits your personality and is aligned with your career goals.
Explore your options
Timing is everything. "The best time to transition into a different specialty is after the learning curve has plateaued but before you climbed the ladder and might have to take a step back in terms of compensation," advises Tropp-Bluestone.
It's never too early to dream big. Even if you're not ready to transition, keep an eye out for potential options and learn more about each at your own pace.