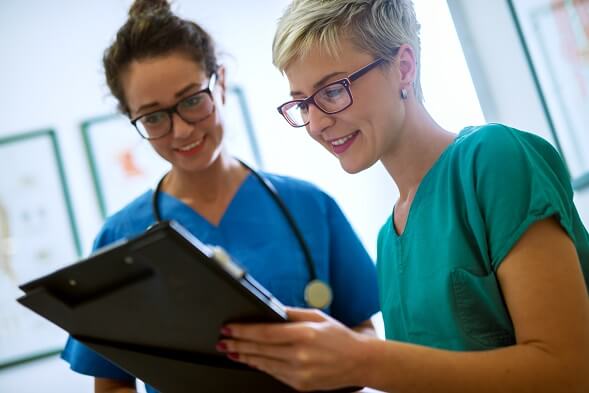 Nursing Career in a Rut? How to Get Out of It
Beginning and experienced RNs alike have probably experienced nurse fatigue, which is a temporary, intense tiredness that occurs during shifts. It's something you learn during your nursing career to treat with adequate rest, a healthy diet and lifestyle and other methods. But what do you do when you're tired not of the shift but of the entire turn your career has taken?
You don't have to abandon your calling to find a path out of that rut. Consider making a change by searching for an exciting travel nursing position or going back to school to find a new healthcare niche.
Consider these tips for changing the course of your nursing career
DON'T stay stuck in a rut; take time to understand your nursing career options with American Mobile.
1. Go back to school to prep for a promotion
According to the Bureau of Labor Statistics, advanced practice registered nurses (APRNs) earn a median hourly pay of $51.67, but you need at least a relevant master's degree and must pass a national certification exam. If your current work isn't satisfying, though, it might be worth the extra classwork and studying to be able to work as a nurse midwife, nurse practitioner or nurse anesthetist. These nursing jobs can offer additional flexibility, autonomy and options.
2. Help people in different locations with travel nursing
Not everyone dealing with a rut in their RN career is burned out, though. Some nurses simply need a different challenge or setting. Travel nursing is a great way to shake up your nursing career while still providing for patients. Plus, you might earn more: While pay varies by location and specialty, travel nurses tend to earn on average 15 percent more per paycheck than other RNs.
3. Check out different nursing career options
You don't have to change states or go back to school to alter the path of your nursing career, though. Take some time to consider options within your own city but outside of your current niche. Like working with kids but burned out on pediatric hospital work? Look for work in a small doctor's office or school system. You don't have to follow the traditional path with your nursing career. You could be a case manager, legal consultancy nurse, research nurse, diabetic educator or nurse manager — and those are just some of the options available.
Nursing burnout is a very real concern for anyone in this industry, but one way to avoid it is to step out of your rut and make a change in your career.