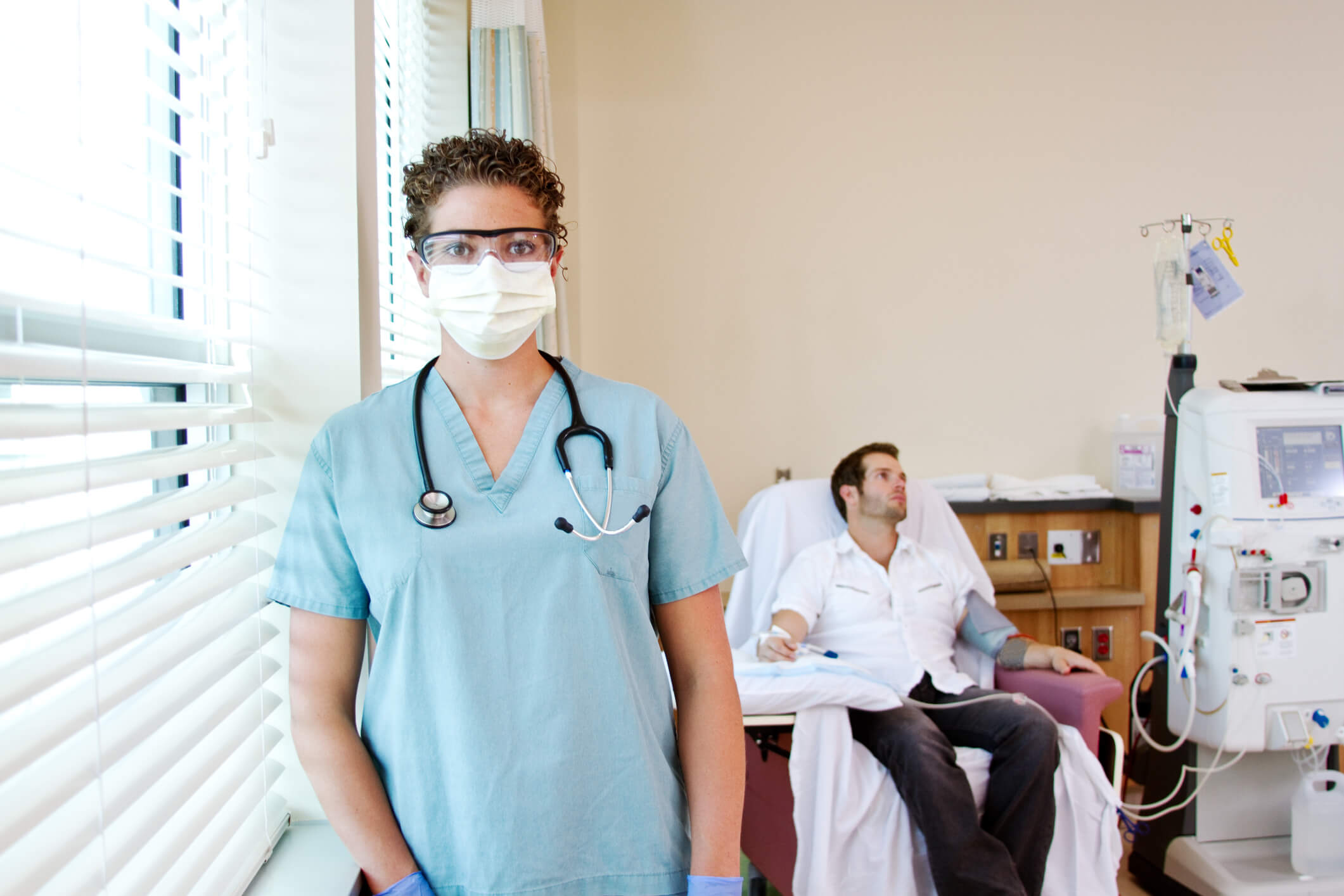 Why Become a Dialysis Nurse?
Dialysis nurses provide care to end-stage renal disease patients, clearing toxins from their bodies and educating them about the kidneys and self-care choices that allows them to live as full a life as possible.
"Being a Dialysis nurse is beyond rewarding, because it is ever changing," said Lillian Pryor, MSN, RN, CNN, president of the American Nephrology Nurses Association. "It takes the skill set of many nursing specialties to provide proper dialysis treatment and care."
The Need For Dialysis Nurses is Rising
About 37 million Americans have chronic kidney disease,and more than 726,000 have end-stage renal condition. Furthermore, more than 100,000 people start dialysis annually, and 20 percent will die within a year, per Health and Human Services.
"The [nephrology] specialty is in demand, and it will continue to grow," Pryor said.
The new federal initiative, "Advancing American Kidney Health," aims to decrease the number of people developing kidney failure, increase access to kidney transplants, and increase treatment options for patients, such as home dialysis. The new federal initiative aims to save money while improving patients' quality of life. In addition, it will likely offer dialysis nurses more opportunities to work more in the home setting.
What is Nephrology Nursing?
Dialysis nursing is part of a larger specialty –nephrology nursing, which also includes caring for people with different stages of chronic kidney disease and transplant patients.
"Nephrology nursing is so rewarding," said Katherine H. Houle, MSN, APRN, FNP-BC, CNN-NP, executive director of the Nephrology Nursing Certification Commission. "Renal disease is so complex, affecting every organ system of the body. I learn something new every day."
From pediatrics to geriatrics, many patients require dialysis. Dialysis nurses must have an in-depth knowledge of kidney disease and how to manage the chronic condition and possible complications.
"A nephrology nurse must possess strong critical thinking and leadership skills, flexibility, compassion and the ability to work well with a team of professionals, said Pryor, who added that soft skills are as important as the technical ability of the nurse to perform the treatment."
"The nurse in a dialysis setting is like a quarterback," Pryor explained. "It becomes almost a family environment, and you [the nurse] play a big part in making sure the patient is okay. That is exciting and rewarding to me."
Dialysis nurses are constantly educating patients and families about the disease and how to manage at home, including medications and meals. Dialysis nurses tend to form bonds with their patients and families.
"Due to the chronicity of kidney disease, working with renal patients allows the nurse to form a long-lasting bond with the patient, often working with the patient and family from pre-dialysis to dialysis, transplant, and in some cases, palliative care," Houle continued.
More than half of the members of the American Nephrology Nurses Association work in chronic hemodialysis settings, 34 percent in acute settings and 22 percent in peritoneal dialysis, per American Nephrology Nurses Association.
In-center patients, receive hemodialysis three times per week. Typically, centers are open 12 hours per day, so nurses in these settings do not work nights or Sundays.
Hospital hemodialysis is provided during a hospital stay and is fast pace and challenging. Patients are often critically ill, per the American Nephrology Nurses Association.
Home dialysis nursing involves teaching the patient and caregivers how to set up the machine and perform the dialysis, what to watch for and when to call for assistance. Home dialysis nursing requires an ability to work independently in a variety of home settings.
"We are looking to increase the offering of home care," Pryor said. "Technology is trying to catch up, so we can make the machines not so intimidating for the user."
It is safe to say that dialysis can be very hard for patients to deal with. It is common for some patients to choose to stop treatment or not start dialysis at all. Therefore, dialysis nurses also must be able to provide palliative care.
"We have a part in making sure that's OK for the patients, they understand their choices are important,and we're here to help them have the best quality of life possible," Pryor said.
The Nephrology Nursing Certification Commission Offers Certification
"Certification is a way to validate knowledge in a specific area," Houle said. "Most nephrology nurses seek certification for personal satisfaction. They know that they have mastered the information and are competent to work within their role in nephrology."
"Some nurses set certification as a personal goal,while others have certification as a goal set by an employer,"Houle added. It is common for employers offer additional compensation for certification.
"Certification also shows the patients/families that the nurse has passed a nationally recognized
exam and met the criteria to achieve certification," Houle continued.
Become a Dialysis Travel Nurse
Hundreds of travel dialysis nursing positions are available in urban and rural areas, from coast to coast. Travel nursing offers registered nurses an opportunity to explore the country while earning a good living and working in the specialty they love.
Dialysis travel nurses earn up to $27,700 on a 13-week assignment with American Mobile. Facilities set the rate based on demand and seasonality. Additionally, travel nurses receive a housing stipend, if not staying in company apartments and funds for meals and incidentals. Nephrology certified nurses may earn more. Facilities seeking dialysis travel nursing require one to three years dialysis experience and basic life support credentials.
"It's an exciting time," Pryor said. "You can effect change in the patient, and you can see it right away. That's what's so rewarding."
Interested in becoming an American Mobile travel nurse? Increase your chances of landing your dream dialysis nursing assignment by completing our quick application today.