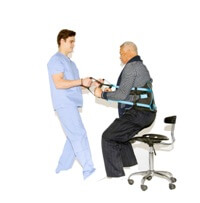 Travel Nurse Health: New Technology to Protect Your Back
You moved one patient out of a bed, lifted four patients into wheelchairs. Ouch! Your back is killing you. Travel nurses know first-hand that many of their daily patient care duties can sometimes lead to an aching back.
The Centers for Disease Control and Prevention (CDC) agrees. In the article, Safe Patient Handling, they explain that healthcare workers have the highest incidence of musculoskeletal injuries resulting from the manual lifting, moving and repositioning of patients.
StrongArm Technologies, a company that develops leading ergonomic solutions for injury prevention, says that 52% of nurses complain of chronic back pain. An aching back can interfere with a nurse's work and personal life and reduce their ability to deliver quality patient care.
Tips From the Trenches
Veteran travel nurse Fay Lane RN, understands the importance for proper back care. "Like most nurses, our work involves daily bending, lifting and transferring patients as well as reaching to hang IV meds," she says. "All of that can lead to back issues. You need to use proper lifting technology and techniques to protect your back, because once that's gone, so is your career."
Her tips for avoiding injury at work?
• Raise the bed to a comfortable working position when you provide patient care; it decreases bending at the back and reduces back strain.
• Push instead of pull whenever possible.
• Always ask for assistance with transfers. Plant your back foot forward, your feet shoulder-width apart and your front foot in the direction you are transferring.
• Bend at the knees (NOT back) no matter how small/large an item you are retrieving.
• Use equipment whenever possible such as Ergo Nurse, Sara Lift Gait Belts, slide boards and other available equipment.
• Let gravity work for you. Use a gait belt and place the patient's arms around your neck and stand. This will allow the patient to stand without placing unwanted weight on your back because you both have the same center of gravity.
Using these techniques has helped 125 pound Lane protect her back while moving patients who weighed as much as 300 pounds.
What's New? Lifting Technologies
Many hospitals offer travel nurses training on their available lifting equipment. The equipment works to increase patient safety and prevent staff injuries. Sometimes, however, this kind of expensive equipment isn't available to the nurses, so they find themselves rounding up two or three co-workers to lift a patient, saying it takes too much time to use the motorized lifts.
New technologies are being designed to address these challenges. Among the equipment being used at top healthcare facilities are Ergo Nurse, Sara Lift Gait Belts and these nifty innovations:
StrongArm Technologies: This company develops leading ergonomic solutions for injury prevention and peak performance for the industrial workforce. Through innovative design, StrongArm's ErgoHug™ Patient Lift Assist Device (seen here) helps nurses safely lift patients.
HoverMat Floating Mattress: With this, nurses don't have to lift a patient from a bed onto a gurney. Just connect the mattress with a pump, and it shoots air streams through thousands of tiny holes under it, so the mattress almost levitates. The nurse can float the mattress over.
Proper Lifting Tips
Before you try to lift a patient, know the weight of your patient and consider the mode of transportation (gurney, stretcher, wheel chair). Be aware of your limitations and if you need help, ask for it. Other tips?
• Keep your head and neck aligned with your spine to minimize the risk for sprains and strains.
• Bend and lift with the knees, not at the waist. Bending at the waist puts unnecessary stress on your lower spine.
• Avoid twisting your body, especially while bending, for the same reasons as above.
• Hold the patient close to your body while lifting and transferring them. The closer you hold them the easier it is to maintain your natural center of gravity and remain steady on your feet. By extending your arms, you engage weaker muscles and increase the risk of slips, falls, and possibly dropping your patient.
• Maintain a stance that is shoulder-width apart whenever possible, thus helping to maintain your balance and distribute your patient's weight evenly.
Back Pain: Deal With It
So what do you do if your back hurts? You might want to consult your physician if simple interventions and TLC don't give you relief. Fay Lane and others recommend these lifesavers for travel nurses with aching backs:
• Motion is lotion. If your aching back prevents you from working out or stretching before or after work, it's just going to make your back pain worse.
• Best remedies for back pain? Rest, hot tub, portable bath spa, Ibuprofen or an anti-inflammatory.
• Arnicare, Tiger Balm and other analgesics can help with temporary pain relief, as can Thermatherapy products you warm up in the microwave.
• Soak in a warm tub with 100% essential oils and a mixture of menthol, eucalyptus, juniper and a touch of spearmint and/or wintergreen. You can also add aloe for skin softening.
• Stay in shape, get massage therapy and always follow proper lifting techniques.
Don't let sloppy habits cause you back pain. Take care of your back now so you can continue to take care of your patients for years.
• Download these CDC guidelines for Safe Patient Handling
• Learn more by joining the Association of Safe Patient Handling Professionals
Photo courtesy of StrongArm Technologies.