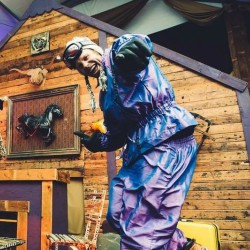 Travel Nurse and Entertainer Embraces "Both Sides of Life"
Can you love both show business and travel nursing? Absolutely, says John Ripley Corkery, IV.
Corkery is a registered nurse who is just as comfortable dressed in a costume or behind the camera as he is in the hospital. He's currently working as a travel nurse with American Mobile in Eureka, California, but he spends his off days traveling to Southern California to film and produce a new faux-reality comedy show with his good friend Rocco Tortorella.
So you may be wondering: how does he balance his career as a travel nurse with his side hustle?
Corkery owns a well-appointed RV, which allows him to keep all of his stuff with him. He never has to worry about finding housing or moving his belongings back and forth.
His managers at St. Joseph's Hospital, where he's currently working, have also agreed to arrange block scheduling for him. "I'm a night nurse, so it was easy to get block scheduling," he said. "I'll do six on and eight off. That is, I'll work six shifts in a row and then I'll have eight days off."
If that sounds like a lot of back and forth to you, rest assured that it works very well for Corkery. In fact, he thrives on it.
"Nursing grounds me from the pitfalls of the entertainment industry," he said. "It keeps me sane, I guess you could say."
Balancing Both Sides of Life
The entertainment industry is hardly a new niche for Corkery.
For years, he worked in the entertainment industry, building elaborate theme stages for music festivals. (Imagine a giant castle, with turrets and gleaming lights.) He often donned equally elaborate costumes and wigs and performed on the stages that he created. In fact, he owned his own company, Imagine Nation, that pulled off these amazing creations all over the country.
But after nearly a decade, Corkery started thinking he'd like to try something new. He'd always been interested in healthcare, and his mom was a nurse.
"She kept telling me all the benefits of travel nursing-- how much fun it was, how good it felt to help people every day, how she made really good money, and how it would enable me to move forward with my entertainment industry career dream of being a film producer" Corkery said. "It all made sense, she kind of convinced me, and now here I am today!"
He returned to nursing school to get his RN and then took a job at the University of Utah in his home state. Here's more evidence of how Corkery has multiple interests and always likes to stay busy: while he worked in Utah, he returned to another love: hockey. A former college hockey player at the University of Connecticut, he took on a part-time coaching job for a travel hockey team.
But he already knew that travel nursing was his goal. He loved the idea of working a series of shifts at a travel assignment, then using his off time to see the world or maybe even create some new art. That's when he started seriously exploring the opportunities offered by travel nursing.
Corkery noted that he had enjoyed working the music festival circuit. The stages that he created were huge and jaw-dropping, and he was justifiably proud of his work. "But then you had to tear it down at the end of the day," he said. "It was kind of sad."
That's when he and his friend dreamed up the reality/comedy show. They've filmed six episodes, with four left to go in the first season. He hopes the show (to be titled "RoK 'n' RiP") will have a lot more staying power than the stages, and he is exploring the possibility of future travel assignments in Los Angeles that might make it even easier to keep a hand in both.
Either way, he's glad he has found a way to balance the two sides of his life. Corkery gets to enjoy working with his friends in the entertainment industry, but he also appreciates the opportunity to work with patients who are very sick or critically injured and need the care that he can provide.
"Travel nursing is making that possible," he said.
He wouldn't have it any other way.
[Looking for a better work life balance? SEARCH travel nursing jobs throughout the entire U.S.]