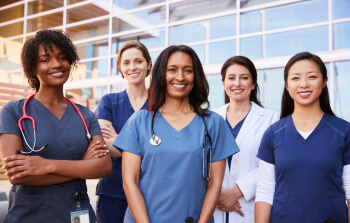 Staff Nursing vs. Travel Nursing: What's the Difference?
Nursing is a vast professional field with many possible pathways for new grads and professionals to take.
Beyond the individual specialties in nursing, there are some differences between staff nursing and travel nursing, and each type isn't necessarily a good choice for everyone.
Below we breakdown the different between staffing nursing and travel nursing to help you determine which nursing career path best suits your career aspirations and lifestyle.
Staffing Nursing vs. Travel Nursing:
Staff Nursing Jobs are Generally Permanent
Staff nursing jobs are typical nursing jobs. Staff nurses provide patient care in a hospital, clinic or another healthcare setting.
Collins Dictionary defines a staff nurse as a nurse "whose rank is just below that of a charge nurse."
Pros of Staff Nursing
Most staff nurses enjoy the stability that staff nursing provides. They enjoy returning to the same job each week with colleagues they know and a familiar work environment.
Despite this stability, no two days are generally the same for a staff nurse because each day usually brings a different set of patients and new challenges.
Staff nurses also generally enjoy paid time off and a range of benefits, including health insurance and retirement accounts — although the details of these depend on the specific job and workplace.
Cons of Staff Nursing
A permanent RN position brings with it a sense of security, but there are some drawbacks to staff nursing you may want to consider.
First, you may be limited to when you can take vacations. Depending on your workplace's policy, requests are submitted then either approved or denied by a nursing supervisor or whoever is in charge of scheduling. In this way, staff nurses have minimal flexibility when it comes to scheduling.
Another drawback to staff nursing is you may make less per hour than a travel nurse. The median RN salary in 2017 was $70,000, but travel nurses can sometimes make slightly more per hour.
Travel Nursing Jobs are Contract-Based
Unlike staff nursing jobs, which are typically permanent, travel nursing jobs are short-term positions and can last anywhere from eight to 13 weeks — but some may last for longer.
They're usually needed in hospitals or other medical facilities that are experiencing staff shortages due to expansion, financial reasons or seasonality.
Pros of Travel Nursing
One obvious benefit to travel nursing is inherent in the name — you get to travel. Dr. Franklin Shaffer, EdD, RN, FAAN, in an article in American Nurse Today says that for some, travel nursing offers "adventure, freedom of choice and flexibility. Travel nurses can choose their work location and hospital, and they [may] get a chance to work in exotic locations or at prestigious medical centers."
Many travel nurse firms offer a full array of benefits, but this varies depending on which staffing agency you use. Frequently, the staffing firm pays for licensure and housing costs, which can help keep more of your salary in your wallet.
Travel nurses can also enjoy plenty of time off. They can choose to take a few weeks or a month off between assignments, for instance. Of course, unlike staff nursing positions, this time off isn't paid.
Cons of Travel Nursing
While travel nursing is a great choice for some RNs, it's not for everyone. Having to relearn a new work environment once every few months can be stressful, and it can also be challenging to build lasting work relationships while being away from friends and family.
For those who prefer a steady routine over ever-changing scenery, travel nursing may not be a good choice. Another drawback to travel nursing is you may be limited to areas with a very high demand for nurses.
As described above, staff nursing and travel nursing are different. But each career path has its own set of advantages and disadvantages. It's up to you to decide which is the best fit for you!