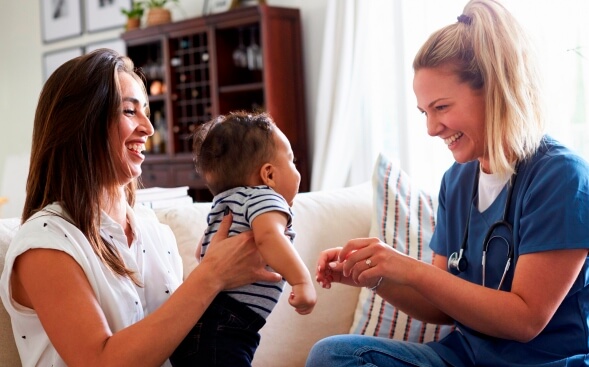 Beyond the Hospital: Where Do Travel Nurses Work?
State, local and private hospitals provided 60% of the 3.1 million jobs registered nurses held in 2018, according to the U.S. Bureau of Labor Statistics (BLS). The remaining 40% of positions are spread across a variety of industries, giving travel nurses many fulfilling assignment options outside of the hospital setting.
The following are several ways you can put your nursing skills to great use if you'd like an alternative to working in a hospital.
1. Physicians' Offices
A primary care nurse employed in a doctor's office often has a multifaceted role. Responsibilities might include triage, assisting with procedures, administering medications and vaccines and following up on lab results.
Haider Warraich, M.D., a cardiologist at Duke University Medical Center, cites the credibility crisis physicians currently face and suggests his peers "should learn from the most trusted professionals in America for 16 straight years: nurses." The onerous documentation physicians are required to do results in less time spent with patients. Doctors' appointments in the United States average about 20 minutes. This makes the compassionate contact patients have with nurses an integral part of the doctor-nurse collaboration that results in better patient outcomes.
2. Home Healthcare
Home health nursing is one of the fastest-growing jobs in the United States. Home health travel nurses can earn up to $25,400 per 13-week assignment. Typically, home health nurses provide post-surgery care to patients after discharge from the hospital. They monitor the patient's health, dispense medication and provide treatments.
3. Schools
An important part of the educational system, school nurses provide care for students who experience an illness or injury during the school day or while participating in after-school activities. It's the responsibility of the school nurse to assess the situation and determine if a higher level of care is needed. School nurses who prefer to work during summer vacations can find a fun change of pace by travel nursing at summer camps.
Most college and university campuses have student health centers that provide low-cost primary medical care for students. Writing for Forbes, David Skorton and Glenn Altschuler state that the demands on these health centers are increasingly complex as students arrive on campus with conditions such as addiction, eating disorders, ADHD, autism spectrum disorders and physical disabilities. Many students have mental health challenges, and the authors report that 25% of them require psychotropic drugs.
4. Correctional Facilities
Working in the medical unit of a jail or prison can be a fulfilling way to make a difference for offenders who often have histories of no or poor-quality healthcare. Many arrive at correctional facilities with undiagnosed conditions, as shown in a 2016 report from the U.S. Bureau of Justice Statistics that found infectious disease and chronic conditions were more prevalent in incarcerated individuals than the general population.
5. Ambulatory Care Centers
Outpatient clinics, community health centers and urgent care centers offer a variety of services to patients of all ages that might include medical, dental, pharmacy and HIV services. Other specialized facilities in which travel nurses work include:
Outpatient surgical centers
Imaging centers
Dialysis clinics
6. Government
The United States federal government offers abundant opportunities for nurses, including positions in:
Veterans Administration
Federal prisons
Health and Human Services (HHS)
Bureau of Indian Affairs
Armed forces
Many public health travel nurses work for local, state and federal government agencies, where they're often responsible for educating a community of people, improving health and safety and increasing access to care.
7. Skilled Nursing Homes and Residential Care Facilities
The Centers for Disease Control and Prevention (CDC) reports that in the United States, there are 1.7 million licensed beds in 15,600 nursing homes and 1.3 million residents. Those numbers don't include the estimated 811,500 residents in the country's 28,900 residential care communities. With the number of Americans aged 65 and over projected to nearly double to 98 million by 2060, it's easy to see why residential care is one of the fastest-growing industries in the country.
RNs play a vital role in assisted living communities, often tasked with 24/7 oversight of the residents and managing their total care. Responsibilities often include:
Administering medication
Assessing residents before entry into the community
Creating individualized service plans for residents
Evaluating the continued appropriateness of the treatment plan
Coordinating healthcare services provided by outside sources
Are you ready to land the perfect travel nurse job for you? Search American Mobile for high-paying travel nursing jobs within your specialty and desired location. As the industry leader, American Mobile has thousands of available nursing jobs in all 50 states.