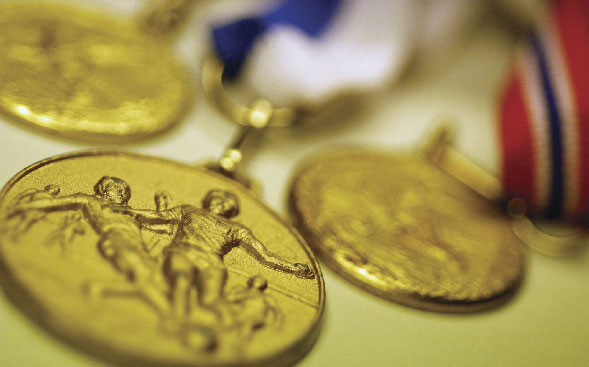 Volunteer Nurses Cherish Role at Special Olympics World Games
Nurses Share Their Experience From the 2015 L.A. Games
During the 2015 Special Olympics World Games held in Los Angeles, Calif., July 25-August 2, 6,500 athletes traveled from 165 countries around the world to compete in this televised, 9-day event. Behind the scenes, their health and well-being were being closely monitored by a large team of volunteer nurses and other medical personnel who felt fortunate to participate.
"Special Olympic athletes competed in just about every sport from aquatics to volleyball," said Sylvia Everroad, RN, MSN, regional chief administrative officer, Southern California Permanente Medical Group, an executive sponsor of the games.
"Competition is an important aspect of the games because it helps athletes to develop self-confidence about themselves and their abilities," she said.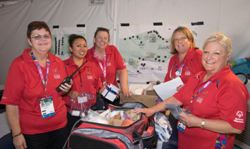 Everroad provided administrative oversight at various venues, including the Long Beach medical command hub, and was duly impressed by the competitors, including some young athletes who competed in the open water swim. "There's no way I could do that."
The command center medical personnel worked closely with other Special Olympics World Games staff, emergency and law enforcement responders, and volunteers, helping athletes at 27 different venues. Medical volunteers included physicians, registered nurses, nurse practitioners, dentists, physician assistants, and emergency medical technicians.
Kaiser Permanente conducted various specialty care conferences and symposiums covering topics from communicating with athletes with intellectual and developmental disabilities to assessing their unique health needs. In addition, physicians and other support staff carried out several medical and emergency response training drills and created an innovative e-learning tool to help train volunteers
Goals, Events, and Activities
"Our goal at the onset of the games was to ensure every athlete was hydrated and feeling well so they could participate in all events and activities," Everroad said. "Many athletes weren't used to the heat and became overheated and exhausted during or after sports events. An athlete from Iran competed in the swimming event, and although he was exhausted from the 90-degree heat, he didn't want to miss any of the sports events or activities. We brought him into the infirmary where we checked his vital signs, recorded his health history, and placed him in a cooler area where he could rest."
Athletes demonstrated "spontaneous exuberance," a positive attitude, and were cooperative and appreciative of everything that was done for them, Everroad reported. "Excited about games and activities, they lived in the moment and were interested in other people. To show their love, trust, and appreciation they held our hands, gave us hugs, and left their home addresses and phone numbers with us so we could keep in touch with them."
"We didn't realize what a difference we were making in their lives," she continued, "and through their example, they taught us how to go about living our lives in a good way."
Touch: An Important Patient Comfort Measure
"Touch is an important comfort measure for patients because it's universal and has no language barriers," said Dorothy Carmichael, RN, MA, ambulatory practice leader/director of primary care at Kaiser Permanente's South Bay Medical Center in Harbor City. "One athlete I met was from Kenya," she said. "This girl wasn't communicating much due to a language barrier and her disability. Touch was very important for her, and I held her hand while we cared for her."
Carmichael said that volunteering was a rewarding experience. "This has been a new experience for me. I've worked with people who have intellectual and developmental disabilities but never specifically with Special Olympics," she said. "Athletes were very passionate about their sports and were as committed as well as anyone I've seen at other types of Olympic events."
"As RNs we had contact with a variety of athletes from Israel, Germany, Cuba, Costa Rica, and the African continent. They came to us with everything from scrapes to more serious injuries that required a higher level of care. Although we advised some athletes to rest for a day, they were determined to get back because they didn't want to miss a once-in-a-lifetime opportunity to participate in the games. All of them were very anxious to succeed in what they were doing and were grateful for the care they received."
The Special Olympics World Games are held every two years, and they alternate between summer and winter games. This year's games were held in Los Angeles, starting July 25, with closing ceremonies on August 2. Athletes ranged in age from 8 to 72. The 2015 events included 30,000 volunteers, 2,000 coaches and an expected 500,000 spectators. The United States had the largest delegation with 481 representatives and 300 athletes.
Looking for new career opportunities? American Mobile is your source for travel nursing assignments at Kaiser Permanente and other top healthcare facilities across the country.
Sources: Associated Press, Special Olympics World Games.
Pictured: Dorothy Carmichael, RN, MA, (far left) with other Kaiser Permanente staff at the Special Olympics World Games medical command center in Long Beach, Calif.
Sylvia Everroad, RN, MSN, (left) with Kaiser Permanente medical staff at the 2015 Special Olympics World Games.