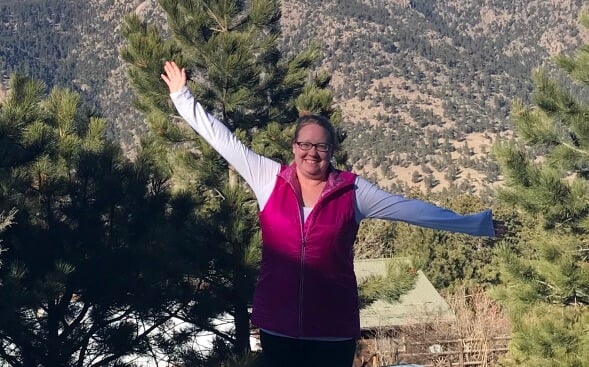 The Cross Country Adventures of Travel Nurse Anna Famiglietti, RN
Just a year ago, Anna Famiglietti, RN, was working as a Labor and Delivery nurse in a hospital in Alexandria, Virginia. She drove a small Honda Civic from her home in Ashburn, Virginia, to her job, while her husband Joey was making a commute in the other direction to West Virginia.
This year, she's got a slightly different kind of commute. You can find Anna driving a Jeep through the snow, up a winding mountain road to a small hospital in Estes Park, Colorado. She's currently working the night shift as a Labor and Delivery travel nurse there while she and her husband are staying with cousins nearby.
When she's not working at her travel nursing job, you can find Anna snowboarding at a nearby resort. Snowboarding has been one of her favorite recreational pursuits since middle school, and this travel nursing job in Colorado has given her the chance to do it more often.
"I'm used to East Coast, Pennsylvania and Maryland snowboarding," said Anna. "That's fun, but that's nothing compared to here. Bigger resorts, better snow. It's much better, and I'm enjoying that."
In fact, that kind of recreational opportunity is one of the best parts of the travel nursing lifestyle for nurses like Anna. They get to do the work that they love, but they get to really enjoy their leisure time in new and exciting places.
How She Got Started
Anna broached the idea of travel nursing with her husband in early 2019, but she and her husband wanted to take a belated honeymoon trip first. After two glorious weeks in Europe, she refocused on the plan to travel for work. She reached out to a friend who'd done some travel nursing, and the friend connected her with recruiter Amanda Solar.
"We knew we wanted to start on the West Coast and then slowly work our way back to the East Coast. That was our original plan," Anna said.
Anna received her first travel nursing assignment as a Labor and Delivery nurse in Torrance, California.
She and her husband sold both of their cars before they left the East Coast and bought the aforementioned Jeep.
"We filled the Jeep with our stuff, and we drove cross country," she said. "We were beyond exhausted when we finally got to California."
But she soon got settled in, learning that the best way to figure out which restaurants to try (and other places to visit) was to ask the staff nurses at work. They always had suggestions, plus it helped her smooth the transition onto a team of unfamiliar people.
"You are in their home. You are a visitor," Anna explained. "So, asking questions like, 'How do you do this here?" and being open to new things really helps."
But after a few weeks on assignment, Anna and Joey moved from their housing in Long Beach to a place in Hermosa Beach that was literally a 30-second walk from the beach. They spent November and December, reveling in the chance to be so close to the ocean.
"It was perfect," Anna said, adding that all the East Coast family members who visited them during that window of time agreed with her.
What's Next
After the California experience, they had the opportunity to try out Colorado. And that's why Anna's working at the Estes Park hospital this spring. Next, she will head to the Seattle area, having already landed a Labor and Delivery travel nurse job at Evergreen Health in Kirkland.
No, Seattle doesn't take them closer to the East Coast, per their original plan, but that's okay. It will be a great adventure, a new place that Anna's never visited, and yes, more chances for snowboarding.
"Between watching the sunsets on the beach in Hermosa Beach on the nights when I was off work to snowboarding once a week at a big resort, those are the kinds of things I would only have gotten to do on a vacation," Anna said.
Plus, she gets to do the work that she loves to do, too.
"I love that these women are doing something that they were born to do, and they do it so well," she said. "You meet a woman in the morning, and she's timid or scared to death, but when she's pushing the baby out, she is so strong and so amazing."
"And I get to be a part of that," she continued. "There's nothing better than delivering a happy, healthy baby. You get to be there on one of the days that they'll never forget."