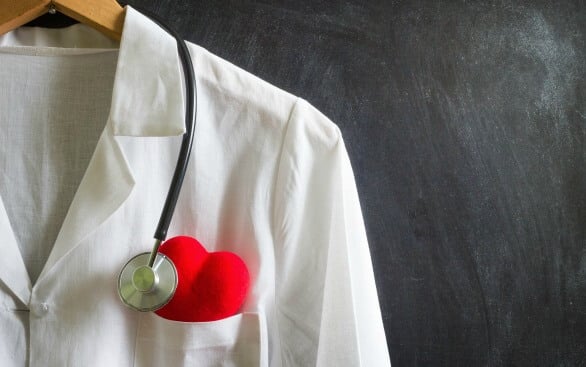 Second-Career RN Finds New Opportunities as a Travel Nurse
Transition From Business to Nursing Offers Unique Rewards 
Every travel nurse has a unique story. Many start out in nursing jobs that provide a good foundation for their eventual travel nursing career. But a few start out in a completely different profession.
After working successfully in the business world for most of her life, Michelle Boozel was sitting behind her desk one day and wondered, "Is this really it?"
She soon realized that the answer to that question was a resounding "No."
"I just pushed paper and went to meetings'" Boozel recalls. "So I decided, 'I think I need to be a nurse.'"
Forging a Path to A New Nursing Career
After completing a two-year RN diploma program and passing the NCLEX, Boozel embarked on her new career in nursing.
Boozel worked in a series of nursing jobs at the University of Pittsburgh Medical Center (UPMC) network of facilities that allowed her to gain diverse experience and build her skills. She worked in a variety of specialties--from surgical oncology to cardiac step-down—before she eventually moved into a float pool.
She then worked as a float nurse within the UPMC network before landing at the Shadyside location, where she continued to float to various units for the next seven years.
"Floating kept my skills up. I learned everything from oncology, neurology and stem cell to urology," she said.
Boozel heard about travel nurses one day and thought, "Why not?"
She was already a pro at adapting to a variety of different units, and the chance to travel and experience new places intrigued her.
Diving Into The Travel Nurse Experience
Boozel immediately began researching opportunities and was connected with her nurse recruiter, Cody Hutchins, at American Mobile Healthcare, an AMN Healthcare company.
She took her first assignment in Philadelphia at a large university hospital. After completing that 13-week assignment, she chose a travel nursing job at a smaller town about 150 miles away.
"It was nice to experience Philadelphia at such a large city level, and then Danville at the smaller town level," she said, adding that her experiences as a travel nurse thus far has been wonderful.
"I've loved seeing different medical systems and the different technologies and tools that they use at each place. Traveling is spectacular and it gives you the opportunity to see new places and do new things."
Making an Impact on Co-Workers, Patients and Families
Traveling has also allowed Boozel to expand her already impressive skill set and share her nursing practice with her fellow clinicians.
"I love knowledge-sharing with the other nurses. It's made me a better nurse for my future. I love the patients and the diversity at each place. I have just loved traveling, it's been a great opportunity."
In just six short months as a travel nurse, Boozel has already made a name for herself, gaining kudos and recognition from hospital administrators and staff. She's also made a tremendous impact on her patients and their families.
She recalls one powerful incident with a doctor who had a sibling on her unit who was very ill, and how her nursing care made a difference.
"He told me, 'Don't ever stop nursing,' and in that I truly think that he will always have calm [reassurance], knowing that I took care of his sister," Boozel said with obvious emotion.
Experiencing Each Location to The Fullest
Boozel will soon begin her next assignment in Charlottesville, Virginia. She is excited to explore the city and become immersed in the local culture.
In fact, the ability to become a part of each community where she takes a travel nurse assignment is one of her favorite aspects of her current nursing career.
Typical travel nursing jobs last 8 to 13 weeks, giving a nurse plenty of time to explore the area, find the best local spots and get to know the local residents.
"I work very hard and when I travel I go with full pride and full energy for what I do."
This dedicated travel nurse and mother is fortunate enough to maintain a permanent residence for her 19- and 24-year-old sons while she is out on assignments.
"I just want them to have a home base if they ever need to come home since one is in college and one is in medical school. I got the housing through AMN, so it worked out perfect."
LEARN MORE about free travel nurse housing and other benefits with American Mobile.