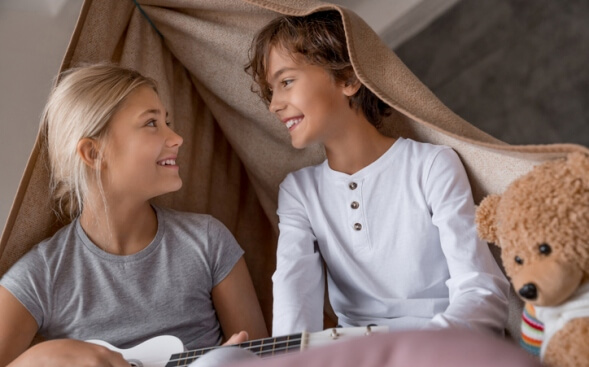 Nurses and Families: Getting Creative with Kids at Home
School's out, activities are canceled and families are spending more time together at home than ever before. So what's a parent to do?
Experts recommend striking a balance that includes responsibilities, fun activities and relaxing times that can help you connect.
Making the Most of Family Time Together
When Jennifer Bryant, RN, BSN, gets off work these days, she uses her drive home to unwind, "For the first 20 minutes I just drive and listen to music or call my mom, who is a retired nurse."
This Colorado nurse admits that she will sometimes take a more wandering route rather than coming directly home.
"When I come home, I'm emotionally exhausted. I stop at the door and take off all my clothes and go straight to the shower and the kids have been helpful with that and set out my clothes and towels," said Bryant, who is mother to a 15-year-old son and an 11-year-old daughter.
As a training center faculty member who helps nurses learn through simulations, Bryant's regular job is more the 9-to-5 type, though she was recently tapped to screen people for COVID-19 symptoms when entering the hospital. She has been doing that for 35 hours a week, doing her part to help out in this crisis.
But after her shower, it is go time with family—and she's determined to make the best of the hours they are required to stay home.
"Since our kids are older, one of the best ways to stay connected with them in this hectic time is to include them in what needs to be done. They can help with dinner prep and clean up and we can make that fun by talking or singing as we go," she said.
Bryant has also asked her kids to make her videos of some of the things they are doing during the day—like practicing French horn or preparing and planning the garden. She then can have the opportunity to sit with them on the couch and enjoy what they made and engage with them.
Bryant says her kids have also enjoyed live web cams from zoos, virtual museum tours, and the subscription to Kiwi Co. they received as a gift.
"This month's Kiwi Co. kit was a build-a-drum set. The kits are engaging and the kids learn something new," she remarked.
Activities to Keep Kids Calm and Reassured
Social worker Wanda Classen, MSW, LICSW, who works with families in the Minneapolis area, notes that young children, and even infants, will pick up on changes in routine and parental stress levels. Thus, engaging in activities that are calming, expressive and/or reassuring can be a gift to parent and child alike.
"Preschoolers are trying to figure out their own emotions and the words to go with what their body is feeling, but they often don't have the words for their feelings—so worry gets acted out instead of verbally communicated," Classen explained.
"Around my city I've seen lots of sidewalk chalk and I think it is genius," she added. "It allows kids and adults a non-verbal way to express themselves and it can also be an opportunity to help kids think about others—that they are creating art that passersby can enjoy."
While any art project can bring fun and emotional release, a definite bonus of sidewalk chalk is it doesn't create a mess that a tired parent has to clean up.
Classen's main tip for parents during this unique period is to lower their expectations. Pinterest is full of great ideas for things to do with kids, but it can set unrealistic expectations. She says, aim for a "Pinterest fail."
"It is okay to come home, put on a kid movie, plop yourself on the couch and cuddle with your kid," Classen stated. "That will give them some of the physical reassurance and bonding they need and it will give your mind and body a rest, too."
She also recommends building forts with blankets and furniture, "Forts are great! The enclosed space can give a child a sense of comfort—they are protected from the outside world and they have a space that is their own in a, perhaps, crowded home. It can also decrease sensory input for children who are susceptible to over stimulation. Plus, it can open the world of imagination."
When it comes down to it, Classen says the most important thing you can do for your kids is to be emotionally present as you are able—look them in the eye, hold them, listen to them.
"Don't feel like you have to teach them all the things or create tons of activities for them," she said. "Child protection services won't get involved because your house got messy, your kids are bored or you didn't cook them their favorite meal."
For times when you are seeking new things to do together, however, check out these ideas:
Where to Find Kid-Friendly Activities and Resources:
30 Virtual Museum Tours, Theme Park Tours, Zoo Cams, etc. from Good Housekeeping
Kiwi Co.—age-specific project kits for kids, including free home learning activities.
Epic! offers 30 days of free access and a reasonable monthly subscription to their digital library of e-books, audiobooks, read-a-longs and learning videos for kids ages 12 & under.
Libby—many public libraries now partner with Libby to provide online access to e-books and audiobooks, including materials for kids. Check to see if your local library participates.
Take the kids on a "bear hunt," a new game highlighted in The New York Times
Check out the Wow in the World podcast from NPR
Find a wealth of ideas on Pinterest, including:
o Outdoor scavenger hunts (adaptable for stay-at-home mandates)
o A variety of podcasts for kids
American Mobile is filling a variety of crisis response nursing jobs across the U.S.; inquire today!