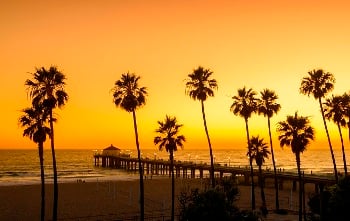 Meet a Kaiser Travel Nurse: Malathy Kulasingam
A little more than a year ago, nurse Malathy Kulasingam, RN, was living at home in Palmdale, California, and working at Antelope Valley Hospital in nearby Lancaster. She had spent her whole life there, and she'd spent her whole nursing career working at the same hospital.
Today, she is wrapping up the last few days of her first travel nursing assignment. She originally signed on for three months, but she wound up staying for a year at Kaiser Los Angeles Medical Center.
"I honestly didn't expect to stay at this facility as long as I did, because this is my first assignment in traveling, and my intention was to explore Los Angeles. After all, there are so many hospitals, so many good hospitals, in LA," she said.
But guess what? Malathy discovered an affinity for the Kaiser facility and the people with whom she worked. They were friendly and helpful and made her feel like a member of the team, despite being a traveler.
"I don't think I could have asked for a better group of people to work with," said Malathy.
Stepping Out of Her Comfort Zone to Become a Travel Nurse
It's been a big year of changes for Malathy.
She was very comfortable in her regular nursing job back home. She was working on her master's degree in an online program, and she saw her family and friends regularly.
But a part of her wondered what else was out there. She had other friends and family in Los Angeles, and an idea began to grow in her mind. Why not try travel nursing--and why not start by traveling to a medical center just sixty or so miles away from home?
She mulled it over for a while, and finally the appeal of Los Angeles won out. "I feel so different when I'm there. Is it something in the air?" she asked with a laugh. "I don't know. It's the people, the palm trees, the weather."
"I thought travel would be the fastest way to get me out of my hometown and into a hospital there without making a big commitment," she remembered thinking.
After all, you can do anything for three months, right?
Malathy, who specializes in med/surg and telemetry, soon found herself at a big city hospital. She's worked with staff nurses and other travelers, and she's floated to a variety of floors to broaden her exposure to a variety of patients.
But she didn't quite let go of her ties to home. She maintained a per-diem relationship with her old hospital, and she drove back over the mountain a couple of times each month to take a shift and see her old coworkers.
Meanwhile, she worked full-time (three shifts per week) at the Kaiser hospital. Oh yes, and she continued to work on her master's degree, which she received four months ago. And now she's contemplating a future that might include some leadership positions, where she can flourish and put her hard-earned education to work.
"I think I'm capable of that," she said.
Overall, it's been a very good year for her. She's met new people, made friends, and learned about herself. She's also opened herself up to more new possibilities. In short, she feels like she's really come out of her shell.
"Every day is a learning experience, and I want to know more," said Malathy.
Advice to Other Travel Nurses
Malathy asked herself some questions before she committed to her first travel nursing assignment. She asked herself why she was interested in traveling and what she hoped to get out of the experience.
"I think that's a good place to start, to see if this is a good fit for you," she said.
She's been trying to encourage a former coworker from back home to try out travel nursing. Malathy remembers how she was nervous, too. But she's been telling her friend how blessed she feels to have gotten to work with a great group of nurses and see a wide variety of cases.
"I don't regret anything," she said.
READ MORE about the exclusive opportunities we have with Kaiser Permanente.