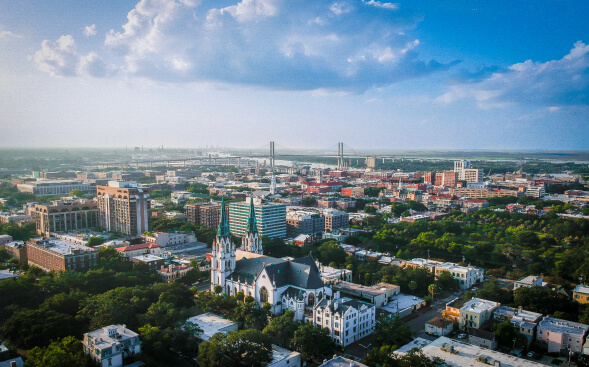 Location Spotlight: Travel Nursing in Georgia
By Moira K. McGhee, Contributor
Georgia is known for its charm, Southern hospitality and acres of natural beauty. As one of the original 13 colonies, it's also rich in history and has a wonderfully varied terrain that boasts coastal beaches and majestic mountains. Hospitals are abundant, especially in Atlanta, so travel nursing jobs in Georgia should be plentiful and offer above-average wages. If you're looking for a travel nursing location that has a lot to offer, investigate current postings for nurse jobs in Georgia that take you to the land of the peach.
Nursing Jobs in Georgia
Numerous hospitals are based in Georgia, about 175 to be exact, so travel nurse jobs in Georgia should be abundant. While many healthcare facilities are in Atlanta, the state's capital and largest city, you'll still findnumerous nursing job opportunities scattered around the state. Consider one of the 14 hospitals that meet high U.S. News standards. This includes Emory University Hospital, which ranked as the No. 1 hospital in the state and ranked nationally among the top 50 hospitals in four adult specialties.
Economic Viability
Salaries for travel nursing jobs in Georgia are 14 percent higher than the national average, reports Nurse Journal. Georgia's average nursing salary ranks fifth highest in the nation,behind Connecticut, New York, Massachusetts and the District of Columbia. Money magazine agrees Georgia is a good economical choice because a household income of $51,244 works out to a real worth of $55,339.
Georgia Cost of Living
Earning a good wage in Georgia is somewhat offset by a moderate cost of living. Home prices are slightly higher than the national average, but apartments tend to rent for slightly less reports Smart Asset. However, because it's a temporary travel nursing location, this shouldn't affect you. Furthermore, USA Today reports that your dollar goes farther in Georgia, with $1 actually worth $1.08.
Outdoor Activities in Georgia
Georgia is a fantastic travel nursing location with its 77,500 acres of stunning nature, spanning from the Blue Ridge Mountains to the Atlantic Coast. Take a road trip to Tybee Island or Jekyll Island, two of the state's many stunning beach destinations, or visit the famous Georgia Aquarium, which is the biggest in the country. Feel free to cruise around on all your days off because Gas Buddy reports Georgia's gas prices are lower than the national average, and the state enjoys year-round warm weather.
It's Now a Nursing Compact State
While Georgia wasn't part of the original Nurse Licensure Compact, Governor Nathan Deal signed the bill to join the Enhanced Nurse Licensure Compact, making it one of five new compact nursing states. The eNLC became effective on January 19, 2018, allowing travel nurses to take advantage of everything this great state has to offer.
Visit American Mobile to find travel nursing jobs in Georgia, and put your nursing skills to work in the Peach State.