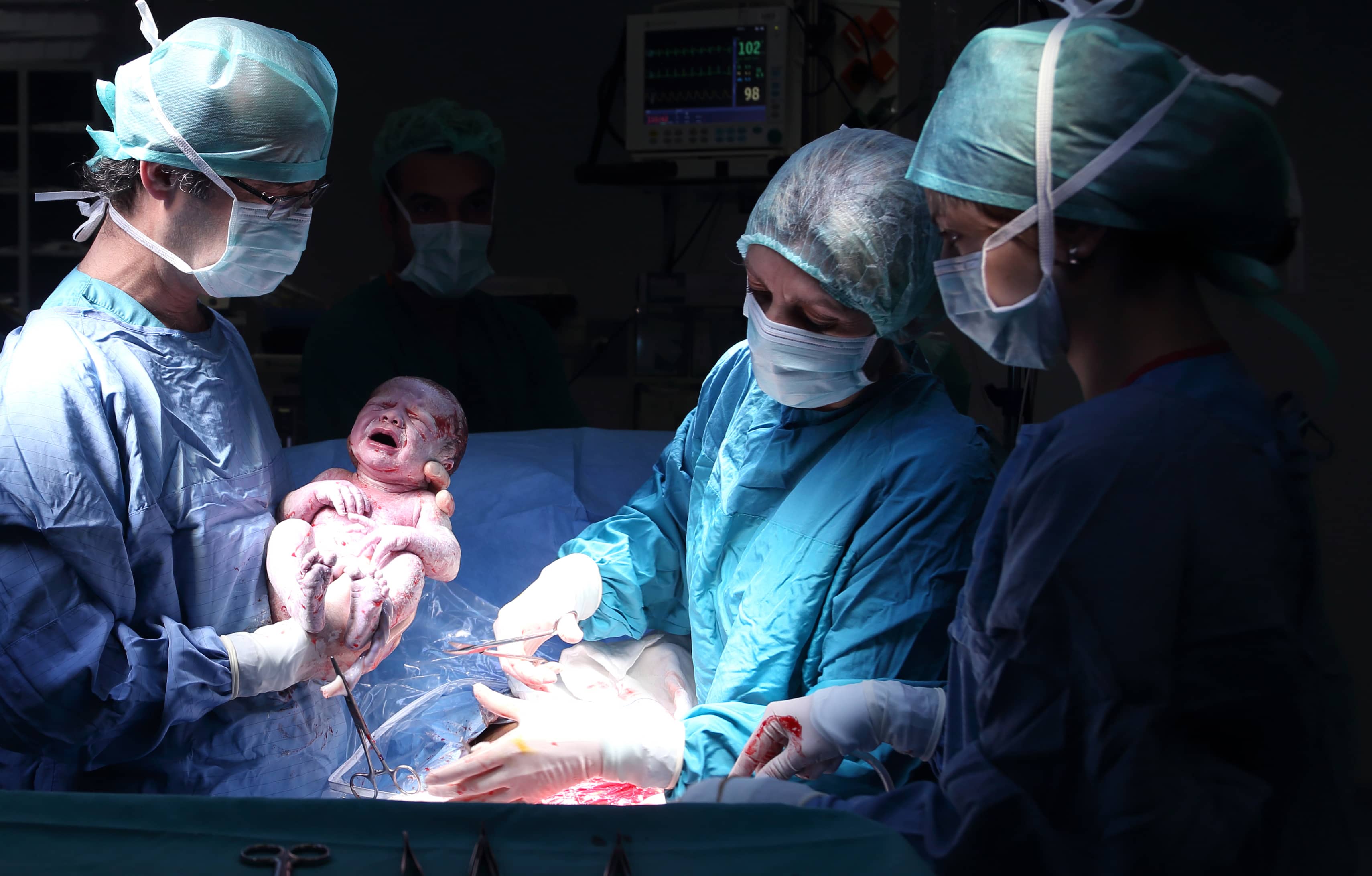 Labor and Delivery Trends During the Pandemic
The past two years have been challenging for all nurses, including the nation's labor and delivery nurses.
"I think people are tired, of course," said certified nurse midwife Jessica Anderson, DNP, CNM, WHNP, FACNP, director of midwifery services and associate professor with the University of Colorado Anschutz Medical Campus.
Labor and delivery nurses have had to adapt to many changes during the COVID-19 pandemic, according to Sandra K. Cesario, PhD, RNC-OB, FAAN, the 2022 president of the Association of Women's Health, Obstetric and Neonatal Nurses (AWHONN). They've had to grapple with changes in visitation policies (and explain them to patients and their families), adapt to infectious disease protocols that require isolating some patients, and adhere to more stringent personal protective gear (PPE) requirements, among other challenges.
And they've been resilient and creative as they've continued to provide individualized care for their patients under very challenging circumstances. Labor and delivery (L&D) nurses are inherently compassionate and help laboring mothers to feel calmer during a very important and vulnerable time.
"But that's hard to do with all the stressors surrounding them," said Cesario, who also serves as Cornaro Professor and PhD Program Director at the College of Nursing at Texas Woman's University in Houston.
Here's a closer look at some of the major changes that have affected L&D nurses and their patients during the pandemic.
Labor and Delivery Trends That Have Evolved During COVID
In the early weeks of the pandemic, many healthcare organizations began to temporarily halt elective and non-urgent surgeries as they braced for COVID patients. They also temporarily paused other activities and procedures while they waited to get more information. And that meant changes on the L&D units.
For example, UCHealth University of Colorado Hospital temporarily ceased offering the options for water births and nitrous oxide to laboring mothers, according to Anderson. They had to figure out how to address other unknowns, like how to approach breastfeeding when a pregnant woman tested positive for COVID.
Like many other facilities, they also implemented limits on visitors, a change that's been very common in hospitals with labor and delivery units. That also meant the L&D nurses had to provide extra support to their patients to make up for the friends and family members who might not be allowed on the unit. "That's been an additional lift for them," Anderson noted.
Visitation has definitely been one of the biggest areas for changes for many hospitals, but it's gone through some fluctuations, too.
Christy Abrams, RN, explained that her New Jersey hospital initially reduced the number of support people allowed to accompany a laboring mother, then eased up on the restriction, only to reduce it again when the Omicron variant began its rapid ascent.
"Now we are allowing only one support person during actual labor," said Abrams, who has worked as an L&D nurse for 13 years. And the labor support person can't leave the hospital or trade places with another person, either.
Another change that's affected L&D nursing during the pandemic: all the PPE. This nursing specialty prides itself for up-close, hands-on care. But the pandemic—and all the infection control protocols required by it—has literally inserted a layer in between laboring mothers and their nurses: a layer of plastic gowns, gloves and N95s, Abrams said.
"I'm literally sweating my back off," she said.
L&D nurses have also had to be extra vigilant about the toll that COVID can take on expectant mothers. Consider potential complications like pre-eclampsia and pre-term labor. "All of those things can be made worse by COVID, and nurses have had to deal with this higher acuity," Cesario said.
The pandemic has also taken a toll on the labor and delivery nursing workforce. Staffing has been an ongoing challenge in many facilities. Abrams noted that staffing has been complicated by a confluence of events over the last couple of years, including nurses who got COVID themselves or stepped away from the bedside during the pandemic for other reasons, such as taking care of their own families and educating their children.
"And anyone who could retire retired," she said. "Anyone who could leave left."
Where Do We Go From Here?
The pandemic is not over yet, and no one knows for sure when it will end. But it will eventually end.
Abrams hopes that the Omicron surge might be the beginning of the end. "I hope that this wave means that we go back to some sort of normalcy," she said.
It may not be "normal" in that things may never be exactly the same as they were prior to the pandemic. But we will eventually get to a situation in which COVID isn't front and center. In the meantime, Cesario praises nurses for all their hard work so far.
"Thank you for hanging in there, and things will get better," said Cesario.
Anderson also has praise for all the work that nurses have done during these difficult circumstances.
"I think people come into the profession always putting the patient first," said Anderson. "What I have seen is the nursing profession stepping up and really doing an amazing job of still putting the patient first, despite all the challenges."
And if you're feeling anxious, depressed, or burned out, seek help, Cesario said. Labor and delivery nurses have had to pick up many additional tasks, in addition to their normal activities, and they've really stepped up. But the stress and strain have taken a toll on many nurses' mental health.
Looking for new opportunities? American Mobile has hundreds of L&D travel nursing jobs throughout the U.S., plus thousands more in a variety of nurse specialties.
Learn more about L&D travel nurse jobs and salaries.