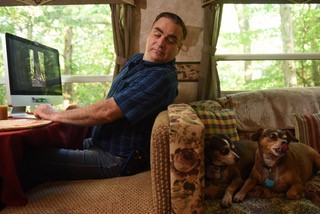 How Traveler Ronald Williams Finds Freedom
By Joseph Duffy, Contributor
Ronald Williams, a surgical technologist, has been traveling for approximately 13 years — but only in the last four months as a "workamper." In part to house and travel with his two dogs, Bella and Sadie, Ron purchased a 26-foot Springdale camper, which has been his home during his latest assignment in Jefferson City, Missouri.
Born out of the 2008 financial crisis, workamping is a movement in which working professionals travel and live in an RV-type vehicle while being employed. This is a recent lifestyle change for Ron, one he wished he started earlier in his traveling career.
"The camper just gives you a lot of freedom," Ron said. "I used to rent rooms with people and share living spaces. For some people, it can be an uncomfortable situation, especially if you have an incompatible roommate."
Freedom is the Reason Ron Started Traveling
"Traveling gives you a sense of freedom because if you're an on-staff employee, you're tied down," he said. "My last job before I started to travel was on-staff at a Missouri hospital. It was a horrible, miserable job. I hated everything about it."
On top of that, Ron had left a bad relationship, so he decided it was time to try something new. One positive outcome of that unviable full-time job, however, was that a colleague introduced Ron to traveling.
As an avid deep woods camper, adventurer and long-time army brat, Ron welcomed the idea of change and leaving his current situation behind. After an unsuccessful attempt with his first traveling company, he found AMN Healthcare and took an assignment in Nebraska. "If you only live your life within your boundaries, you only know what's in those boundaries," Ron said. "You don't know if you'd be happier somewhere else. That's when I decided I'm going to hit the road and see what else is out there. In return, maybe find me somewhere else I'd rather live.
Ron gives much credit to his success over the last eight years to his relationship with his recruiter, Brian Ballard of NursesRX. Since 2011, Ron and Brian have partnered on travel assignments spanning across the country.
"Ron and I have had a lot of success together but housing was sometimes difficult to find with short notice," Brian said. "When Ron brought up the idea of traveling with an RV, I thought it was an excellent idea. The comfort, cost savings, and practicality are a great match for any traveling clinician."
Ron's end game has always been to settle down eventually in his own home and start an auto detail and repair business, a passion of his. He also loves dogs, so when he decided to adopt, Bella and Sadie, traveling got a little complicated. He eventually found it increasingly difficult to find temporary residences that allowed dogs.
Camper Time
About two years ago, Ron stopped traveling and settled in Cape Girardeau, Missouri. He rented a home and had an option to buy. Ron sublet two of the three bedrooms to traveling nurses. He was planning on buying the house and settling down, but then his plans fell through.
As a result, Ron decided to travel again because the money is good and he could remain close to his family, as his father has terminal medical issues. Ron purchased the camper from his mother to give him that freedom he always desired and as a way to make sure his two faithful companions could stay by his side.
"Not having the camper would create a whole new stress environment for me, because I have the dogs," Ron said. "Trying to find a place and just going through the steps of researching newspapers and online ads, such as Craigslist and Facebook, was becoming too much. When you are looking for a place that allows dogs, it becomes very time-consuming and stressful, because you're always getting hit with rejection."
Ron hooked up the camper to his pickup truck and headed to his first assignment as a workamper in Jefferson, Missouri. From watching Youtube videos to talking to fellow RV owners, it's been an incredible learning experience. He said you have to understand and deal with camper maintenance issues, research campsites for assignments, and learn proper RV etiquette. So far, he's enjoying his new way of traveling.
Once Ron remedies some recent camper and truck maintenance issues, he said his dream of buying a home and starting his own business can be a reality within 18 months.
READY to start making lifelong memories like Ron?