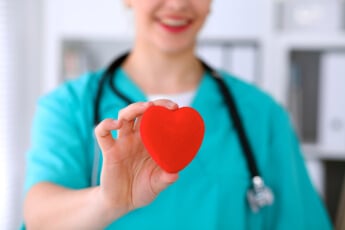 How One L&D Travel Nurse is Making a Difference
Sometimes Sarah Mangat, RN, looks outside and sees the soaring Rocky Mountains in the distance and can't believe it. This Canadian nurse really is working and living in Denver, Colorado!
The mountains were calling her name. She had longed to work in this particular city, with its outdoorsy vibe and lots of opportunities for hiking and camping, and she was delighted when her recruiter notified her that she'd landed this perfect travel nursing assignment.
"I lucked out," she said.
How Mangat's Nursing Career Unfolded
From the beginning of her journey as a nurse, Sarah Mangat knew that she wanted to be a labor and delivery nurse. Mangat, who hails from Toronto, even landed a job as an L&D nurse right out of nursing school. She loved the idea of helping women during an exciting, yet vulnerable, time in their lives.
"It's a really important time in a family's life," she said. "It's typically very happy."
A good friend and fellow L&D nurse eventually landed a travel nursing job and began to talk to her about it. She even suggested Mangat talk to her recruiter with AMN Healthcare, who could help her with the visa process so she could travel to the United States.
Mangat already had several other friends who had tried the travel nursing experience and enjoyed it.
"They said it's a really good way to gain experience and see how other hospitals do things," said Mangat. "It's also a really good way to have fun when you're young."
Before too long, Mangat found herself on her very first travel nursing assignment in Kirkland, Washington.
"It was a really great first assignment," she said. "It was a really amazing hospital. Other travelers there would sometimes call it Disneyland."
She loved the low staffing ratios, the two-week-long orientation period, and the smooth transition. "The hospital was amazing. The staff was amazing. And the doctors were amazing," she said.
Mangat wound up spending six months in Kirkland, then went home for a short spell. She spent three weeks traveling around Europe before signing a contract for another travel nursing job. This time, she headed to Austin, Texas, where she worked for ten months.
And then…it was on to Denver.
Making a Difference in the Lives of Families
Mangat acknowledges that L&D floors are usually full of good news. But not always. And when a patient loses a baby, it's a heartbreaking experience. So, one of the first things that really stood out to Mangat about her current travel assignment was the Denver hospital's outstanding fetal demise acknowledgment program.
"I'd never seen anything like it anywhere else," she said. "I'm thoroughly impressed by it."
Her hospital encourages mothers who've lost their babies to make small tokens to memorialize their children's brief lives. The hospital engages a professional photographer to take photos of the babies for the parents.
The nurses make fingerprints and plaster molds of the babies' hands and feet. The hospital even provides silver necklaces that contain a small print of the baby's foot or finger. Everything is done at no cost to the parents.
Sometimes, a newborn will linger at the end of life for a short period of time after birth. What a precious gift for them to receive a recording of their child's heartbeat! The hospital provides small stuffed animals with recording devices to enable them to keep that memory of their child's heartbeat forever.
However, for some parents, the loss is too raw, too painful, for them to contemplate even looking at those small tokens. The hospital keeps the memories on file for those parents. The parents can always return later to the hospital and request their memory boxes later, when they're ready.
The staff also sends out a series of three personalized cards containing handwritten expressions of sympathy from the nurses and staff who cared for the babies and their parents.
The first card is mailed shortly after the mother is discharged from the hospital. The second card is mailed several months later. The third card marks the one-year anniversary of the child's death.
"It's about recognizing that you had a child, and you lost that child," said Mangat. "It's to say that we haven't forgotten."
Mangat was deeply touched when it was her turn to help a grieving family through the process. She made the plaster molds and presented a bereavement book to the father.
She remained at the bedside with the parents when the hospital clergyperson came by to offer a prayer and perform a naming ritual for the baby.
"Our unit is mainly a happy unit, but there are times when it's not," she said. "And I'm glad that things are done in such a way to make it comforting for the family, as much as we can."
"It's incredibly satisfying," she added. "It definitely makes you very proud to be a part of it."
Advice for Would-Be Travelers
Mangat is grateful for all the experiences she has logged during her travel nurse assignments. She's learned so much, and she hopes to share with others in future assignments.
She recommends that anyone considering a travel nursing job remember the value of learning from others and remaining open to the idea of learning how to do things in new ways.
"The most important thing with travel nursing is being open-minded and flexible," said Mangat. "Not every hospital is going to do things the same way."