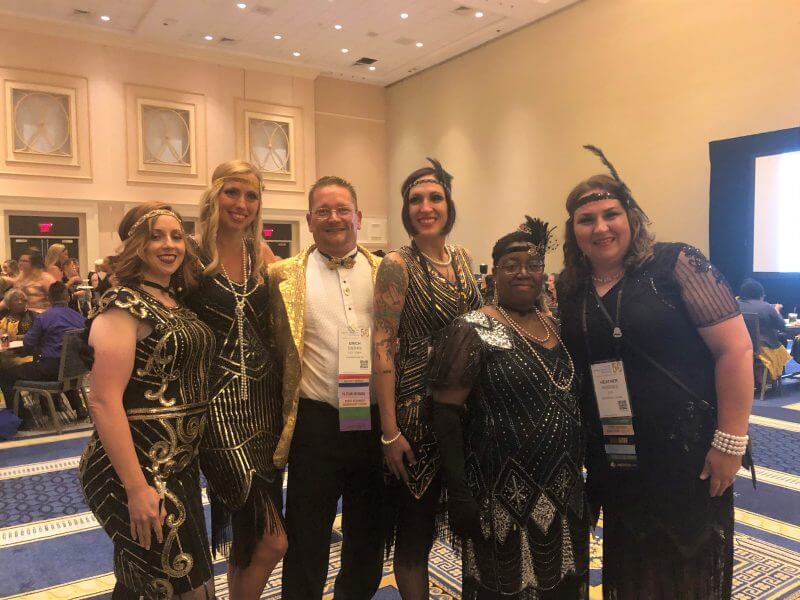 Featured Traveler: Erich Dierks
This month we're excited to feature an amazing Surg Tech, Erich Dierks. He has developed an extraordinary career as a surgical technologist and was recently nominated for the FAST Award (Fellowship of Association of Surgical Technologists) for the 50th AST National Conference.
Tell Us a Little About Why You Love Being a Surgical Technologist? What Drew You to This Career?
I have been a CST and CSFA for the last ten years. I love the profession and what I do, because I know I am one of the key elements in giving somebody a better and improved quality of life. Including sometimes even saving one's life from a trauma perspective. I started this career because I have seen first-hand the miracles that Certified Surgical Technologists perform on my own child. Having numerous surgeries caused by spina biffida. The children's hospital we went to always introduced the surgical staff to us and the Certified Surgical Technologist even followed up with us after the case along with the surgeon. I wanted to be able to work in surgery ever since.
You've Been Involved in Multiple State Assemblies – Tell Us More About What This Entails?
During my travels, my passion for my career lead me into wanting to do more for my AST organization. I had the honor of being able to serve as a Board of Director on state Assemblies Texas and Michigan. I currently hold the Vice Presidents Chair for the Michigan State Assembly. I get asked all the time how are you able to do that when you travel. I tell them this. I don't always go to a facility work thirteen weeks and then go to my next one. Most of the time I am asked to stay on renew and if you want, come on permanently. I stay at places sometimes one, two, even three years. While I am there at that specific location I get evolved with that States Assembly, if I know I will be there for the duration of a term and if they are looking for someone to run then I usually try and run. I can honestly say I am that passionate about my career as a CST/CSFA for the AST organization.
Why Did You Decide to Become a Travel Surg Tech and What Do You Love Most About it?
During my career I started to travel as a CST many reasons why but the one that sticks out the most is because I was and still am hungry for knowledge. Precepting and teaching others and learning new and different ways to do cases and to learn new cases as well was my driving force that lead me into traveling. And I love the fact that not only do I get to learn more and that I get to pass along what I know from my experiences, but that I get to meet new and exciting career driven CST's that have the same passion as myself.
Tell Us About the FAST Award You are Nominated for at the AST National Conference?
The 50th AST National Conference is a milestone not only for the AST Organization but for me as well. My name was one of the hundreds in for possibly receiving the FAST award ( Fellowship of Association of Surgical Technologists.) this is a high honor recognizing the men and women of AST Certified Surgical Technologists who have been instrumental in their career and community and in their Organization. Whether it was serving on committees, volunteer work in their community, or hosting events, or holding an office in their organization. I was also running for one of the National Board of Director positions that were open for election.
The 50th AST National Conference awarded over 32 FAST awards out this year. Unfortunately, this year I was not awarded this High Honor. I was told that my name stays active for the chance to receive this great honor for two more years.
Running for office of Director at the National level we had three available and eight well-rounded qualified candidates running for this position. The candidates said a three-minute speech to 1500 plus members, answered questions for two hours, so the AST members can get an idea of who they would want to elect into office. The votes were tallied it was a close race. I will let you know that when we go to Atlanta Ga for our 51st National Conference I will be running again to try and be elected into one of the four positions that will be available next year.
What Advice Do You Have for Anyone Looking to Start a Surgical Technologist Career?
I truly want to thank AST for giving me this great opportunity to be able to run for office at the National Level. For Certified Surgical Technologists, Students, and for those debating if this is the path they want to pursue I say this. Throughout my lifetime I have never had a career that was so challenging and so rewarding at the same time, if you want to be the one that saves lives and improves the quality of life and knowing you made a difference not only in your life or the patients' life but in the lives of all that patient's life touches. I can say you'll never go wrong by becoming a Certified Surgical Technologist.