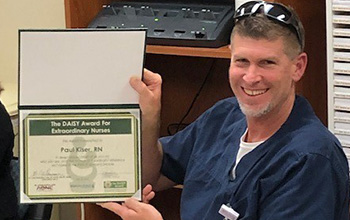 DAISY Award Winner Paul Kiser, RN
Paul Kiser, RN, an emergency room nurse who has traveled for American Mobile for 3.5 years, recently received The DAISY Award®. This prestigious accolade for individual nurses who provide extraordinary care while recognizing the work nurses do for patients and families every day.
"I never expected to get an award for going to work and doing my job," said Paul. "I'm glad to have such a great job and to work for such a great company like American Mobile Network. So it was already a pleasure to go to my assignments and help people. So to get an award on top of it — it's just a big surprise."
Paul was nominated for the DAISY for his keen ability to diffuse a misunderstanding between a patient's family and the facility's staff. His outstanding communication skills and bedside manner de-escalated the event and made it a viable situation going forward.
"We have to think about how it feels for family members and patients who are hospitalized," Paul said. "It's somewhat of a stressful event and probably sad on some levels. As healthcare professionals, especially as nurses, it's our job to advocate for our patients. And so, when we're at the bedside giving care and explaining things to them, we have to remember to speak in a manner that they can understand easily."
Paul is aware that patients and their families very often do not speak the healthcare lingo, and that can be daunting. As a nurse, he makes it a priority to make sure patients and family members understand what healthcare professionals are talking about and what's going to happen to the patient.
Paul credits his traveling experience for giving him the skills to deal with patients and facility personnel.
"Because you're moving around a lot and you have to meet new people regularly, traveling keeps you in tune with how other people feel because you're not getting embedded in places and working there for years and years," he said. "It helps you remember that people have feelings about the situations that they're in."
From Full-Time to Traveler
After graduating from nursing school, Paul worked full-time for two Virginia hospitals for just over two years. He heard about traveling while attending college, but after meeting an emergency department nurse who traveled for AMN Healthcare, he became motivated to try it himself. She gave Paul Robyn Rudge's phone number, who was the ER nurse's recruiter at American Mobile.
"Working with Paul is a blessing. He has an adventurous spirit that exudes even over the phone! He is excited about travel nursing and traveling the country. He helps me to be a better recruiter with his enthusiasm! His care and empathy for patients and their families set such an amazing example. I am lucky to work with him."
Today, Paul is on his sixth travel assignment, heading back to Mary Washington Hospital in Fredericksburg, Virginia, which employs the doctor who nominated him for the DAISY. Paul has a family and German Shepherds, so he keeps his assignments a manageable distance from his home. He said staying regional hasn't been a problem because there is a significant need for nurses.
Paul said that currently, he plans to keep traveling.
"Seeing new places has always been exciting to me," he said. "I've always been the kind of person who likes to jump in a car or jump on my motorcycle and go riding, seeing things I've never seen before. With traveling, I've also made friends in every place that I've worked. And those are the people who I'm going to see on Facebook, or maybe even go out to dinner with again one day. Meeting new people has been a positive experience. Finally, with traveling, the money is good. We have to go to work to make a paycheck so that we can pay our bills."
Know an extraordinary nurse who deserves recognition? Click here to learn more about the DAISY Awards and how to nominate your favorite nurse.