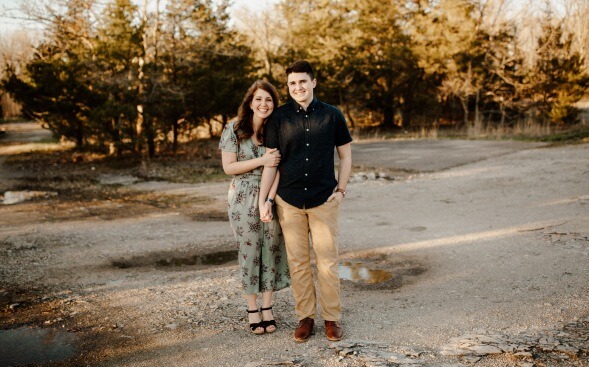 Called to California: Meet Traveler Jeremiah Munsell
Last year, Jeremiah Munsell got engaged.
There was just one problem: there was a three-hour distance between him and his fiancée, Liz. Jeremiah lived and worked as a registered nurse on a telemetry unit in a hospital in Indianapolis, Indiana. Meanwhile, Liz had a job as a third-grade teacher in northern Indiana.
And there was a wedding to plan.
The solution: travel nursing. He got in touch with a former colleague who'd been a travel nurse, who in turn connected him with American Mobile recruiter Kelley King. Before he knew it, Kelley had found a travel nurse job for him. Jeremiah had landed his first travel assignment at a facility in Fort Wayne, Indiana, putting him within a half-hour of his fiancée.
"That was me, testing the travel nurse waters," says Jeremiah. "That cut my drive time to see Liz from three hours to 30 minutes. That was an awesome way so try it out."
After the wedding, he landed a travel nurse job in Maui, Hawaii, a fitting place for two honeymooners. Then he took an assignment in Louisville, Kentucky, before signing the paperwork for his current travel nurse job in California. Jeremiah was headed to the Golden State.
California Dreamin'
The travel nursing job at Stanford in California was a fantastic opportunity. "That was one that really stood out to me," Jeremiah says.
Jeremiah also dreamed of the opportunity to visit national parks like Yosemite on his days or weekends off. What no one could have anticipated, of course, was the coronavirus pandemic. And Jeremiah's job at Stanford put him in an area of California that was affected by lockdowns and closures early on.
"We got here right as everything started to get locked down," says Jeremiah. "It's still been a good experience, though. They've treated all the nurses and the travelers really well. So, I'm happy to be here."
Jeremiah was initially supposed to work on a neurology floor, where, among other patients, he could expect to see epilepsy patients who needed fairly routine monitoring. But many of the elective procedures on the unit have been cancelled or postponed.
So, he's been floating to other units to help out as needed, doing blood draws and performing other tasks. And the hospital has made it clear that his work is important and necessary, which he really appreciates. In fact, in general, he feels the hospital has treated its nursing staff, including its travel nurses, very well.
"They've kept everyone busy and employed, so I've been very grateful for that," he says.
Advice for Future Travelers
Jeremiah acknowledges that for some nurses, it can be a bit unsettling to try something new, like traveling. He knows. He's been there. "It is a leap of faith and a little scary to leave a permanent job," he says.
But there are so many benefits, including the salary and the chance to explore, he says, adding, "It's definitely exciting."
Jeremiah is deliberate about maintaining a healthy work-life balance, and he suggests that you consider how you schedule your shifts. For example, he likes to schedule his shifts in a row, in one big chunk, so he can then have several days off in a row, too. "Then I can really enjoy pulling away from work and being more involved at home," he says.
Other advice that he has for travelers and future travelers: introduce yourself to everyone, be open-minded, ask lots of questions, and be flexible. In his current situation (or any type of crisis), being flexible really is crucial.
Jeremiah's recruiter Kelley praises him for his flexibility and professionalism. "He approaches each position with a fresh perspective and openness to adapt quickly to take on any task at hand," she says.
Also, Jeremiah says, show that you are ready and willing to be part of the team, and you want to learn from the more experienced team members.
"Make the best of every circumstance that you can," he says.
And he truly does that, Kelley says. His patients always have glowing praise for him.
"Jeremiah is constantly praised for his compassionate care, his charismatic personality, and willingness to go above and beyond to make each one of them feel truly cared for," she says. "What more could you want in a nurse?"
AMERICAN MOBILE has travel nursing jobs, including crisis response jobs, across the U.S.