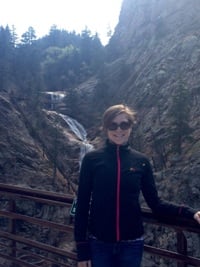 Award-Winning Travel Nurse on a Mission
Just chatting with her puts a skip in your step. Pediatric travel nurse and New Jersey shore native Jessica Tellier mixes missions with her commitment to exceptional, personalized patient care on her inspiring life's journey. No wonder Tellier was recognized for her dedication to patient care in AMN's Commitment to Excellence Awards.
Travel nursing allows Tellier to fit her global medical missions in her nursing work schedule. With a birthday at the end of May, her 30th birthday is a happy milestone in her admirable life/career path.
"In my early 20s I dreaded getting older because I felt like I wasn't doing all of the things I was supposed to be doing by that age," says Tellier, "but once I stopped caring about what I was 'supposed' to be doing and created the life I wanted through travel nursing, I've come to view each new year as an opportunity to improve my vision of life."
We caught up with the exuberant Tellier while she was on vacation hiking and enjoying Cajun country. A nurse for seven years, Tellier starts her next travel nurse assignment in Tampa this June after completing her assignment in Palo Alto, California. Her recruiter, Holly Pharr, raves about Tellier's commitment to excellence.
"I love to help Jessica find an assignment that will fit in between her medical mission trips," said Pharr. "She is so caring and selfless, giving so much of her time and medical skills to villages that are severely underdeveloped. As a Peds CV-ICU RN, her talent is top notch. I would imagine that, working with such high-acuity patients in impoverished areas with limited resources, can only put her in the upper echelon of the nursing field."
The Perfect Match: Nursing & Children
Trellier is the first, but not last, nurse in the family. She's inspired others to follow in her footsteps. At first, she didn't know what she wanted to be, but she knew she wanted to work with children. "I started with an education major, but after a year, decided to pursue nursing instead."
As a graduate of the College of New Jersey School of Nursing, she worked as an extern and nurse tech prior to graduating at the Children's Hospital of Philadelphia in the Cardiac Intensive Care Unit, then became a staff nurse, and in 2014 the Heart and Lung Transplant Coordinator.
She loved staff nursing, but too often, the job interfered with time off for her passion--medical missions. "I became a travel nurse because I wanted more flexibility and freedom to travel for fun and to help children abroad," she said. She's worked primarily in PICU since becoming a travel nurse, something she enjoys immensely.
Her next medical mission was supposed to be in Iran, but the trip got rescheduled. She plans to go to Macedonia in September to help at the refugee camps. "I work with Novick Cardiac Alliance and this work has continually been the highlight of my career. I've worked in Ecuador, the Dominican Republic, Libya, Ukraine, Iran, and Nigeria."
Travel Nursing Fits Like a Glove
After working as a staff nurse from 2009 until 2015, she started travel nursing in March 2015. "I can work when and where I choose. I've been taking about a month off in between contracts--something I wouldn't be able to do with a traditional full-time staff job. I also love being able to try out living in an area. Thirteen weeks gives you a true picture of what everyday life is like, much more than a quick vacation."
Making friends was another travel nursing perk for Tellier. "I made an incredible group of friends during my fall assignment in Palo Alto and I'm visiting two of them in Colorado this month, with another assignment planned together in Atlanta this fall."
Tellier also discovered some new interests during her Palo Alto assignment. "I learned that I love to hike! It inspired me to incorporate hiking and camping into my current road trip from California to Florida."
Secrets of Being a Good Travel Nurse
She explains that the most important quality of a good travel nurse is the ability to remain open-minded about patients and families. "We're taking care of people when they are at their most vulnerable. Many of our patients come from different backgrounds and have different beliefs. It's our duty and honor as nurses to respect those differences and not make people feel alienated because of them."
"If you're adaptable, you'll make a good travel nurse," she adds. "We encounter protocols and standards, equipment and units that are different from our home hospitals. Embracing and learning from these differences is key. Getting hung up on them will only make you stressed and frustrated, and that will reflect in your work. You never want to be remembered as a travel nurse who had a bad attitude or was difficult to work with."
Trellier believes that determining what things are most important to you will help you select a travel nursing assignment that suits you. "Decide what your non-negotiables are for your assignment and stick to them. You want to be adaptable, but if a particular shift, location, or hospital is important to you, don't settle for less."
For Trellier, meeting new people and inspiring patients and staff was an unexpected bonus of travel nursing. "Mentoring is important to me," she said. "I met a young staff nurse who wasn't sure what she wanted to do next with her career. After we talked, she got inspired to give travel nursing a try and she's now reorganizing her life to accomplish that goal."
Succeeding and Improving at Work
In addition to her medical mission work, Trellier's favorite moments are when she can be an advocate for a patient and their family and help improve their hospital experience. "Most recently, I was able to reassure a patient's highly reserved father by engaging him in conversation about his life and the challenges of caring for his 13-year-old daughter, who has a chronic condition. "Sometimes, it's more than just providing good patient care," she said. "Nursing is about compassion, communication and taking an interest in the family. Sometimes compassion can be the best form of healing."
Congratulations to Jessica Tellier, 2016 Commitment to Excellence Award Recipient!
See why RNs like Jessica Tellier love travel nursing. Learn more about travel nursing today.