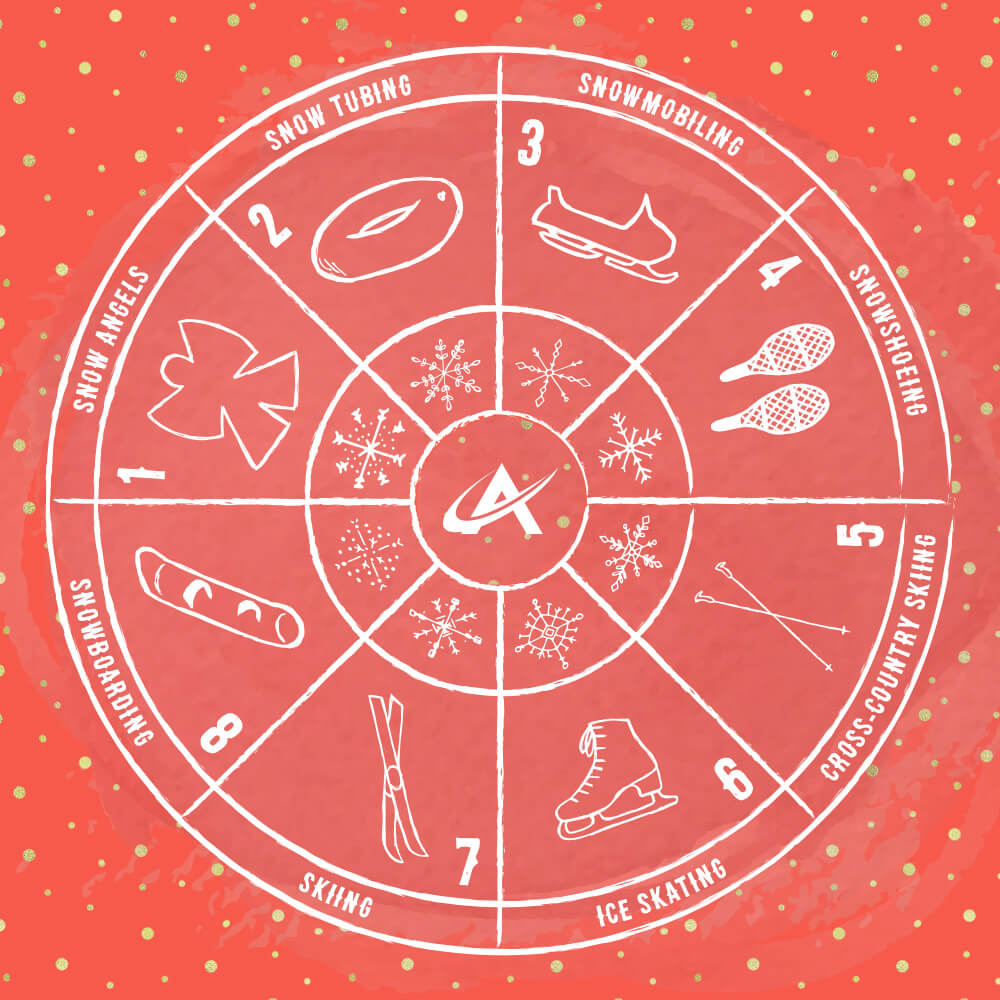 Winter Sports Zodiac for Travel Nurses
One aspect of travel our nurses tell us they love is exploring nature and the great outdoors. When you travel with Advanced on a 13-week assignment, there's no better time to pick up a new winter sport. We know that everyone has a different comfort level when it comes to extreme sports and that's why we've created this winter sports zodiac based on your physical ability.
Find your numbered physical ability below on the zodiac wheel of winter sports for your recommended sport. Next, check out the city recommended for learning your new sport. Apply for the position below or search other specialties in that city, and you're on your way!
Physical Ability: Zero Interest/Ability in Physical Activity (1)
Your Sport: Snow Angels
Job City: Minneapolis
While on assignment in Minneapolis, check out the Art Shanty Projects, temporary communities (resembling ice fishing shelters) built by artists. There's also the City of Lakes Loppet Ski Festival, a ski race you can watch with additional activities like a snow sculpture competition. People here love snow so much, they won't even notice you struggling to perfect your snow angel form.
Physical Ability: Nonexistent (2)
Your Sport: Snow Tubing
Job City: Denver
Snow tube at Boulder Ridge at Liberty Mountain Resort while on assignment as an Operating Room RN in Denver. After exerting all you've got, relax at the one of the many restaurants or taverns at the resort.
Physical Ability: Nonexistent with Great Hand Dexterity (3)
Your Sport: Snowmobiling
Job City: Idaho Fall, ID
In under two hours your can be surrounded by the endless pristine trails of West Yellowstone, Montana, just miles from Idaho and Wyoming. Sign up for a tour and ride alongside wildlife and other natural snow-covered wonders.
Physical Ability: Somewhat Athletic but Mostly Strong Thighs (4)
Your Sport: Snowshoeing
Job City:Portland
When you're not on shift as a Labor & Delivery RN in Portland, drive from Portland to Mt. Hood's alpine village, Government Camp. Here you can rent snowshoes and follow a fairly moderate trail back through snowy trails otherwise inaccessible on foot.
Physical Ability: Intermittent Bursts of Speed and Ability (5)
Your Sport: Cross-Country Skiing
Job City: Seattle
When you work in Washington as a registred nurse, you'll be a one-hour drive from Snoqualmie Pass, Washington and the Summit at Snoqualmie, one of the most beutiful places for cross-country skiing in the U.S.
Physical Ability: Some Finesse and Endurance (6)
Your Sport: Ice Skating
Job City: Boston
The Boston Common Frog Pond will be your place to strengthen your ankles and endurance on the ice while on assignment in Boston as an Operating Room nurse.
Physical Ability: Teetering on the Edge of Jockdom (7)
Your Sport: Skiing
Job City: Reno, NV
One positive of moving to Reno for 13 weeks is that you can avoid the snow until you're ready to hit the mountain. In under an hour you can be at California's Northstar Resort near Lake Tahoe.
Physical Ability: Physically Inclined with Great Balance (8)
Your Sport: Snowboarding
Job City:Thornton, CO (suburb of Denver)
While living and working as an RN in Thornton, a suburb of Denver you'll be less than two hours from one of the best snowboarding (and skiing) resorts in that nation: Vail Mountain.