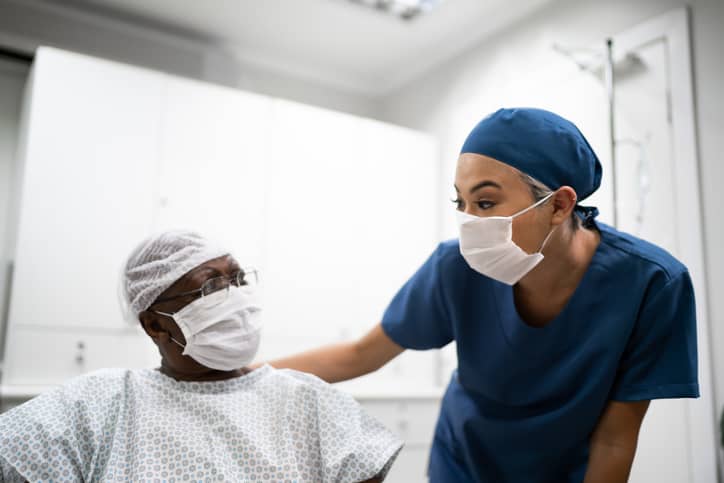 Why Nurses' Job Satisfaction Matters to Patients
Any health care organization that wants to consistently achieve high-quality patient outcomes should take a good hard look at their nursing staff. If the nurses feel engaged, empowered and satisfied with their working environment, their patients are more likely to do well, too.
In fact, at least 30 years' worth of research has consistently demonstrated a link between nurse job satisfaction and patient outcomes, noted Marla J. Weston, PhD, RN, chief executive officer of the American Nurses Association (ANA).
The proof is in the data
One way that hospitals can keep their finger on the pulse of nurse job satisfaction and outcomes is with data, like that collected by ANA's National Database of Nursing Quality Indicators (NDNQI). The program collects information from approximately one-third of U.S. hospitals, allowing hospitals to compare unit-by-unit statistics and enabling them to figure out where they can make improvements.
NDNQI tracks up to 18 nursing-sensitive quality measures, which ANA defines as, "Indicators that are strongly influenced by the care that nurses provide or directly measure nursing as reflected by the structure, process and outcomes of nursing care." Among other trends, this information continues to provide evidence of the link between nurses' job satisfaction and the quality of outcomes for the patients they serve.
For example, researchers recently noted that a 25 percent increase in nurse job enjoyment over a two-year span was linked with an overall quality of care increase between 5 and 20 percent.
NDNQI data also showed that the nurses' intent to stay increased by 29 percent over the two years, that injury falls rate decreased by 17 percent in four years, hospital-acquired pressure ulcer rate decreased by 24-59 percent in two years, and infection rates decreased by 87 percent in two years. The ranges are reflective of the differences among nursing units.
In the last few years, there have been several major studies and articles highlighting the correlation between nurses' satisfaction with their jobs or working conditions and patient outcomes, including patient satisfaction:
•    A 2011 study in Health Affairs by a team of researchers led by Matthew McHugh, PhD, RN, at the University of Pennsylvania, found that patient satisfaction was also linked with nurses' job satisfaction. The researchers found that the percentage of patients who would "definitely recommend" a hospital to their loved ones decreased 2 percent for every 10 percent of the nurses who expressed dissatisfaction with their jobs.
•    A 2009 FORUM white paper titled "The Relationship Between Employee Satisfaction and Hospital Patient Experience" found that organizations that made the effort to improve employee satisfaction experienced improved patient outcomes, including increased patient satisfaction and improved care quality.
•    A 2008 study titled "Patients' Perception of Hospital Care in the United States" that was published in the New England Journal of Medicine, using data from the HCAHPS (Hospital Consumer Assessment of Healthcare Providers and Systems ) survey, found that "the same characteristics of hospitals that lead to high nurse-staffing levels may be associated with better experiences for patients."
ANA's Weston notes that NDNQI and other data studies are not just an opportunity for leadership to make some improvements; this information gives individual nurses the chance to do the same.
"It gives nurses the data to start the conversation," said Weston, adding, "I absolutely believe that individual nurses, working together with other individual nurses, have the power."
Nurses can also remind themselves that the link between satisfaction and outcomes exists when they are tempted to downplay the importance of their own needs. That's a message that the ANA has been working to get across with efforts such as its Healthy Nurse Initiative, which included a conference last year that specifically addressed the importance of nurses caring for their own health and needs.
Weston said that nurses should view investing in their own well-being as worthwhile. "Where it may feel selfish, in reality, it is not," she said. "Being a healthy nurse and working in a healthy work environment is also good for our patients."
Work environment tied to depression risk
Nurses aren't the only employees who find the value in a positive work environment.
A new study that was just published in the September issue of the Journal of Occupational and Environmental Medicine analyzed 15 years' worth of data from nearly 1,900 adult workers and found that those with adverse working conditions had higher scores for depression. The results suggested that making improvements to the work environment could diminish the risk of depression in working-age adults.
What burden do employers therefore bear to make certain improvements to their work environments? It's complicated, said study author Sarah Burgard, PhD, and it can vary by industry, size of the organization and so on.
"But it is worthwhile to explore which of these employers can exercise some control over, and which workers find most important in managing their needs and ability to do their jobs well," she said.
For example, she said, employers could focus on the quality of their organization's work and try to create a functional atmosphere for employees. That might include policies that address work–life balance or improvement to communications, or even "something else entirely," she said.
The road ahead
Despite the large and growing body of evidence that patients benefit when nurses have positive working conditions, there is still room for more research--and more efforts to implement improvements based on the evidence. After all, some organizations are still engaging in practices that are shown to diminish morale and job satisfaction among nurses, such as mandatory overtime.
"Great progress has been made," Weston said. "But I still think that there is a distance for us to go."
Weston recommended that organizations take cues from the American Nurses Credentialing Center's Magnet Recognition Program or its Pathway to Excellence Program for recommendations on proven ways to improve the working environments for nurses.
The Magnet program is a rigorous program that recognizes a commitment to excellence in nursing practice and quality patient outcomes, and the Pathway to Excellence program requires that organizations meet 12 standards that are shown to foster an "ideal nursing practice environment."
Originally published on NurseZone.com.
© 2016. AMN Healthcare, Inc. All Rights Reserved.