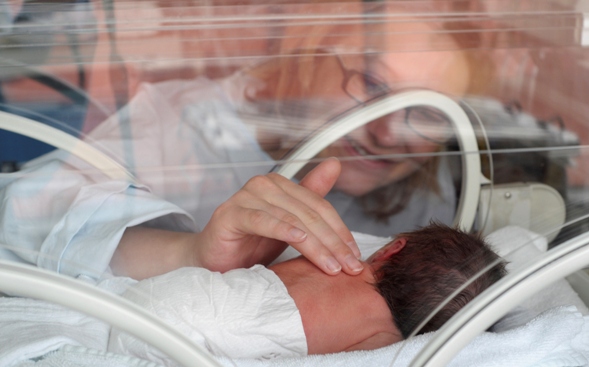 What's New in the PICU
The latest trends in pediatric intensive care units.
From tiny hands wrapped around a nurse's finger as vitals are checked to late-night family vigils at the bedside, the pediatric intensive care unit (PICU) is the place where life's most precious gifts, namely children, receive specialized, top-notch care.
Hospitals around the country are making strides in modernizing and expanding these essential units, and PICU nurses are constantly learning new skills and protocols in order to keep up. Nancy Blake, PhD, RN, CCRN, NEA-BC, FAAN, director, critical care services at Children's Hospital Los Angeles and assistant adjunct professor, UCLA School of Nursing, discusses the latest trends in the PICU.
Advancing technology
"Technology is getting more complex and there are significant safety features on equipment that require more education and training to use it the way it's intended. Infusion pumps have guardrails to prevent errors and monitors have more capability to detect changes in a patient's condition, but they also generate alarms that may not always be actionable," Blake explained.
"Many beds now have scales built in, which makes it easier to get daily weights," she continued, adding, "More technology also means patient rooms need to be larger to handle all of the equipment."
Growing capacity
Ochsner Hospital for Children in New Orleans recently completed the first round of its PICU expansion, since it was selected as the sole beneficiary of the 2015 CN Miracle Match campaign, a charitable initiative to rally communities to support children's hospitals in North America. The PICU expansion is scheduled to be completed in late 2016 and will increase capacity from 14 beds to 26 beds.
Among other facilities, Seattle Children's Hospital in Washington State also underwent an expansion in 2015, increasing capacity to a total of 32 PICU beds.
Focusing on families
In addition to new technology, beds and equipment, many facilities are also focusing on the importance of the family in the PICU.
"Most newly constructed PICUs have a family space with a pull-out bed. Families are considered part of the care team, not visitors," Blake said. "Many hospitals invite families to be part of rounds. Family members know their child better than we do, and their input is very important. When families participate in rounds about their child, everyone knows the plan for the day."
A recent nurse-led PICU initiative at Riley Hospital for Children at Indiana University Health in Indianapolis aimed to increase patient/family-centered care through nursing interventions related to interdisciplinary rounds in the PICU. After completion of the 16-month, hospital-based leadership training and innovation development program, the average length of stay was reduced by 0.5 days, and patient satisfaction scores increased to greater than 90 percent. This program was developed by the American Association of Critical-Care Nurses (AACN) Clinical Scene Investigator (CSI) Academy.
The project at Riley achieved its goals of improving staff communication with patients and families, and increasing family participation and understanding of plan of care and daily rounds. It also provided direct evidence showing how family participation and communication can make a big difference in patient outcomes in the PICU.
"Family-centered care is a crucial part of creating a healing environment," Blake continued. "It is important to include the family and ensure they have a place in the room while making sure the care team has adequate space to care for the patient. Ergonomics is an important consideration to prevent staff injuries. There are new and innovative ways to care for patients while continuing to maintain a healing environment."
Award-winning designs
Every year, the AACN, the Society of Critical Care Medicine and the American Institute of Architects collaborate to award their ICU Design Citation--which honors a critical care unit that combines functional ICU design with the humanitarian delivery of critical care.
"The award has gone to the PICU at Lurie Children's in Chicago in 2013 and the NICU at Children's Hospital Los Angeles in 2014," Blake said. "These award-winning ICU designs demonstrate a commitment to a healing environment, promoting safety and security, efficiency and attention to innovative, unique aesthetic and creative design features."
© 2016. AMN Healthcare, Inc. All Rights Reserved.