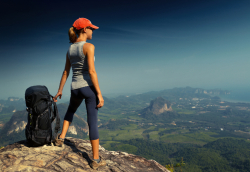 Top 5 Travel Nursing Locations for RNs Who Enjoy Hiking
After being stuck indoors for hours on end, outdoor enthusiasts who love to hike discover some of the best trails in a wide variety of travel nursing locations. Enjoy breathtaking views in locales around America on easy walking trails for beginners or strenuous trails for expert climbers. 
Many of the stellar hiking spots are within or near some of the best cities for travel nurses, which offer the best of both worlds — fantastic job opportunities and exciting outdoor adventures. 
If one of your favorite leisure activities is hiking up the side of a mountain or along a meandering stream, consider one of these five travel nursing locations full of amazing hiking destinations.
5 Travel Nursing Locations with Great Hikes
Decompressing after long, stressful shifts is vital to your well-being. If your ideal relaxation is hitting the trails on your days off, the United States is filled with stunning hikes from mountain crests to lush forests on both sides of the country. These five travel nursing locations offer some of the best hiking around.
1. Phoenix, Arizona
Phoenix is the largest city in Arizona and one of the best places for hiking in the state. No matter where you are in Greater Phoenix, you're a short drive from fantastic hiking trails. Hike around the red sandstone formations of Papago Park, or check out Sonoran Desert scenery on the incredible trails at Usery Mountain Regional Park or White Tank Mountain Regional Park. 
If you have time for a day trip, take a drive over to Grand Canyon National Park and tackle some of best hiking trails in the nation. Most of these trails aren't for beginners, but worth every step. If you're up to the challenge, head to the North Rim to tackle the North Kaibab Trail.
2. Sunny California
Travel nursing jobs in California are plentiful and offer higher-than-average salaries. Hiking enthusiasts find spectacular hikes throughout the Golden State. The Pacific Crest Trail spans over 2,500 miles along the West Coast from Mexico's Baja, California, to the Canadian border. 
While hardcore hiking enthusiasts might disappear for months hiking the PCT, you'll find tons of fantastic day, weekend or week-long hikes throughout California's Sierra Nevada mountain range. 
If you're in the South Lake Tahoe area, tackle its crown jewel of hiking, Mount Tallac. At 9,735 feet, the hike to the top of Mount Tallac is filled with lush forests and meadows, Alpine lakes and scenic ridgeways you won't want to miss.
3. Bangor, Maine
The luxuriously green woods of Maine offer gorgeous hiking opportunities suitable for all skill levels within an hour of Bangor. Hit the Hothole Pond Trail in Orland for a moderately strenuous 4.5-mile trek along ponds and wetlands full of bashful wildlife. Take a two-hour drive to100-Mile Wilderness for a rugged hike on the Appalachian Trail, which is recommended in smaller chunks of 30 miles. 
Other popular travel nursing locations in Maine, include Portland, which is about 3.5 hours from 100-Mile, but offers some of its own great outdoor adventures. This seaside city includes a hike along the edge of Casco Bay with its gorgeous ocean cliffs and charming lighthouses.
4. Northwest Wyoming
While travel nursing locations in Wyoming are somewhat limited, hiking opportunities in the northwest part of the state are stupendous. If you're next gig brings you within a couple hours of this area, Yellowstone National Park boosts 2.2 million acres and more than 900 miles of hiking trails. 
This includes some excellent day hikes that lead you through mountains and canyons at the center of the park or around Mammoth Hot Springs or past the famous Old Faithful Geyser.
5. The Lonestar State
Travel nursing locations abound across Texas with dozens of exciting cities to explore and hiking trails scattered around the state. Just 45 miles from Houston is Brazos Bend State Park, which boosts 37 miles of trails including a short trek along the wetlands on the Creekfield Nature Trail. Just keep an eye out for alligators! 
If you land in the Texas Panhandle, visit the Palo Duro Canyon State Park. Dubbed the Grand Canyon of Texas, Palo Duro is home to the second largest canyon in the nation and the Light House Trail, which offers a kaleidoscope of geological color with rocks ranging from bright red to yellow and pink to lavender.
When your nursing day is done, go out and have some fun. Stretch your legs, get in tune with nature and relax in the great outdoors on these or the many other hiking trails waiting for you at travel nursing locations across the country.