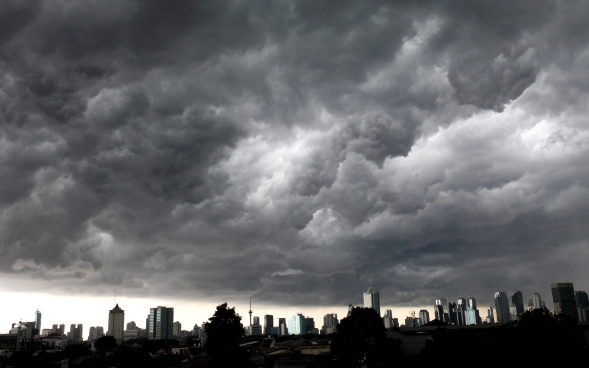 Storm-ready? How Nurses Can Prepare for Disasters
Be prepared for hurricanes, flooding and other storms
With catastrophic hurricanes, historic rainfall totals and flooding recently affecting many healthcare facilities' operations in Texas, Florida and surrounding areas, nurses remain on the alert for other natural disasters--so they can ensure their own safety and that of their patients.
"Individuals can make a huge difference in a disaster," said Sheri Fink, MD, PhD, author of Five Days at Memorial: Life and Death in a Storm-Ravaged Hospital. "It's about how we prepare for catastrophic events."
First, prepare oneself
"We will all be in a disaster; we cannot think it will happen to someone else," said Deborah Adelman, PhD, RN, a professor of nursing at Kaplan University School of Nursing and co-author of Disaster Nursing: A Handbook For Practice, in Springfield, Ill. She advised developing a family disaster plan and jump kit, with health insurance policy numbers, nursing license, medications, water and food.
Fink commented that Americans tend to freak out as electricity and other technology become unavailable. Adelman encouraged nurses to obtain portable rechargers for tablets and phones and keep solar-powered flashlights and wind-up radios on hand.
On the job, nurses, including traveling nurses, must know the institution's disaster plan and the possible disasters that could occur in the locale where they are working.
Despite the best planning, nurses must be prepared to run out of supplies; everything from soap to linens may become in short supply. Nurses must improvise and make do.
"Resources change," Fink said. "One must think creatively and change plans as circumstances allow."
When life looked bleak at Memorial Medical Center after Hurricane Katrina hit New Orleans, clinicians made many life-and-death decisions, including some they later regretted, Fink reported. She encouraged those involved in disasters to learn from history and to follow moral rules to help avoid crossing the line out of compassion.
"We can maximize lives saved," Fink said. "Disasters can bring out the best in people, but also fear."
Community-based preparedness
Disaster plans are not only for nurses working in institutional settings.
Fresenius Medical Care North America, a dialysis provider based in Waltham, Mass., has developed a comprehensive disaster response program aimed at ensuring patients continue to receive their dialysis treatments. Access to dialysis treatments can become a matter of life and death.
Services include offering additional treatment opportunities before a pending natural disaster; redirecting patients and personnel to open facilities; delivering generators, fuel and other supplies to open facilities; and providing temporary housing to employees. That preplanning paid off in the aftermath of Hurricane Katrina in 2005. The company provided treatments, some in temporary facilities, to 7,000 displaced patients, including more than 1,000 who were patients of other dialysis providers.
"We had patients from everywhere, and it was an overwhelming experience," said Janice Christian, RN, at Fresenius Medical Care Magnolia Grove Clinic in Mobile, Ala. "Looking back, it was a good experience and a blessing to deliver the services these patients needed."
That often meant long days, operating 16–20 hours a day. Churches provided meals to homeless patients and a place to stay. Christian credited the advance planning with the response progressing smoothly.
"It made us stronger as a unit and a company," Christian said. "It made you realize the smallest things can have a big effect. It's made me a better person and nurse."
Home health agencies also must prepare. As Tropical Storm Bill approached Texas in June 2015, SYNERGY HomeCare in Katy, Texas, put its disaster plan into action.
"Employees and I instructed clients to prepare, or if the client was not capable, I called the family to prepare," said Hayley Sheeks, co-owner of SYNERGY HomeCare in Katy, a suburb of Houston. Prescriptions were prefilled before the storm.
Private-duty employees were advised to bring a change of clothing and not leave a residence if the water rose too high. One employee stayed with a client for two days after Tropical Storm Bill. Sheeks also called family members to keep them updated about the weather, flooding and changes in employees.
"The safety of our [employees] and our clients is a top priority," Sheeks said.
Prepared to make a change? CONTACT American Mobile to find your next travel nursing job.