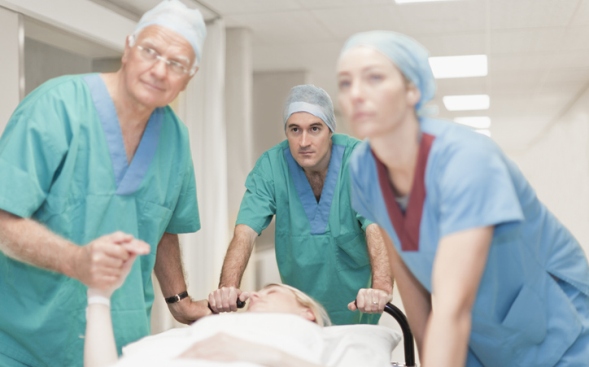 Retired Nurses Being Called to Help in COVID-19 Response
Throughout the country, a number of organizations, hospitals, and state and local governments are making the same request of retired nurses–to come out of retirement to assist with the surge of patients needing care due to the COVID-19 pandemic.
While some retired nurses may be called upon to provide direct care to COVID-19 patients, many are being asked to help relieve the overwhelmed healthcare infrastructure by assisting non-coronavirus patients or handling administrative tasks. These tasks may include phone calls or phone triage, paperwork, patient follow-up/education and dissemination of public health information. 
Recruitment of retirees by the VA, military medical corps and states
The U.S. Department of Veterans Affairs (VA) and their Office of Personnel Management (OPM) began an official campaign in March to invite retired medical personnel back to work. They even waived a section of federal law that governs retired VA workers, making it easier for the VA to rehire their retired healthcare staff. 
The Veterans Health Administration has over 5,000 job openings on their website, and officially launched a comprehensive campaign targeting retired clinicians, including nurses and nurse practitioners. 
"As our nation faces the current COVID-19 pandemic, VA patient care providers are the front line of defense, providing the highest standard of care to our Veterans while protecting them against the spread of the Coronavirus at our Medical Centers, Outpatient Clinics, and Community Living Centers," according to the VA communication. 
The recruitment campaign noted that retired clinicians can play an integral role in supporting the VA's efforts during this national emergency, including working in telehealth/virtual care, the VA's national call center or direct patient care/support at a VA medical center.
In addition to the VA, the Army and other state-based medical reserve corps organizations are making similar pleas to their recent retirees. 
Government leaders in New York, California, Rhode Island, Illinois and other states have also publicly requested assistance from retired healthcare professionals.  
As early as March 17, 2020, New York Gov. Andrew Cuomo posted a message on Twitter that said: "NYS is preparing for potential staffing shortages during the #Coronavirus pandemic. We are seeking recently retired health professionals as reserve staff if the need arises. If that's you — please complete this survey."  
New York has been the hardest hit state in the number of coronavirus cases.
What nurses coming out of retirement need to know
The first thing for a retired nurse to think about before coming out of retirement to assist in the crisis is the Code of Ethics for Nurses with Interpretive Statements (2015), explained D. Martha H. Turner, PhD, RN-BC, FAAN, a retired nurse and active member of the American Nurses Association (ANA). In her role at ANA, Turner helped oversee the latest revision to the Code of Ethics.
"[The Code] provides much needed guidance to retired nurses: our commitment to the patient (provision 2), our duty to take care of ourselves (provision 5) and our duty to society (provision 8)," she explained.
"Additionally, there are several specific things to consider: health status, age, physical ability (long hours, lifting, standing), availability of PPE, orientation and training for anticipated duties, family obligations, transportation, duration of assignment, and professional, ethical, legal protections. Even though most nurses have had some PPE experience, review of protocols is essential," Turner said. 
Retired nurses also need to verify current licensure requirements, since every state is different. If you are a new retiree with an active license, you should be able to start practicing right away. If your license has lapsed but not much time has passed, you may be able to apply for a quick reinstatement. 
In the last few weeks, many state governments and their boards of nursing have also made it easier for licensed nurses to work across state lines in response to  COVID-19. 
"Each state has different policies and practices during this crisis," Turner said. "These things are changing every day, so best to check with your state. Even without a license, retired nurses can certainly advocate for safe working conditions as well as fair and equitable treatment for all members in our communities, especially those who are most vulnerable."
The health and safety of nurse retirees
Because most nurses coming out of retirement will be in the 65+ age group, they are inherently part of the COVID-19 higher risk group of older adults as outlined by the Centers for Disease Control and Prevention (CDC). So their health and safety must be a concern, as well.
Turner suggested that there are many ways older nurses can help outside of the COVID-19 acute care setting such as in triage, testing, telehealth, or taking care of non-COVID-19 patients. Helping in non-COVID-19 settings can help reduce older clinicians' exposure to the virus. 
Yet, in some cases, these experienced nurses may still choose to care for coronavirus patients.
"In the COVID-19 environment, nurses can be very helpful since most are familiar with PPE," she concluded. "An extra pair of experienced hands can probably do 85 percent of what needs to be done with the right supervision. According to the Code of Ethics (provision 8), during this pandemic, when extreme and exceptional conditions arise, nurses must 'engage in discernment, carefully assess their intentions, reflectively weigh all possible options and rationales, then formulate a clear moral justification for their actions.'"
Want to help? American Mobile has hundreds of crisis response nursing jobs across the country, and our recruiters are ready to walk you through the process. Inquire today!