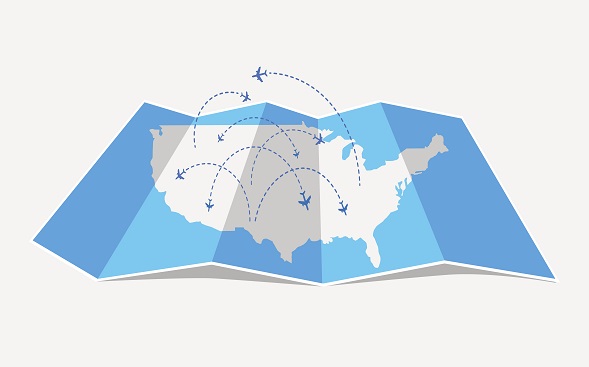 Physicians Following Nurses with Creation of Medical Licensure Compact
Maine becomes 22nd state to enact multi-state licensure compact for doctors
Working across state lines has not always been a simple process for healthcare professionals. Each state board has its own regulations and hoops to jump through for granting licenses to practice in their state--whether for nurses or physicians.
Yet several trends in recent years have emphasized the need for greater flexibility working across state boundaries, including the growth of telemedicine, travel nursing and other fields of travel healthcare.
It all started with the Nurse Licensure Compact
So, 15 years ago, the National Council of State Boards of Nursing (NCSBN) worked to streamline interstate practice with the Nurse Licensure Compact, or NLC, which has since been enacted by 25 states. This allows licensed practical nurses or registered nurses with a compact nursing license to work any of the other compact states without securing a new LPN or RN license.
A new version of this multi-state licensure agreement for nurses is now being ratified and could go into effect by late 2017 or early 2018.
LEARN MORE about interstate practice and travel nurse licensure with American Mobile.
The Interstate Medical Licensure Compact is now taking off
The medical community has since taken its cues from the nurses' multi-state licensure agreement; it is currently ratifying a medical licensure compact that grants interstate practice privileges to physicians who hold medical licenses in good standing in any of the compact states.
Maine recently became the 22nd state to join the Interstate Medical Licensure Compact (IMLC). The legislation, entitled "An Act to Adopt the Interstate Medical Licensure Compact," sponsored by Sen. Geoff Gratwick (D-Bangor), was enacted into law on June 24, 2017.
Maine joins a growing list of states that have enacted legislation to expedite multi-state medical licensure since 2015.
"We are pleased that Maine has joined 21 other states who are dedicated to increasing access to health care by expediting licensure for willing and qualified physicians," said FSMB President and CEO Humayun Chaudhry, DO, MACP.
"At a time when our nation's physician shortage is disproportionately impacting rural communities, it is critical that states like Maine are able to attract eligible physicians from across state lines to treat patients in need," Chaudhry continued.
The IMLC, which has drawn broad support from national and state health care groups, was supported in Maine by the Maine Chapter of the American Academy of Pediatrics.
The states that have ratified the Interstate Medical Licensure Compact as of early July 2017 include:
Alabama
Arizona
Colorado
Idaho
Illinois
Iowa
Kansas
Maine
Minnesota
Mississippi
Montana
Nebraska
Nevada
New Hampshire
Pennsylvania
South Dakota
Tennessee
Utah
Washington
West Virginia
Wisconsin
Wyoming
The multi-state licensure agreement for physicians remains under consideration in Michigan, Rhode Island, Texas, the District of Columbia and Guam.
The Interstate Medical Licensure Compact Commission's application process officially went live on April 6, 2017, and its first multi-state license was issued on April 20, 2017.
LEARN MORE about the Interstate Medical Licensure Compact.
Source: IMLCC.org
AMERICAN MOBILE can help you get your RN license in the states where you want to work! BROWSE top travel nursing jobs in all 50 states to find out more.