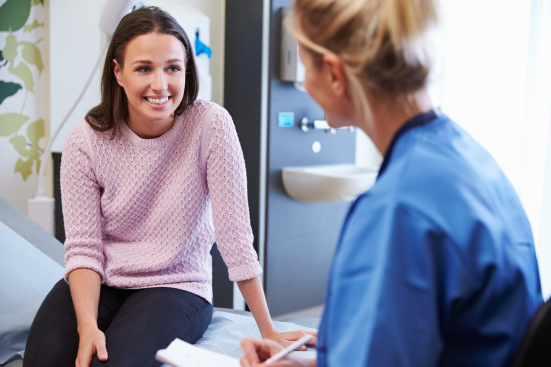 Patient Complaints and How to Handle Them
Patient complaints are a common issue for all medical professionals, so handling them effectively is an important part of providing care. 
Understanding the common complaints you will encounter and following a three-step de-escalation process ensures your patients stay happy and reduces some of the stress you face while performing your nursing duties.
Use these de-escalation tactics across the country in any of the open travel nursing positions available at American Mobile.
Understanding patient complaints
As the first medical professionals who interact with those in need of medical assistance, nurses are frequently who patients turn to when they're upset. 
The public understands that a nurse's job is to care for them during a health crisis, so it's natural that those seeking conflict resolution expect their nurses to take the lead. 
Unfortunately for these nurses, handling patient complaints can put them in a very difficult position.
"Nurses by nature want to fix things, whether it be a conflict with a colleague or issues at the bedside," says Heather M. Kannheiser, MSN, RN-C. "Patients and families often don't realize we're just the front line of what they see." 
She points out that nurses have the delicate task of balancing the establishment rules when addressing patient complaints in hospitals. "Often patients and families can be very demanding," she explains, "and this can create conflict with the nurse who is adhering to the protocols of the establishment. It makes for a very stressful environment for all parties involved."
She also mentions the issue of interdepartmental conflict between nurses and their colleagues. She suggests utilizing the chain of command in these cases. 
"On every shift there is a charge nurse assigned to defer to who can help try to solve the problem," she says. "Above that, you have a nurse manager ... Moving higher up the chain there is a nursing supervisor that can be called ... and if need be, the issue can be escalated all the way up to the chief nurse executive." 
Kannheiser stresses that resolving patient complaints is a team effort and nurses should take advantage of the many resources available to them, from multiple departments, that can help resolve a difficult situation.
3 steps for handling patient complaints
Dr. Neil Baum, a Medical Consultant for Vanguard Communications, has had his fair share of dealing with complaints from difficult patients. He offers his effective three-step process for handling patient complaints.
1. Listen to your patients' complaints
Taking the time to actively listen as a patient describes his or her issue can offer a cathartic release, allowing the patient to calm down after venting. "The concept of listening and not interrupting the patient is so important," says Baum. "To interrupt is to make the patient defensive and perhaps more upset and even combative. This is the last response you want to have from an upset patient."
2. Repeat what your patient says
"This step confirms to the patient that they have indeed been heard and that the listener was paying attention," Baum explains.
3. Take action as soon as you can
"The best situation is to resolve the complaint at the time the event or problem has occurred," explains Baum. "The longer the delay, the less impact that the resolution will have with the patient." 
So, what if the situation can't be resolved immediately? "Let the patient know when they can expect to hear from you," Baum suggests. "Then, keep your promise and get back to the patient at the allotted time." 
He stresses that strong communication is important. "If more time is needed, call the patient and tell them more time is needed and let them know when you will get back to them," he says. "This confirms to the patient that their complaint is taken seriously."
More Tips for De-escalation
Along with the three-step de-escalation process, Baum also advises nurses to anticipate a patient's frustrations before they feel the need to complain. He points out that patients who are dissatisfied will often show signs to warn nurses there is a problem, so nurses should watch for these signs to correct issues before they escalate.
"First, listen carefully to the tone of voice," Baum says. "If the patient is speaking louder than expected, or more rapidly than usual, you must modulate and soften your voice and speak slower." He also suggests watching a patient's body language. "Look for signs of agitation, such as wringing of the hands or tapping of the feet, which is a sign of impatience."
Fear or frustration are two more emotions to be on the lookout for. "Clenched fists and clenched teeth are other signs that you're dealing with an unhappy patient," Baum continues. "Patients with furrowed brows or distended jugular veins indicate anxiety and tension. Patients who are in a defensive position, such as crossed arms, will often provide clues about the intense conversation that is about to take place."
Baum also recommends paying attention to the patient's breathing patterns. "Restricted breathing patterns or sighing is an indication that the patient is upset," he warns. Being aware of a patient's signs of agitation can give nurses the opportunity to mentally prepare for a tough situation and can even allow the nurse to step in to address the patient's complaint before it is made.
Strong communication skills are also important when handling patient complaints. Being an active listener and noting the signs that a patient is agitated won't do much good if you aren't able to effectively communicate your willingness to resolve the situation. Patient complaints are often the result of feeling dismissed or misunderstood, so it's important to convey your message in a way that shows you understand their perspective. When a nurse validates a patient's frustrations and clearly communicates the steps that will be taken, the patient feels better cared for and is more likely to trust the nurse's judgement about the situation.