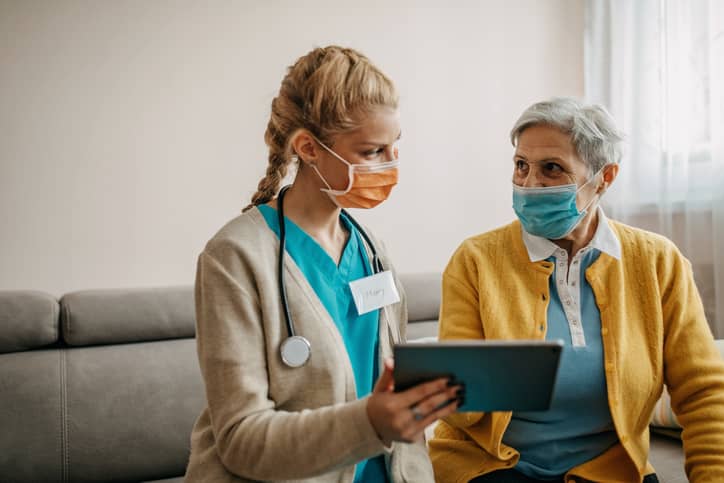 Nursing Informatics: Improving Patient Safety with Technology
The field of nursing informatics combines nursing and information technology disciplines. Let's explore the impact that blending nursing expertise with information systems can have on patient care.
Defining Nursing Informatics
Several organizations have published definitions of nursing informatics. The definitions all have similar elements combining patient care (nursing) and computer-based technology. While people and organizations may not have agreed on a common phrasing, the following definitions agree in spirit.
The Nursing Informatics: Special Interest Group of International Medical Informatics Association defines nursing informatics as "the integration of nursing, its information and information management with information processing and communication technology, to support the health of people worldwide."
The American Nurses Association Web site states: "Nursing informatics combines nursing science with computer science together with information processing theory and technology."
In October 2001, the American Nurses Association published this definition: "Nursing Informatics is a specialty that integrates nursing science, computer science, and information science to manage and communicate data, information and knowledge in nursing practice. Nursing informatics facilitates the integration of data, information and knowledge to support patients, nurses and other providers in their decision-making in all roles and settings. This support is accomplished through the use of information structures, information processes, and information technology."
What Does a Nurse Informaticist Do?
Much like nursing, nursing informatics has applications in the areas of clinical information, education, and administration. The most successful information technology implementations take advantage of the user-perspective. Users play a critical role in every phase from the needs assessment through the post-implementation review. Frequently, one challenge for information technology projects is gaining the involvement and support of the end-users. In the case of clinical systems, those end-users are clinicians--nurses and physicians. With the time of caregivers at a precious premium, it is not easy to balance the time requirements of the project with the demands of their "day job." But without clinician input to the requirements, the design, and the deployment, the technology implementation project stands a good chance of failing.
Nursing informatics can help vendors design better technology solutions and healthcare organizations select and implement solutions that will help nurses as well as have the potential to improve patient care. If you were to survey the vendors of electronic health record systems, you would find that each has hired nurses to provide input, assist in the sales and help with the project implementation of their solutions. You will find nurses in the technology departments of health care organizations. And, where there is a technology implementation project, there are consultants. Consulting firms are no exception; they too are hiring nurses with nursing informatics interest and/or training.
How Can This Help in the "Real World"?
In September 2003, Health Information Management and Systems Society (HIMSS) published the results of the 2003 HIMSS Patient Safety Survey sponsored by the Information Solutions division of McKesson Corporation. The results indicate that in most organizations, nurses are represented on the patient safety committee (95 percent).
The study further demonstrates "the fact that nearly all of the respondents reported that technology can address at least one patient safety issue at their facility, only 41 percent of the respondents reported that a representative from the information technology department sits on the formal patient safety committee."
If organizations are not going to place information technology staff at the patient safety table, a nurse with information technology knowledge could play a vital role on the committee as well as the successful selection and implementation of technology tools to help improve patient safety.
According to the survey, the two technologies most likely to improve patient safety are bar codes for medication administration (80 percent) and computerized provider order entry (76 percent). Computerized provider (or physician) order entry (CPOE) as part of an advanced clinical information solution "can help health care organizations address important strategic concerns that will deliver improved patient care while impacting the bottom line." These technologies can contribute to the reduction of the potential of medical errors as well as duplication of efforts.
Author's note: I would be remiss if I did not mention that the second professional presentation that I ever made at a juried conference, the Symposium for Computer Applications in Medical Care, in 1987 was co-authored by a nurse: Is the Computer a Threat to Confidentiality of Psychiatric Records.
Suzi Birz is a member of NurseZone's advisory board, and is an independent consultant working in the area of health care technology and process engineering. Prior to consulting, she spent several years as the CIO of a provider organization. She has experience in patient care, clinical research, academic medicine, health care reform initiatives, regulatory environments and application of commercial solutions. Birz's consulting has focused on needs analysis, system selection, project management, sales support, achieving compliance with the Health Insurance Portability and Accountability Act, marketing and product design in health care delivery settings and B2B exchange.
Informatics Resources
For more information about nursing informatics, check out these Web sites:
American Nursing Informatics Association
MIA-NI (Nursing Informatics: Special Interest Group of International Medical Informatics Association) site.
American Medical Informatics Association
Originally published on NurseZone.com.
© 2016. AMN Healthcare, Inc. All Rights Reserved.