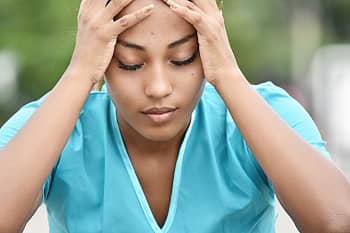 Nurse Job Satisfaction: New Study Says Nurses Feel Disrespected
If diminished nurse job satisfaction and feelings of disrespect have you thinking you should have chosen a different career path, you're not alone.  
Medscape's annual survey on nurse career satisfaction reported the opinions of 10,523 nurses on numerous topics, including the best and worst aspects of the profession.  
While it's not surprising that helping people and making a difference in people's lives topped the chart as the best aspect of nursing for many nurses, the percentage of nurses feeling disrespected may come as a shock.
Disrespect Leading to Poor Nurse Job Satisfaction 
Nurses participating in the survey included licensed practical nurses (LPNs), registered nurses (RNs), nurse practitioners (NMs), nurse midwives (NPs), clinical nurse specialists (CNSs) and certified registered nurse anesthetists (CRNAs).  
When asked about the worst aspect of nursing, nurses in every role but NPs cited administration interaction and workplace politics as their top pick. However, lack of respect was a concern among many nurses surveyed.  
An astonishing 18 percent of LPNs cited disrespect as a drawback of nursing, which ranked it as the number two complaint within this nursing role. However, LPNs with more time on the job cited this reason more frequently than newer LPNs.  
Next in line were NMs with 12 percent of those surveyed feeling disrespected, and 9 percent of LPNs and 7 percent of RNs, CNSs and NPs also felt the sting of disrespect. 
Gaining Respect from Others 
While it's normal to have some bad days and challenging patients during your career, there are some things you can do to mitigate disrespect and increase nurse job satisfaction.
To get respect, you must give respect to others, including those you may not particularly like. Even if you have differing opinions with a co-worker, showing them professional respect encourages them, and others, to do the same towards you.
Taking pride in your work and always striving to do the best job possible also goes a long way to earning and keeping the respect of the physicians and managers you work with and your peers.
To be respected, avoid negative behaviors, such as spreading gossip or shifting blame for your own errors.
If you display self-confidence, have self-respect and act worthy of other people's respect, you should see an increase in the level of respect you receive at your workplace.
While at least 95 percent of nurses in all roles said they were glad they'd become a nurse, an unsettling 15 to 21 percent of nurses surveyed said they wouldn't choose nursing as a career if they had it to do over again. 
If the need for a little R-E-S-P-E-C-T has you wishing you'd pursued a different career, consider training for a new path within nursing or switch to a new practice setting to potentially regain your nurse job satisfaction.